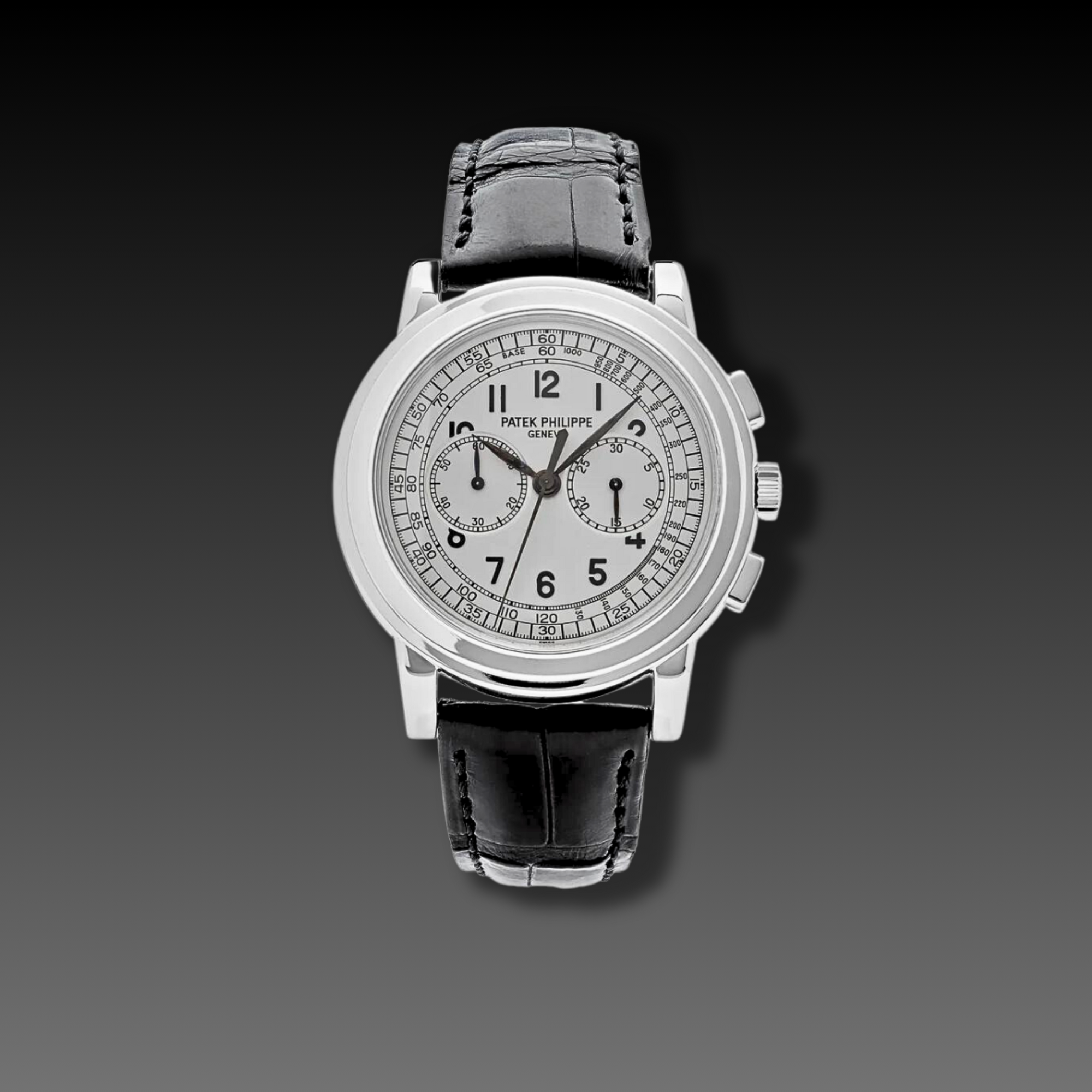 Regular price
Sale price
$78,000.00
Unit price
per
About the brand 

In the bustling heart of Geneva in 1839, two visionaries, Antoine Norbert de Patek, a Polish soldier, and François Czapek, a Czech watchmaker, came together to create what would become one of the most prestigious watch brands in history: Patek Philippe.
From its inception, Patek Philippe was driven by a commitment to craft timepieces of unparalleled quality and artistry. Patek, the businessman with a flair for networking, and Czapek, with his horological prowess, initially named their venture "Patek, Czapek & Cie". However, the partnership saw a split in 1845, leading to Patek's collaboration with the French watchmaker, Jean Adrien Philippe. This new alliance was the dawn of the Patek Philippe brand as we know it.
One of their initial groundbreaking innovations was the keyless winding mechanism, introduced by Jean Adrien Philippe, which revolutionized the industry. This innovation solidified their position as pioneers in the watchmaking realm, emphasizing both functionality and form.
As the decades passed, the brand became synonymous with excellence, attracting royalty and luminaries, including Queen Victoria and Prince Albert. With clientele of such stature, it was clear that Patek Philippe was not just producing watches; they were creating heirlooms.
Throughout the 20th century, Patek Philippe continued to be at the forefront of horological advancements. From pioneering the perpetual calendar, split-seconds hand, and chronograph functions to the more recent advancements like the Gyromax balance and Spiromax balance spring, their innovations have often been years ahead of the competition.
Beyond their technical achievements, Patek Philippe is revered for the artistry of their timepieces. Their watches are not just tools of timekeeping but pieces of art. The brand's dedication to traditional hand-finishing and their insistence on using age-old decorative techniques ensures each watch is a unique masterpiece.
The Patek Philippe Museum, established in Geneva in 2001, is a testament to the brand's commitment to its legacy. Housing a collection of horological artifacts, it is both a homage to the brand's illustrious past and a beacon for its future aspirations.
But what truly sets Patek Philippe apart is its philosophy. Rooted in family values (the company remains family-owned to this day), there's an understanding that when someone acquires a Patek Philippe, they're merely taking care of it for the next generation. This sentiment is encapsulated in their famous slogan: "You never actually own a Patek Philippe. You merely look after it for the next generation."
Today, as the world moves at an unprecedented pace, Patek Philippe stands as a testament to the enduring allure of craftsmanship, precision, and timeless elegance. In an era where obsolescence is the norm, the brand remains a beacon of permanence, reminding us of the beauty of legacy and the value of time.
The watch
Presenting the Patek Philippe Reference 5070G: An Epitome of Luxury and Elegance
In 1998, the horological world was graced with the unveiling of the Patek Philippe Reference 5070, a direct heir to the iconic reference 1463 which ceased production in the nostalgic 1960s. Even though these models are separated by four decades, their lineage is undeniably intertwined. Both stand as paramount examples of timeless chronographs, void of calendar complications – a rare treat in the universe of Patek Philippe.
From its inception in 1998 until 2002, the Reference 5070 was exclusively adorned in yellow gold. But the piece showcased here, crafted in the finest white gold, commenced its limited production journey from 2002, continuing the legacy till 2008.
The dial is a masterwork of elegance – a silver canvas emboldened by contrasting black lettering and luxurious applied Arabic numerals. Dual sub-dials at 3 and 9 o'clock elevate its stature. The minute and tachymeter scales gracefully trace the dial's periphery, ensuring optimal clarity under varying luminosities. This dial, preserved meticulously, resonates with opulence.
Its case, carved out of 18-carat solid white gold and spanning a refined 42mm, epitomizes understated luxury. The slender case depth of 11.5mm ensures it doesn't overpower but instead compliments the wrist with grace. With its sculpted lugs and the tasteful integration of rectangular pushers and a harmonious winding crown, the watch exudes a sophistication only few can parallel. Its impeccable condition, marred only by the faintest traces of wear, testifies to its cherished existence.
At the heart of this masterpiece is the hand-wound caliber CH 27-70. Sheltered behind a sapphire crystal case back, this Lemania-inspired mechanical movement stands tall among the pinnacle of chronograph mechanisms. Significantly, the Reference 5070G is the final sentinel from Patek Philippe to harness the power of a Lemania-driven movement.
This watch's heritage is further accentuated with the accompanying Patek Philippe certificate of origin, bearing witness to its esteemed inception in Hong Kong on February 23, 2006. A genuine black alligator leather strap, bearing the seal "Patek Philippe Genève", effortlessly complements it. The white gold folding clasp, adorned with the iconic Calatrava cross, reaffirms its luxurious identity.
The Patek 5070G isn't just a watch; it's a monumental chapter in Patek Philippe's illustrious chronicle of hand-wound chronographs. An acquisition of this piece isn't just a purchase; it's an embrace of legacy, luxury, and legend.
Specifications
| | |
| --- | --- |
| Movement | Manual Winding |
| Calibre | Patek Philippe In House caliber |
| Dial | White |
| Case size | 42 mm |
| Material | White gold |
| Bracelet | Patek Philippe black alligator strap |
| Glass | Sapphire |
| Condition | Excellent |
| Box & Papers | Complete, 2006 dated papers,  |
Why buy from The Second Hand Club?

Impeccable Authenticity: At The Second Hand Club, we understand the significance of owning genuine luxury watches. That's why we employ an exceptionally thorough authenticity process. Our team of seasoned experts meticulously examines every timepiece, scrutinizing its provenance, components, and craftsmanship. You can trust that each watch in our collection is 100% authentic, allowing you to invest confidently in horological masterpieces.

Comprehensive 24-Month Warranty: We believe in the enduring quality of the watches we offer. To provide you with peace of mind and demonstrate our commitment to your satisfaction, we provide a comprehensive 24-month warranty on all watches purchased from us. Our warranty covers any mechanical defects, ensuring that you can enjoy your timepiece with confidence and assurance.

Unbeatable Prices: At The Second Hand Club, we are dedicated to making luxury watches accessible to all enthusiasts and collectors. We strive to offer the most competitive prices available anywhere, ensuring exceptional value for your investment. Through our meticulous sourcing methods and extensive industry network, we are able to curate an extraordinary collection while keeping our prices highly competitive.

Advanced Horological Advice: We pride ourselves on our passion for horology and our extensive knowledge of the craft. When you choose The Second Hand Club, you gain access to an advanced level of advice on horology and collecting strategy. Our knowledgeable team is equipped to provide expert guidance, helping you navigate the world of luxury watches. Whether you're seeking insights on complications, historical significance, or investment potential, we are here to assist you in making informed decisions.

Curating Fascinating and Unique Collections: Our passion extends beyond individual timepieces; we take pleasure in helping our customers curate truly captivating and unique collections. With our deep understanding of the market and the rarest watches ever made, we can assist you in assembling a collection that reflects your individual style and discerning taste. Whether you're starting your collection or looking to expand it, our expertise and personalized approach ensure an extraordinary journey into the world of horology.

Choose The Second Hand Club to immerse yourself in a world of horological excellence. From our meticulous authenticity process and comprehensive warranty to our competitive prices and advanced horological advice, we are committed to providing an unparalleled experience. Let us guide you as you embark on a remarkable journey, curating a collection of extraordinary watches that will captivate and inspire for generations to come.
What payment methods do you accept?

At The Second Hand Club, we accept a variety of payment methods for your convenience.

You may choose to pay using your American Express, Visa, or Mastercard credit cards.

In addition, we also accept wire transfer payments. To encourage this method, we offer an attractive 3% discount for all transactions completed via wire transfer. This is part of our commitment to providing a seamless and accommodating experience for all of our esteemed customers.
What about trades or selling my watches?

When it comes to selling or trading your valuable watches, The Second Hand Club offers an exceptional consignment experience. Here's why you should consider consigning with us:

Global Reach, Local Expertise: While our clientele is primarily based in America, we have a vast network of collectors and end users around the world. This global reach ensures that your timepiece will have exposure to a diverse and discerning audience, maximizing the chances of a successful sale.
Expertise in High-End Pieces: With an average price point of $85,000, we are well-versed in dealing with high-end luxury watches. Our experience extends to timepieces that reach seven figures, demonstrating our ability to handle the most exclusive and valuable pieces with the utmost care and professionalism.
Competitive Consignment Rate: At The Second Hand Club, we understand the importance of fair and transparent pricing. That's why we offer the most competitive consignment rate of just 3%. Our low rate ensures that you receive a substantial portion of the final sale value, making consigning with us a lucrative option.
Swift Consignment Process: Time is of the essence, and we value your time as much as you do. Our average consignment time for watches is just 7 business days. Once your timepiece is submitted for consignment, our team works efficiently to list and market it to our extensive network of potential buyers, ensuring a prompt and efficient process.
Maximize Your Returns: Consigning your watch with The Second Hand Club allows you to unlock the full potential value of your timepiece. By reaching a wider audience and benefiting from our expertise in marketing luxury watches, you increase the likelihood of receiving higher offers than with a straight sale. With the funds generated from the consignment, you can explore new watch acquisitions or opt for an instant payment once the sale is concluded.

When you choose The Second Hand Club's consignment program, you gain access to our global network, unparalleled expertise, and a streamlined process designed to deliver exceptional results. Entrust your luxury timepiece to us and let our dedicated team work diligently to ensure you receive the maximum value for your watch, all while enjoying a hassle-free and rewarding consignment experience.

Have further questions about selling your watch? Contact us.
Do you provide warranty on your watches?

At The Second Hand Club, we are committed advocates for the exceptional quality of our curated selection of pre-owned timepieces and mechanical objects. In the event of an unexpected issue, we remain committed to addressing it promptly and effectively. Our client's trust and satisfaction are paramount to our entire team.

Each pre-owned watch in our collection has been meticulously examined using non-intrusive methods to confirm their mechanical integrity. Where necessary, servicing has been performed to guarantee they align with our highest standards for timekeeping precision and functional performance.

Unless explicitly indicated, our pre-owned watches are protected by either a comprehensive or a limited warranty for a period of twenty-four months. However, this warranty does not cover damages resulting from accidents or misuse. Given their vintage status, pre-owned watches may not withstand the same conditions as brand new models.
Return & Refund policy

At The Second Hand Club, We have a No Return & Refund Policy ("Policy") that applies to all purchases made through The Second Hand Club and outlines our obligations and procedures concerning returns and refunds.

Final Sales: All sales concluded through The Second Hand Club are final. Once a purchase is made, we do not accept returns or issue refunds.
Change of Mind: In the event you have a change of heart post-purchase, The Second Hand Club offers a unique service to accommodate you. We are pleased to accept the timepiece back and undertake the task of selling the item on your behalf at no cost. This process is subject to a binding agreement to be entered into between The Second Hand Club and the client.
After-Sale Return of Funds: Once the watch has been sold, the entirety of the sale amount will be returned to you. The amount will be remitted to the original method of payment within a reasonable timeframe following the successful completion of the sale.
Customer Obligations: It is the customer's responsibility to ensure the watch is returned in the same condition as it was sold. Any degradation in the quality or condition of the watch may affect its sale value, for which The Second Hand Club will not be held responsible.
Contact: For more information or to initiate this process, please contact our customer service at contact@thesecondhandclub.com or +1 (754)-333-7667.

Please note that this Policy represents the entire agreement between you and The Second Hand Club regarding returns and refunds. By purchasing a timepiece from The Second Hand Club, you acknowledge and agree to this Policy in its entirety.

Have further questions? Contact us.