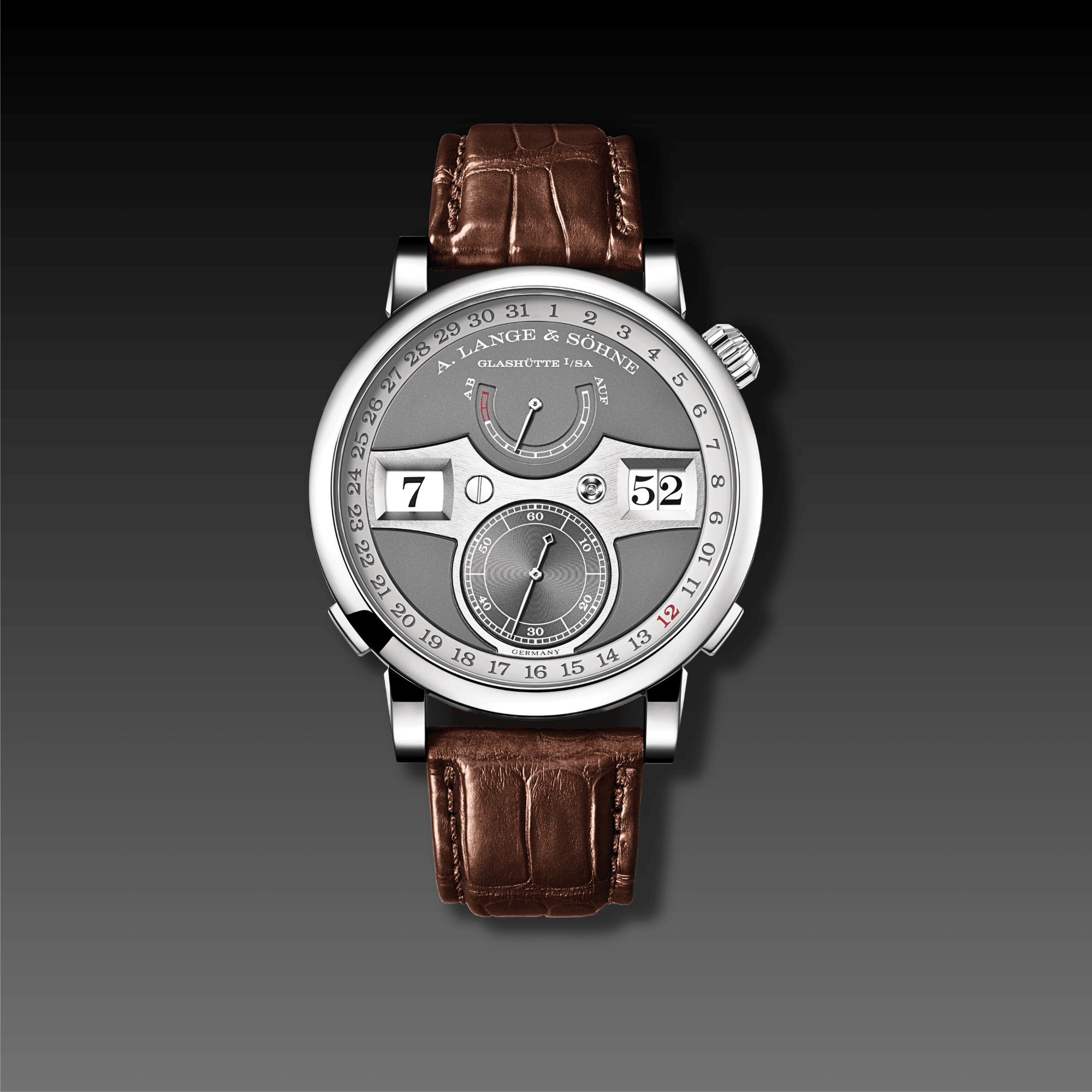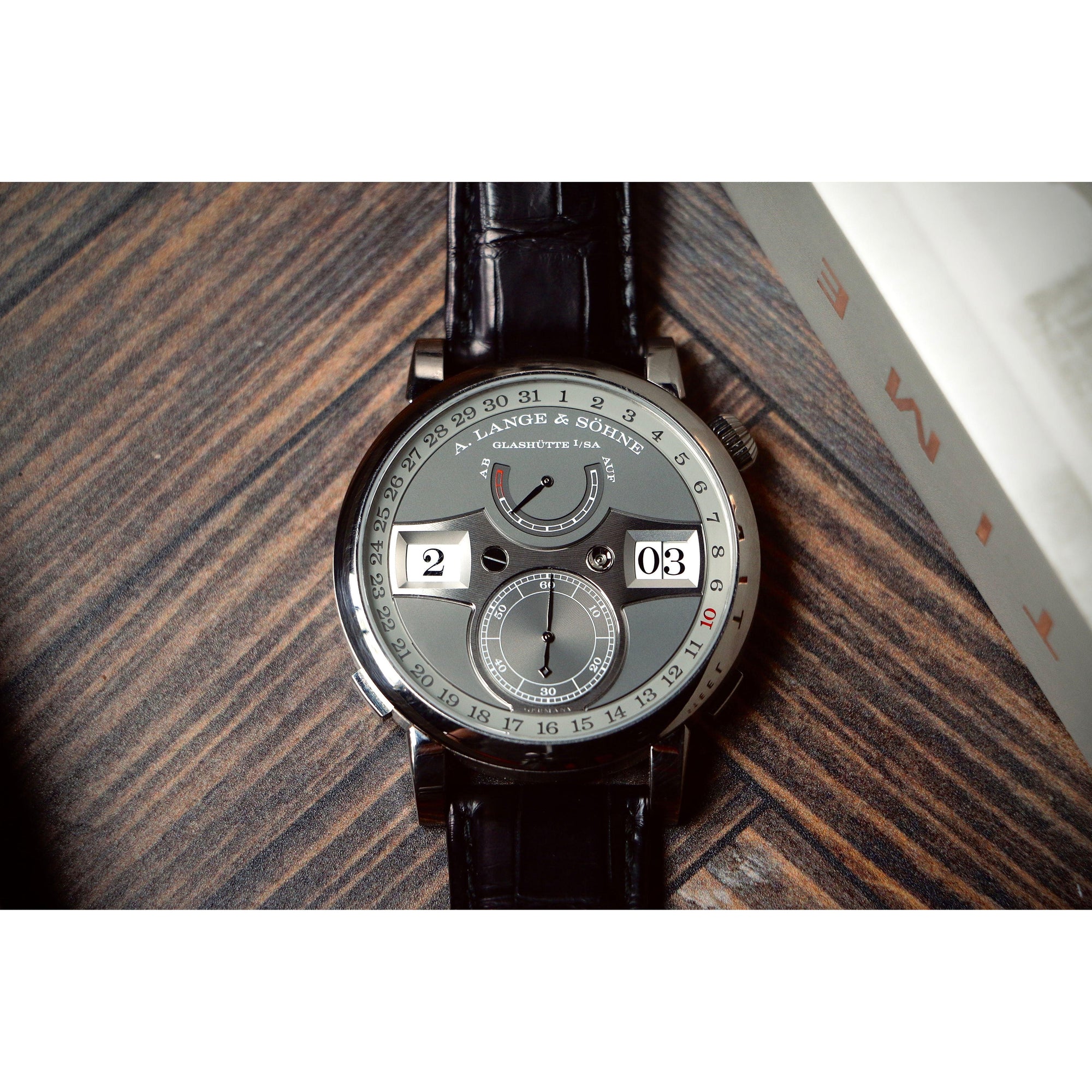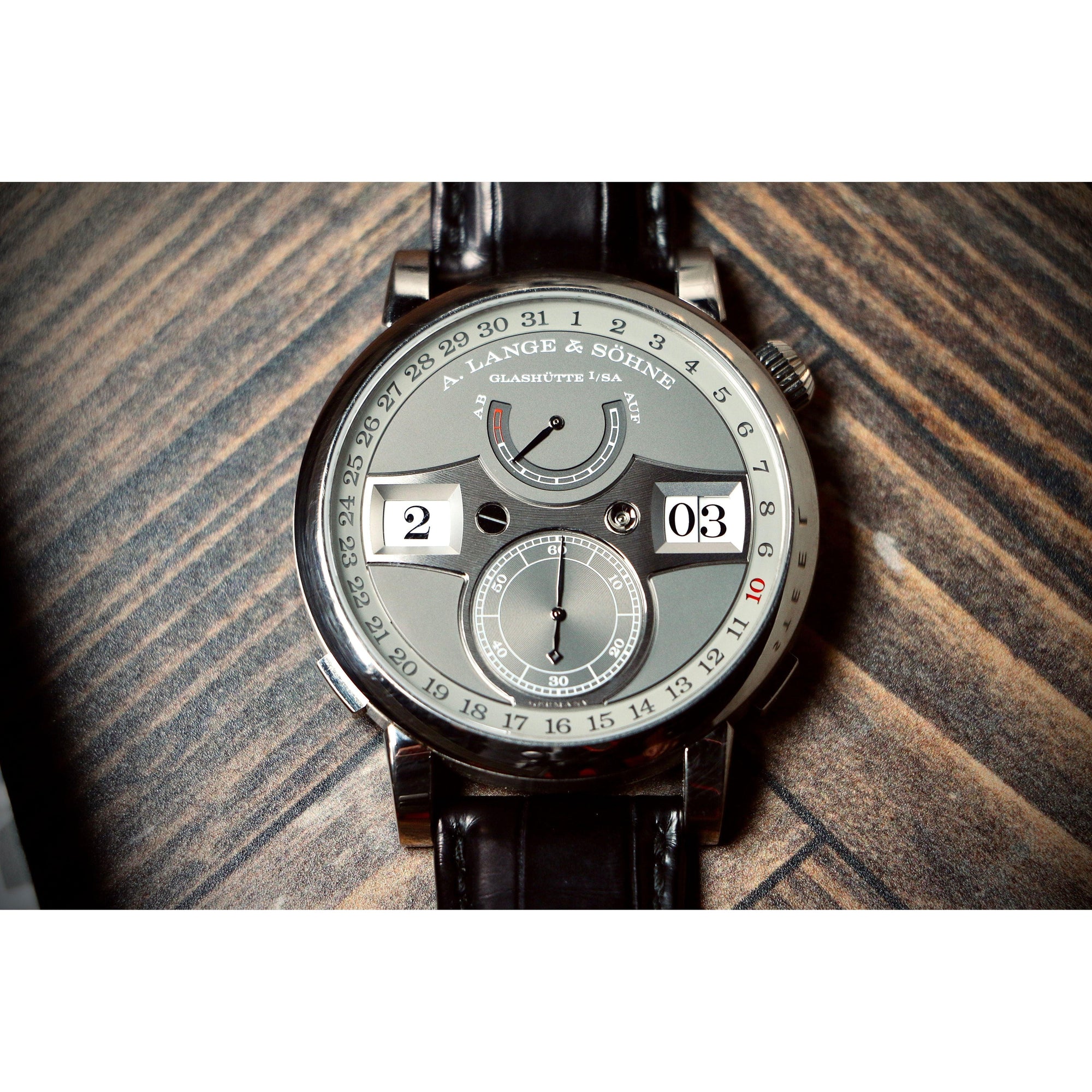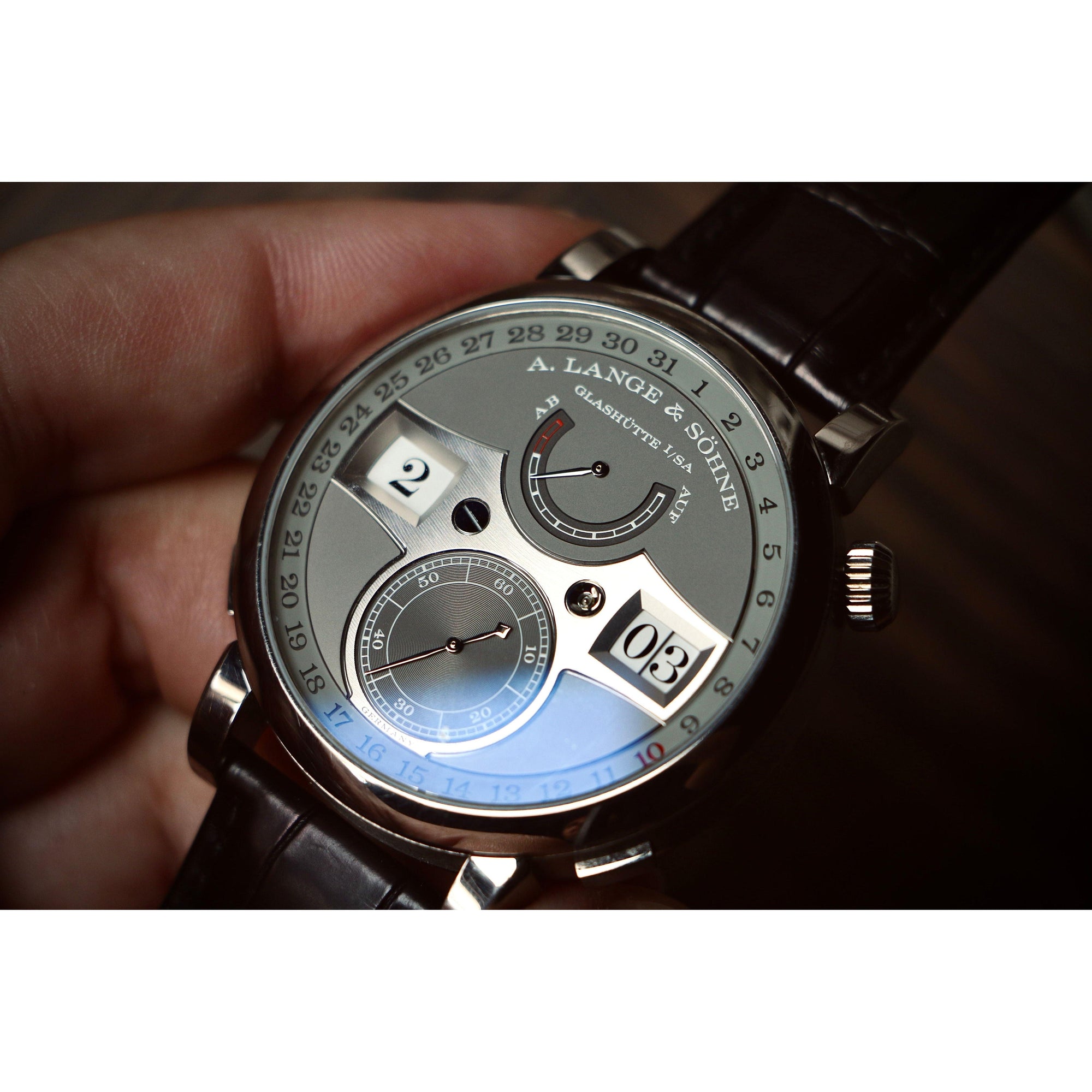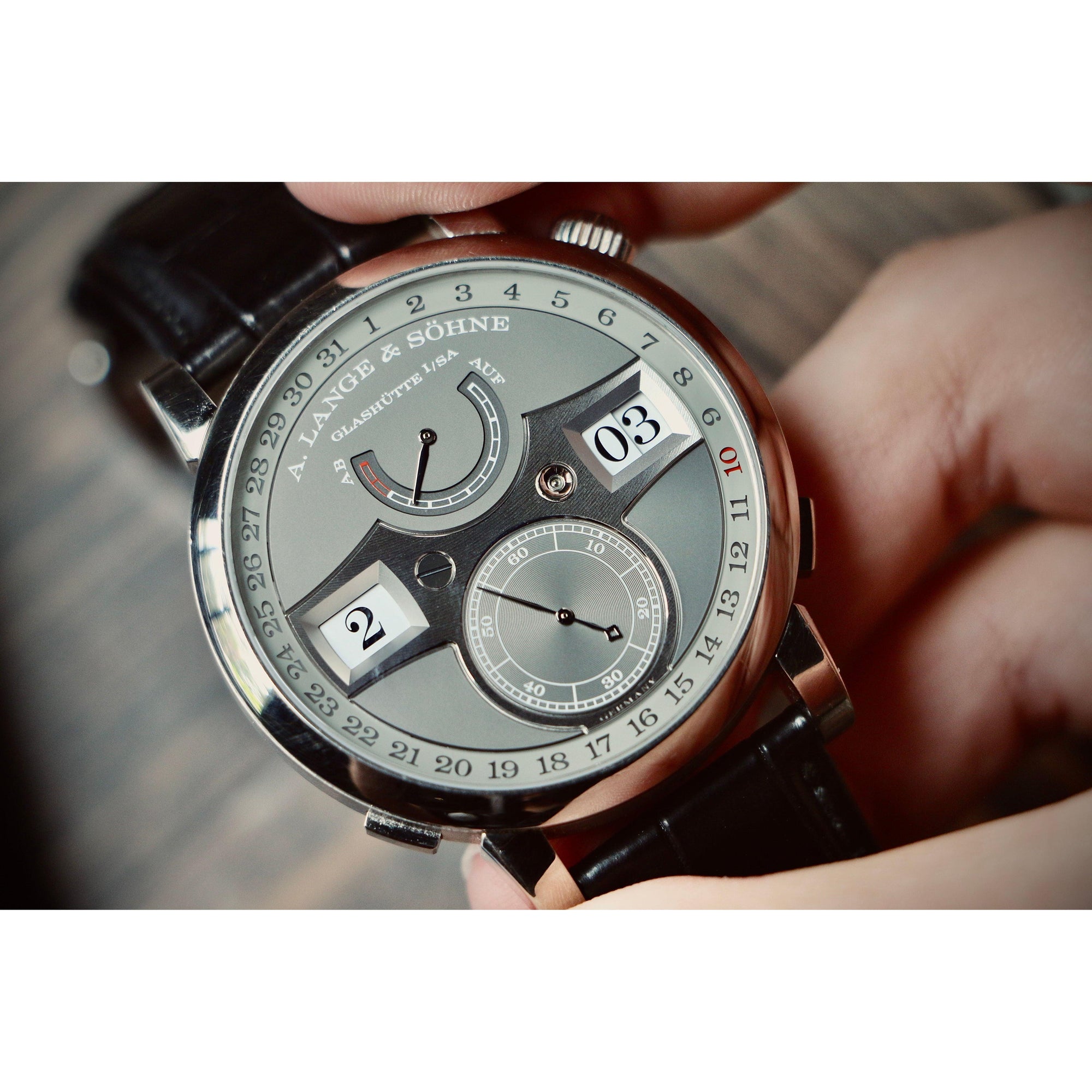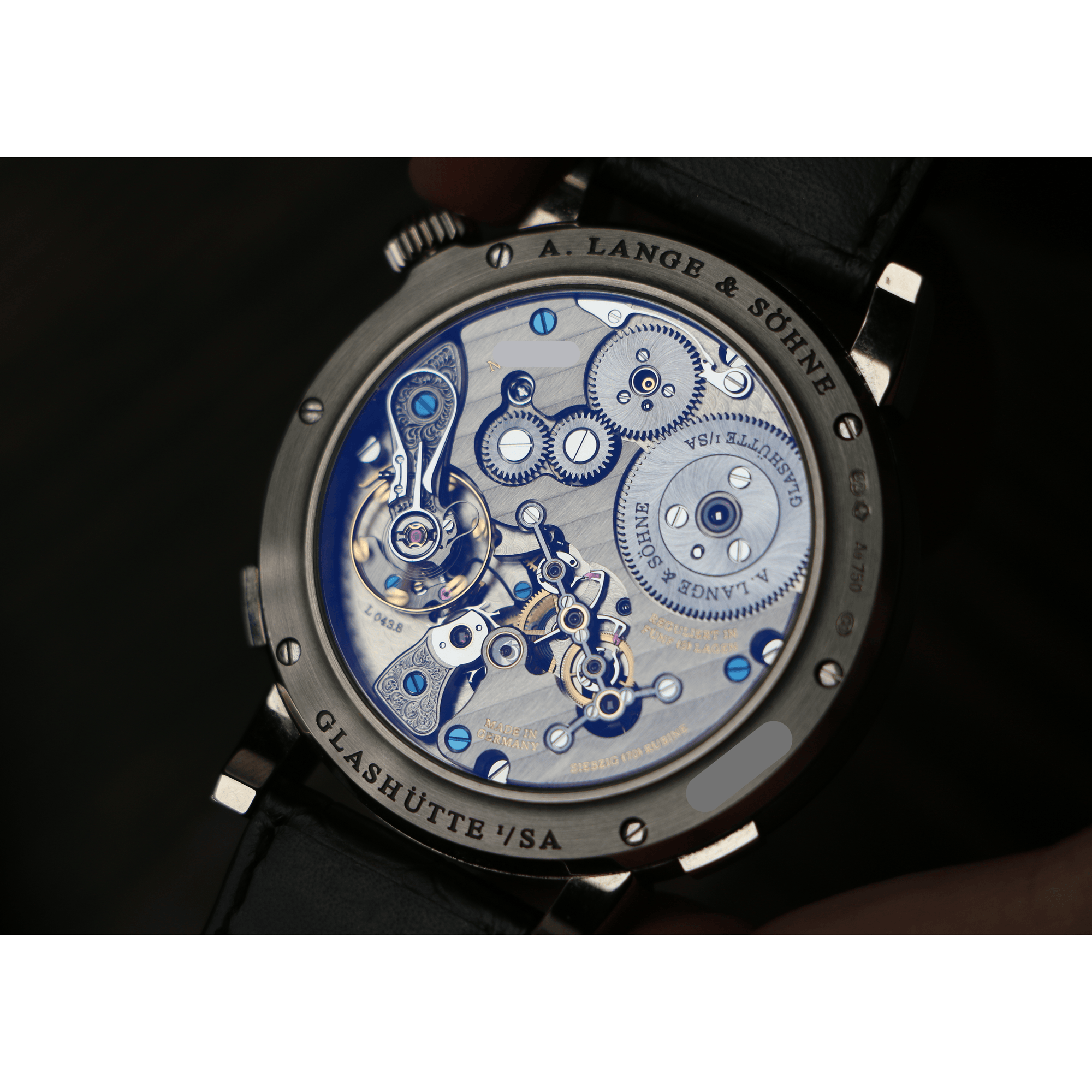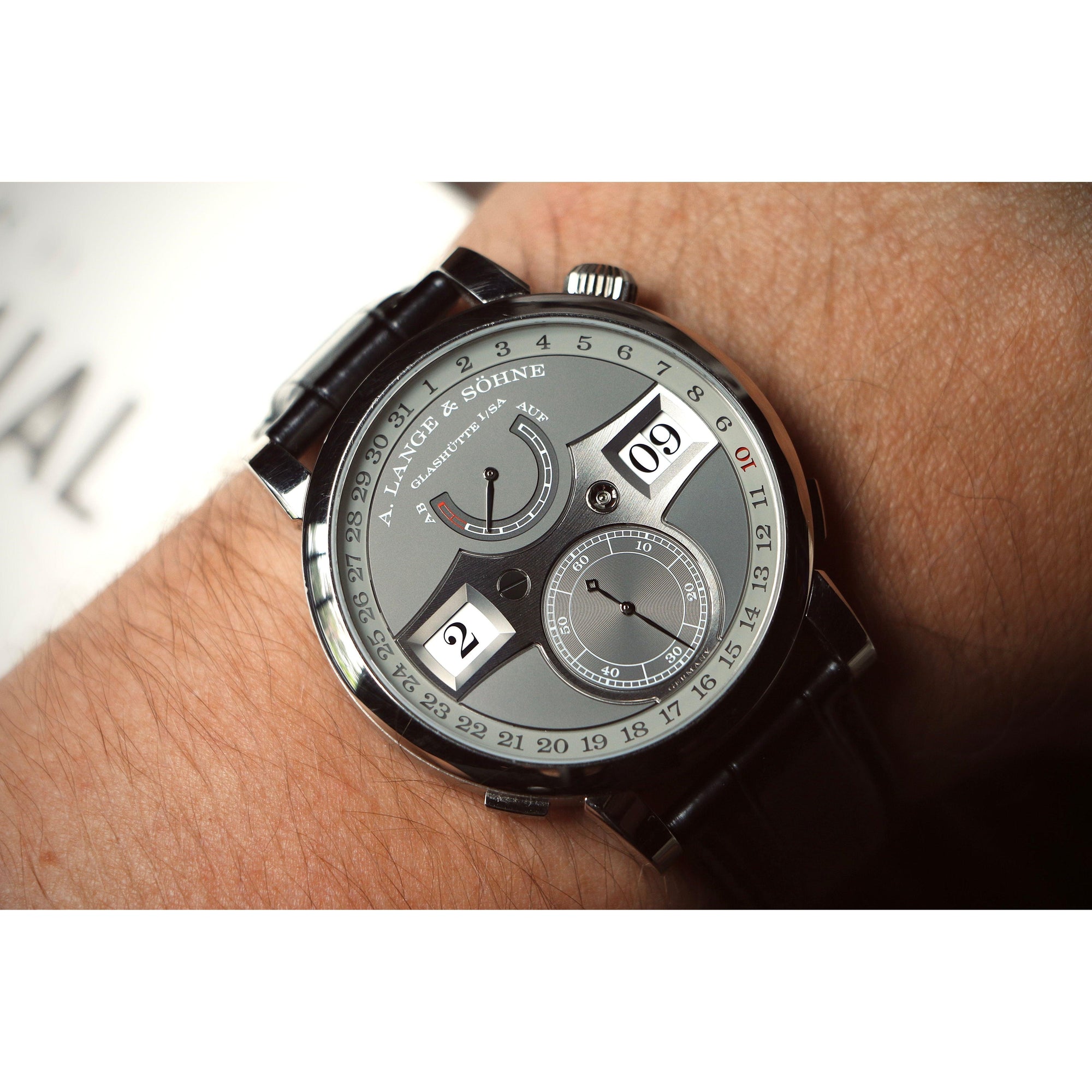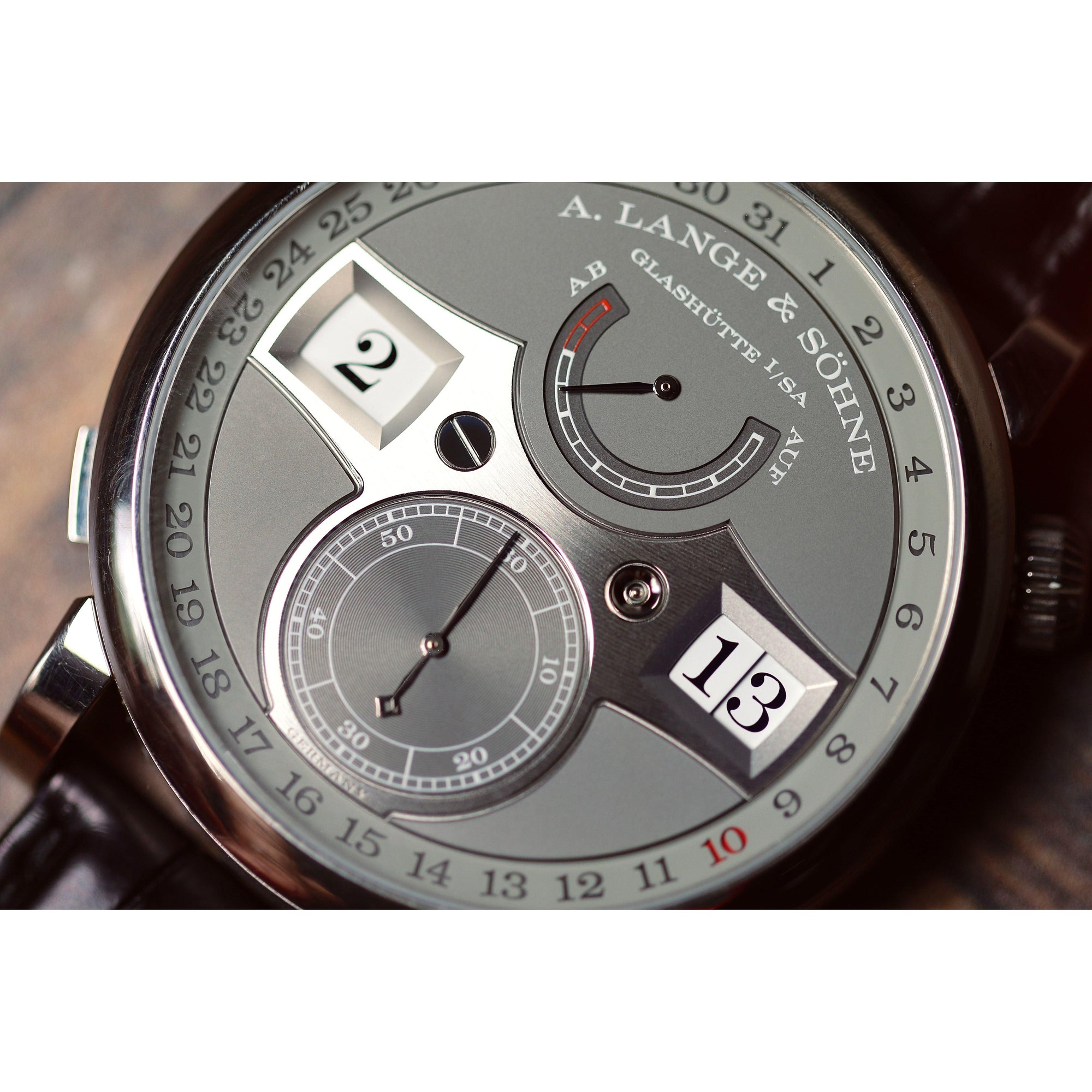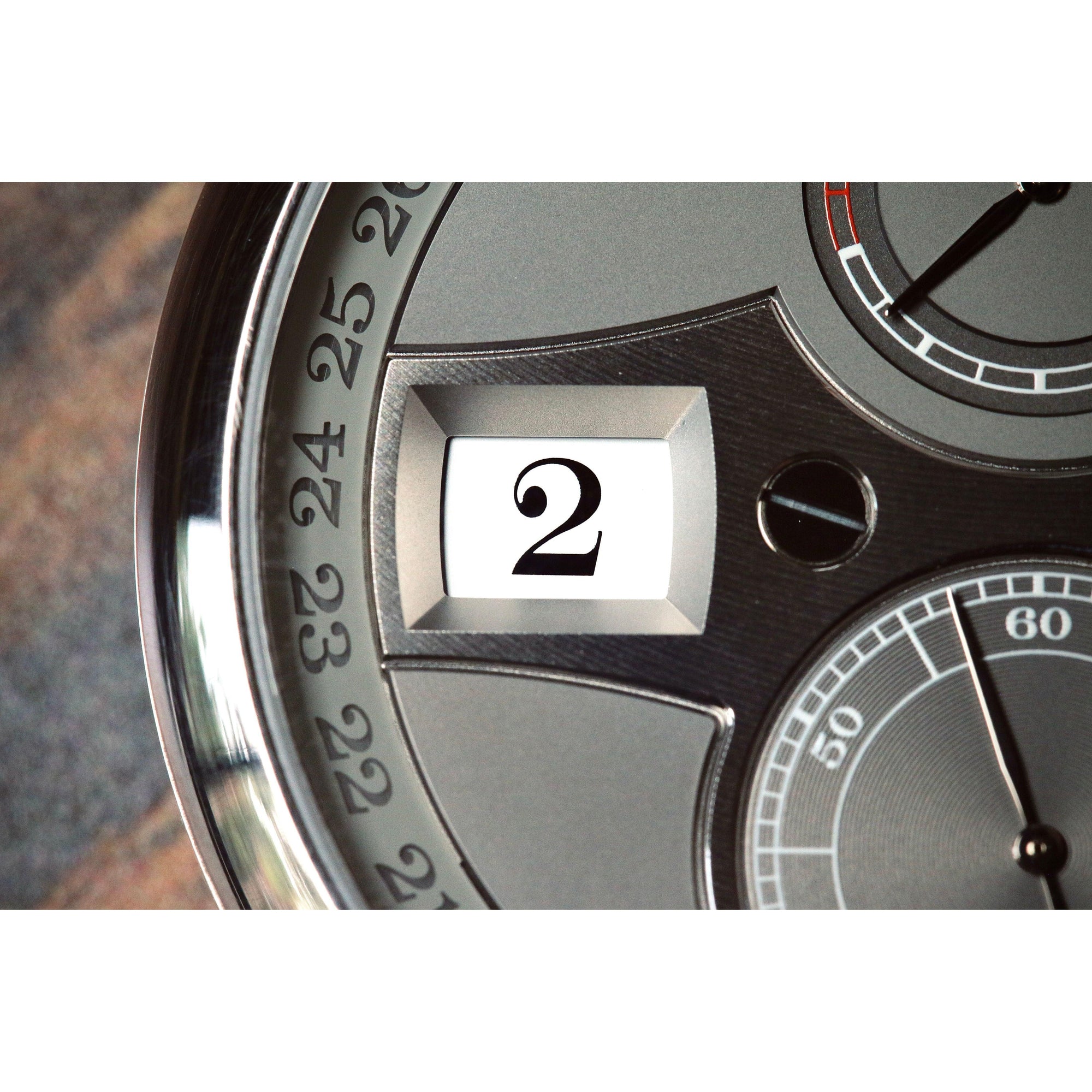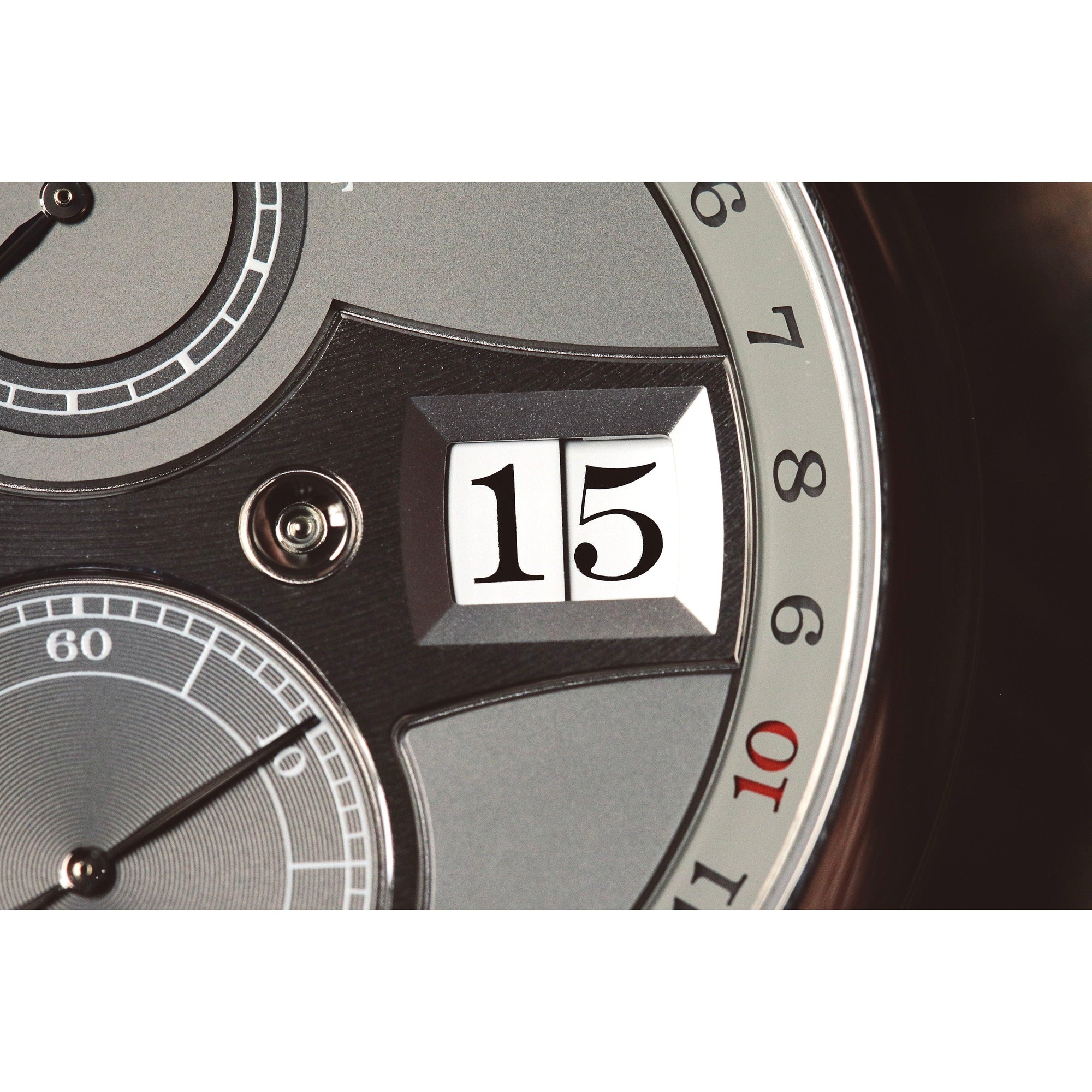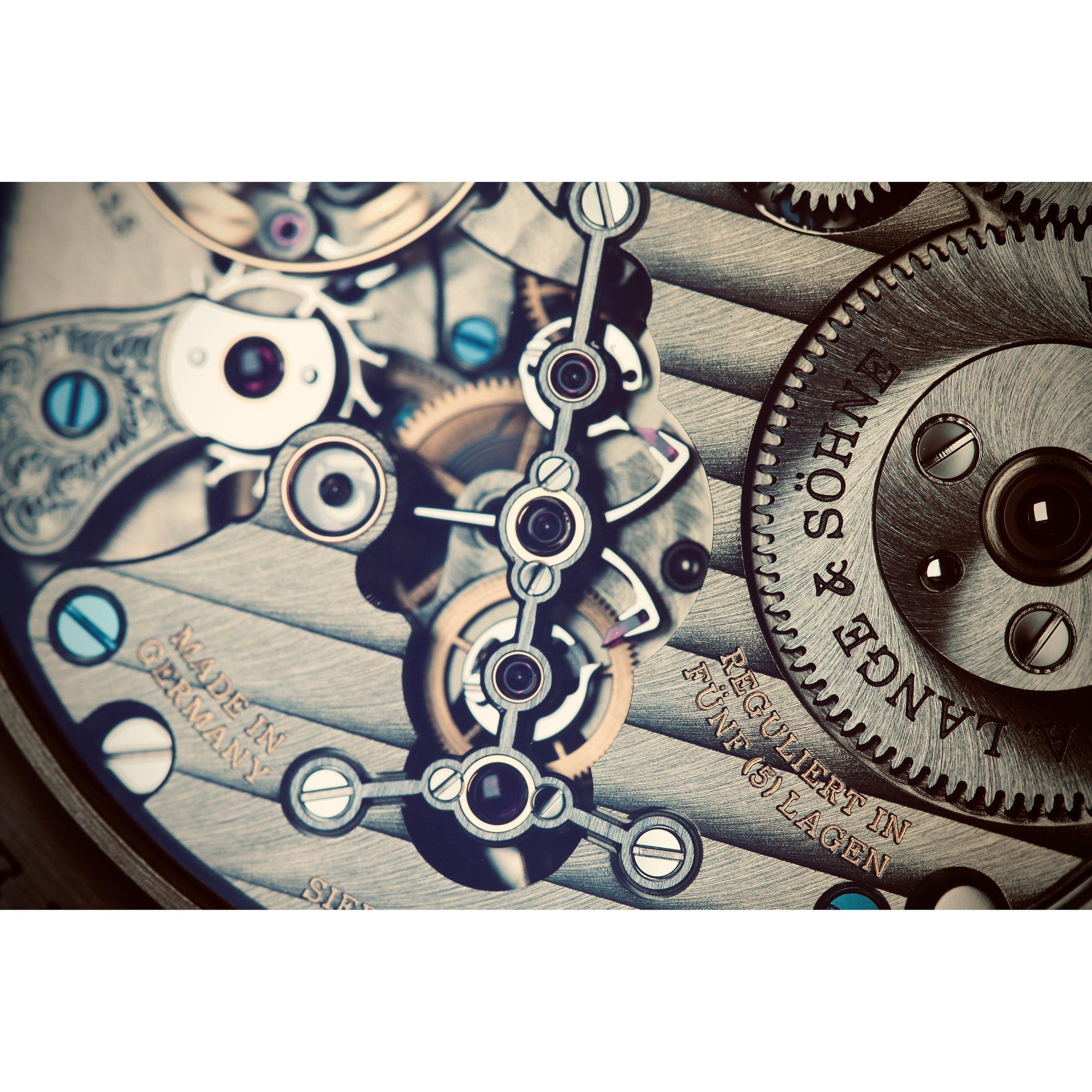 Zeitwerk Date Ref. 148.038
Regular price
$109,000.00
Regular price
Sale price
$109,000.00
Unit price
per
About the brand 

A. Lange & Söhne emerged as one of the pioneering watchmakers in the renowned town of Glashütte, Germany. In 1845, Adolf Lange founded the brand after gaining valuable experience as an apprentice under the skilled watchmaker J.C. Friedrich Gutkaes. During this time, Lange crafted timepieces tailored to the elite clientele, refining his watchmaking techniques and cultivating a meticulous and customer-centric work ethic.
Lange's apprenticeship concluded with honors in 1835, after which he continued working under Gutkaes for a few more years. Seeking further education, he studied under a respected chronometer maker before returning to Glashütte to establish his own workshop.
In the early years of his business, Lange displayed a strong inclination for innovation. In 1846, he introduced the three-quarter plate, a distinctive feature still present in the brand's movements today. Additionally, he abandoned the Parisian system of linges in favor of the metric system, introducing the millimeter as a unit of measurement in the watchmaking industry.
Lange and the Transformation of Glashütte:
In 1848, Lange received a remarkable opportunity when he was appointed as the Mayor of Glashütte. During his nearly two-decade tenure, he transformed the modest town into a thriving industrial center for watchmaking that continues to thrive today.
With a steadfast commitment to preserving the family legacy, Lange began training his sons, Richard and Emil, in the late 1860s and early 1870s. However, in 1875, at the age of 60, Lange passed away due to heart failure. His sons and later grandsons carried forward his spirit of innovation.
The Early 1900s and Challenging Times: The early 1900s marked a challenging period for both A. Lange & Söhne and Glashütte as a whole. The turmoil of World War I, followed by the economic downturn and the subsequent challenges of World War II, significantly impacted the town's watch manufacturing industry.
During World War II, A. Lange & Söhne produced oversized wristwatches for the German Air Force. However, as the war neared its end, the company faced severe consequences. In the final months of the war, their workshops were destroyed in a bombing raid. By 1948, the Lange family was expropriated, and the remaining assets of the company were nationalized by the Soviet administration. As a result, the name A. Lange & Söhne vanished for the next 45 years.
The Fall of the Iron Curtain and Rebirth:
Everything changed for the Lange family in 1989 with the fall of the Iron Curtain. Walter Lange, great-grandson of Adolf Lange, was finally able to return to Germany and revive his family's watchmaking tradition. By 1990, he had successfully re-registered the A. Lange & Söhne trademark, and in 1994, the brand presented its first watches in nearly half a century.
One of their notable introductions was the Lange 1, featuring a groundbreaking patent. Inspired by one of Adolf Lange's masterpieces—an 1830 clock designed for the Semper Opera House in Dresden—the Lange 1 incorporated an outsized date display. This key feature continues to be a hallmark of many A. Lange & Söhne watches today.
The 2000s and Beyond:
In 2001, after a decade of restoration work, the A. Lange & Söhne workshop reopened in the refurbished remnants of the building destroyed in 1945. Since its revival, the brand has created over 40 new movements, earning them more than 150 international horological accolades. It is evident that A. Lange & Söhne has firmly established its presence and is poised for a promising future in the world of watchmaking.
The watch
The 2019 ref. 148.038 Zeitwerk Date represents the most significant update to the Zeitwerk series since its original introduction in 2009. Previous iterations of the Zeitwerk were primarily cosmetic variations or featured complex complications like an hour-striker and minute-repeater, making them less practical. However, the A. Lange & Söhne Zeitwerk Date manages to strike a balance between luxury and functionality.

The standout feature of the Zeitwerk Date is its calendar complication, indicated by a date display on the dial's periphery. The date is presented through a fixed ring with 31 days, with the active date highlighted in red. At midnight, the red indicator precisely jumps to the next spot beneath the cut-glass date display. If necessary, the date can be quickly adjusted using one of the pushers on the case.

One might argue that the Zeitwerk didn't necessarily require a date indicator, as it is a timepiece driven by emotion rather than practicality. Nevertheless, the addition of the date serves as a subtle message from A. Lange & Söhne to collectors, emphasizing the watch's suitability for daily wear. Interestingly, my personal favorite enhancements in the Zeitwerk pertain to features beyond the new calendar complication. So, why add it? A. Lange & Söhne aims to prevent its older models from becoming obsolete by introducing new functionalities to subsequent versions, thereby maintaining demand for the previous iterations.

In my opinion, the two most significant upgrades in the 2019 Zeitwerk Date are the larger case size and the increased power reserve. The original Zeitwerk Date measured 41.9mm in width and 12.6mm in thickness, while the new Zeitwerk Date boasts dimensions of 44.2mm in width and 12.3mm in thickness.

This slightly broader and flatter case design exudes a more contemporary feel and wears comfortably on the wrist. Despite the increased size, it remains well-proportioned and accommodates a larger mainspring barrel. The original Zeitwerk suffered from a limited power reserve of approximately 36 hours. However, A. Lange & Söhne has managed to enhance the Zeitwerk Date's autonomy by extending the power reserve to 72 hours.

This improvement is attributed to the brand's new in-house caliber L043.8 manually wound movement. The watch retains its original functions, such as the instant-jumping hours and minutes displayed digitally and the traditional subsidiary seconds dial. The analog power reserve indicator, which ensures the watch remains wound, was crucial in the previous Zeitwerk and remains useful even with the extended 72-hour power reserve. It is worth noting that the additional pusher on the case allows for adjusting the hour hand quickly, making time adjustments more convenient when in a hurry.

The development of the dual digital indicator mechanism for the Zeitwerk presented significant challenges due to the power consumed during each indicator change. To overcome this, Lange incorporated a constant force escapement complication into the Zeitwerk, ensuring a consistent power supply from the mainspring to the movement's gear train. This is achieved through a remontoire system that accumulates and releases power in consistent intervals. The beautifully hand-decorated and -polished L043.8 movement comprises a total of 516 components. In addition to the extended 72-hour power reserve, the watch operates at a frequency of 18,000 beats per hour.

Specifications
| | |
| --- | --- |
| Movement | Manual Winding |
| Calibre | In-House Caliber L043.8 |
| Dial | Grey |
| Case size | 44.2 mm |
| Material | White Gold |
| Bracelet | Lange & Sohne Alligator Strap |
| Glass | Sapphire |
| Condition | Shows signs of wear |
| Box & Papers | Complete, Full set |
Why buy from The Second Hand Club?

Impeccable Authenticity: At The Second Hand Club, we understand the significance of owning genuine luxury watches. That's why we employ an exceptionally thorough authenticity process. Our team of seasoned experts meticulously examines every timepiece, scrutinizing its provenance, components, and craftsmanship. You can trust that each watch in our collection is 100% authentic, allowing you to invest confidently in horological masterpieces.

Comprehensive 24-Month Warranty: We believe in the enduring quality of the watches we offer. To provide you with peace of mind and demonstrate our commitment to your satisfaction, we provide a comprehensive 24-month warranty on all watches purchased from us. Our warranty covers any mechanical defects, ensuring that you can enjoy your timepiece with confidence and assurance.

Unbeatable Prices: At The Second Hand Club, we are dedicated to making luxury watches accessible to all enthusiasts and collectors. We strive to offer the most competitive prices available anywhere, ensuring exceptional value for your investment. Through our meticulous sourcing methods and extensive industry network, we are able to curate an extraordinary collection while keeping our prices highly competitive.

Advanced Horological Advice: We pride ourselves on our passion for horology and our extensive knowledge of the craft. When you choose The Second Hand Club, you gain access to an advanced level of advice on horology and collecting strategy. Our knowledgeable team is equipped to provide expert guidance, helping you navigate the world of luxury watches. Whether you're seeking insights on complications, historical significance, or investment potential, we are here to assist you in making informed decisions.

Curating Fascinating and Unique Collections: Our passion extends beyond individual timepieces; we take pleasure in helping our customers curate truly captivating and unique collections. With our deep understanding of the market and the rarest watches ever made, we can assist you in assembling a collection that reflects your individual style and discerning taste. Whether you're starting your collection or looking to expand it, our expertise and personalized approach ensure an extraordinary journey into the world of horology.

Choose The Second Hand Club to immerse yourself in a world of horological excellence. From our meticulous authenticity process and comprehensive warranty to our competitive prices and advanced horological advice, we are committed to providing an unparalleled experience. Let us guide you as you embark on a remarkable journey, curating a collection of extraordinary watches that will captivate and inspire for generations to come.
What payment methods do you accept?

At The Second Hand Club, we accept a variety of payment methods for your convenience.

You may choose to pay using your American Express, Visa, or Mastercard credit cards.

In addition, we also accept wire transfer payments. To encourage this method, we offer an attractive 3% discount for all transactions completed via wire transfer. This is part of our commitment to providing a seamless and accommodating experience for all of our esteemed customers.
What about trades or selling my watches?

When it comes to selling or trading your valuable watches, The Second Hand Club offers an exceptional consignment experience. Here's why you should consider consigning with us:

Global Reach, Local Expertise: While our clientele is primarily based in America, we have a vast network of collectors and end users around the world. This global reach ensures that your timepiece will have exposure to a diverse and discerning audience, maximizing the chances of a successful sale.
Expertise in High-End Pieces: With an average price point of $85,000, we are well-versed in dealing with high-end luxury watches. Our experience extends to timepieces that reach seven figures, demonstrating our ability to handle the most exclusive and valuable pieces with the utmost care and professionalism.
Competitive Consignment Rate: At The Second Hand Club, we understand the importance of fair and transparent pricing. That's why we offer the most competitive consignment rate of just 3%. Our low rate ensures that you receive a substantial portion of the final sale value, making consigning with us a lucrative option.
Swift Consignment Process: Time is of the essence, and we value your time as much as you do. Our average consignment time for watches is just 7 business days. Once your timepiece is submitted for consignment, our team works efficiently to list and market it to our extensive network of potential buyers, ensuring a prompt and efficient process.
Maximize Your Returns: Consigning your watch with The Second Hand Club allows you to unlock the full potential value of your timepiece. By reaching a wider audience and benefiting from our expertise in marketing luxury watches, you increase the likelihood of receiving higher offers than with a straight sale. With the funds generated from the consignment, you can explore new watch acquisitions or opt for an instant payment once the sale is concluded.

When you choose The Second Hand Club's consignment program, you gain access to our global network, unparalleled expertise, and a streamlined process designed to deliver exceptional results. Entrust your luxury timepiece to us and let our dedicated team work diligently to ensure you receive the maximum value for your watch, all while enjoying a hassle-free and rewarding consignment experience.

Have further questions about selling your watch? Contact us.
Do you provide warranty on your watches?

At The Second Hand Club, we are committed advocates for the exceptional quality of our curated selection of pre-owned timepieces and mechanical objects. In the event of an unexpected issue, we remain committed to addressing it promptly and effectively. Our client's trust and satisfaction are paramount to our entire team.

Each pre-owned watch in our collection has been meticulously examined using non-intrusive methods to confirm their mechanical integrity. Where necessary, servicing has been performed to guarantee they align with our highest standards for timekeeping precision and functional performance.

Unless explicitly indicated, our pre-owned watches are protected by either a comprehensive or a limited warranty for a period of twenty-four months. However, this warranty does not cover damages resulting from accidents or misuse. Given their vintage status, pre-owned watches may not withstand the same conditions as brand new models.
Return & Refund policy

At The Second Hand Club, We have a No Return & Refund Policy ("Policy") that applies to all purchases made through The Second Hand Club and outlines our obligations and procedures concerning returns and refunds.

Final Sales: All sales concluded through The Second Hand Club are final. Once a purchase is made, we do not accept returns or issue refunds.
Change of Mind: In the event you have a change of heart post-purchase, The Second Hand Club offers a unique service to accommodate you. We are pleased to accept the timepiece back and undertake the task of selling the item on your behalf at no cost. This process is subject to a binding agreement to be entered into between The Second Hand Club and the client.
After-Sale Return of Funds: Once the watch has been sold, the entirety of the sale amount will be returned to you. The amount will be remitted to the original method of payment within a reasonable timeframe following the successful completion of the sale.
Customer Obligations: It is the customer's responsibility to ensure the watch is returned in the same condition as it was sold. Any degradation in the quality or condition of the watch may affect its sale value, for which The Second Hand Club will not be held responsible.
Contact: For more information or to initiate this process, please contact our customer service at contact@thesecondhandclub.com or +1 (754)-333-7667.

Please note that this Policy represents the entire agreement between you and The Second Hand Club regarding returns and refunds. By purchasing a timepiece from The Second Hand Club, you acknowledge and agree to this Policy in its entirety.

Have further questions? Contact us.