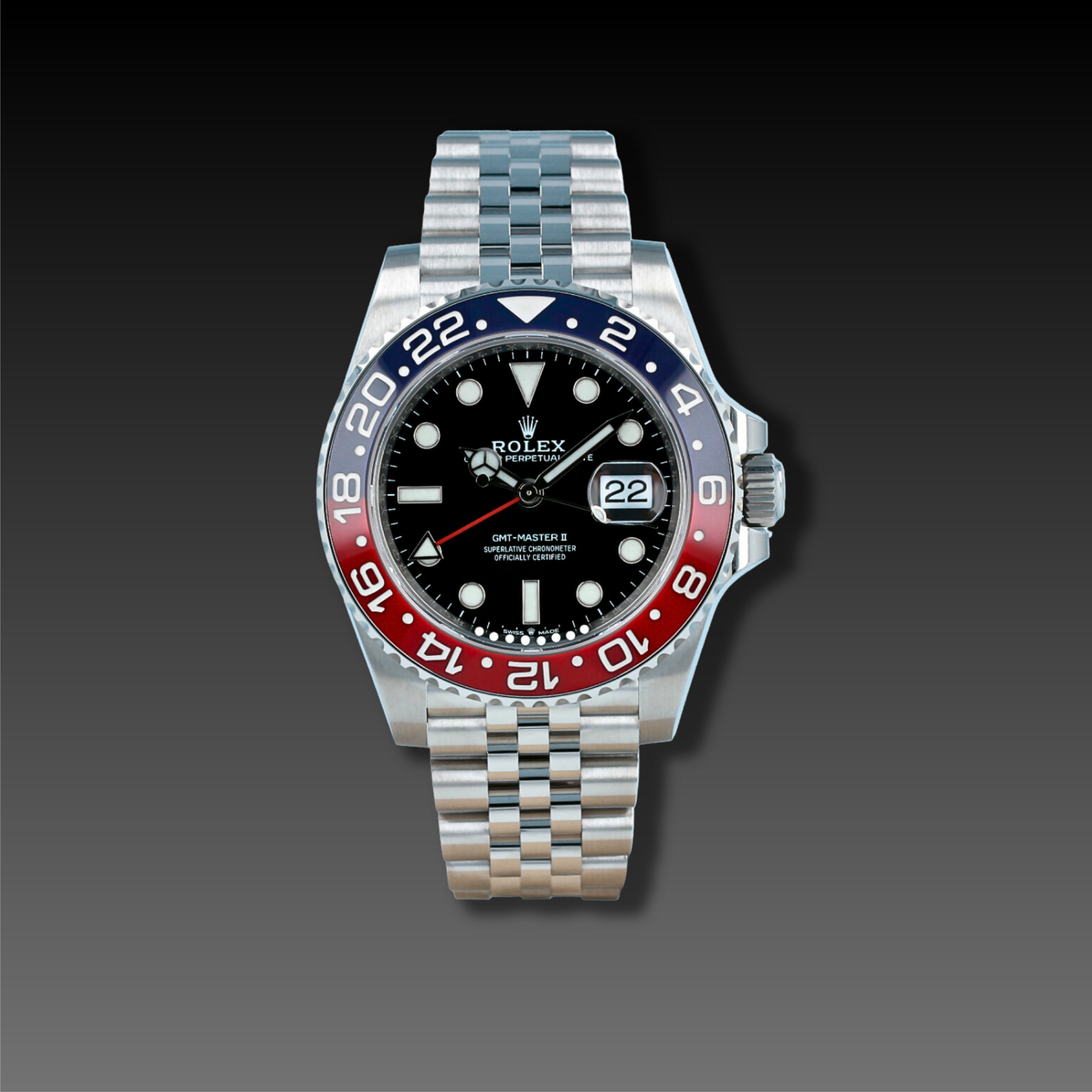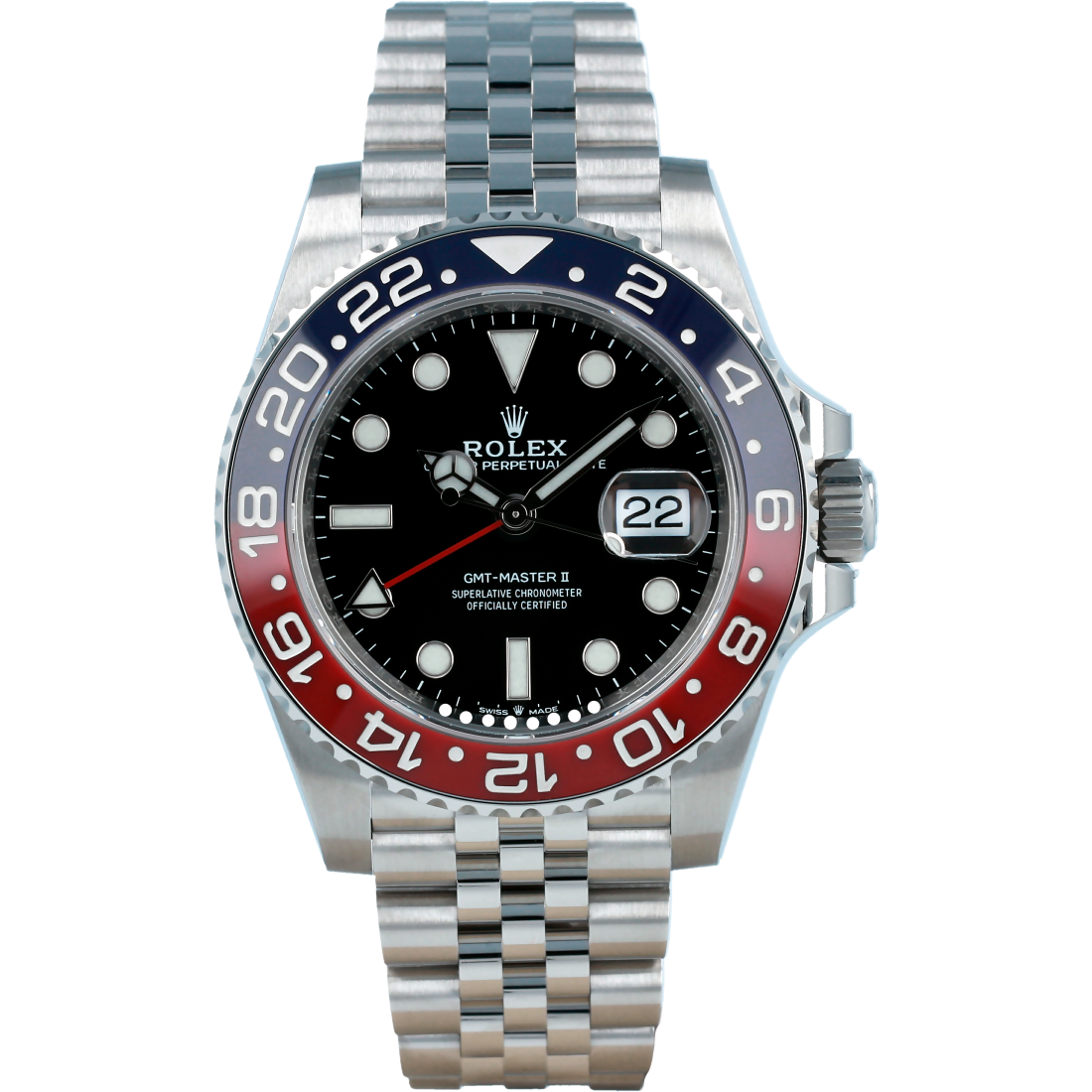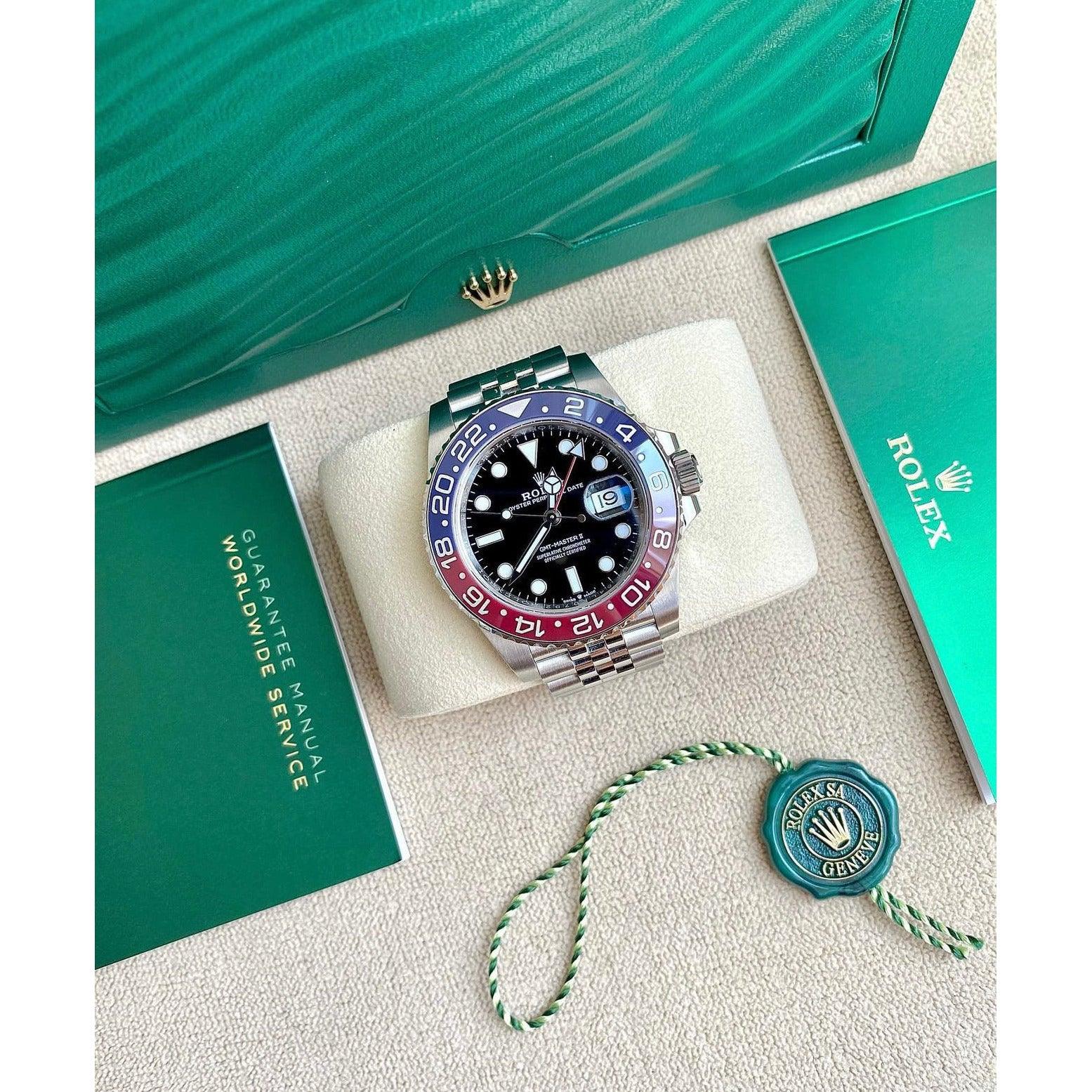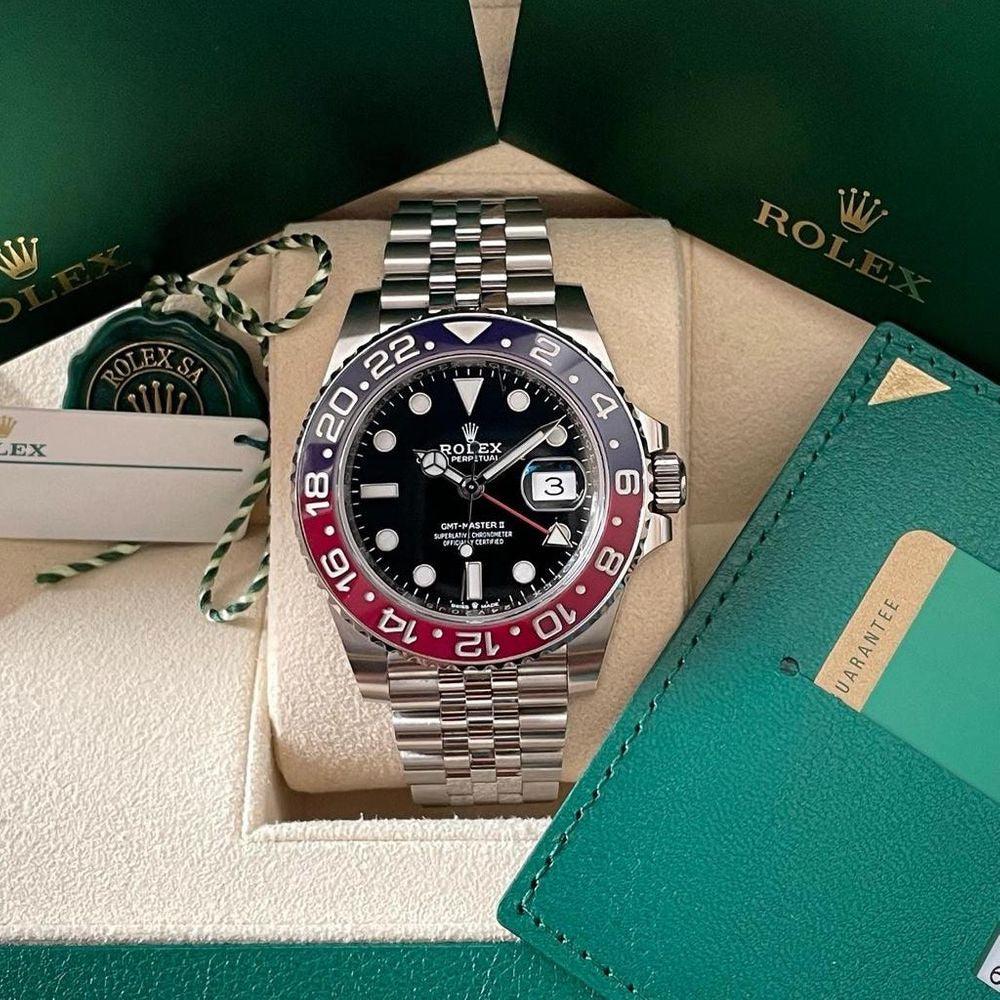 Rolex GMT Master II Ref. 126710BLRO
Regular price
Sale price
$21,100.00
Unit price
per
At The Second Hand Club, we are proud to have this Rolex GMT Master II reference 126710BLRO for sale. The watch comes as brand new with original box and paperwork.
Wire transfer payments are eligible for a 3% discount on all of our watches.
About the brand 
Rolex is a Swiss luxury watch company that has a 116-year history of innovation in both marketing and precision engineering. The company was founded in 1905 by Hans Wilsdorf and Alfred Davis in London. The name "Rolex" was inspired by Wilsdorf while he was riding on a double-decker bus, as it was a unique combination of letters that could be easily pronounced in any language. In 1910, Rolex became the first wristwatch retailer to receive an independently ratified Chronometric Certification. In 1919, the company moved to Geneva due to a 33% tax on custom imports in England.
In 1944, Wilsdorf founded the Hans Wilsdorf Foundation after the passing of his wife Florence. The foundation works as a private family trust and donates proceeds from Wilsdorf's shares in the company to different charitable causes. In 1960, ownership of the company was passed on to the foundation upon Wilsdorf's death. In 2017, the foundation donated $100 million to HEAD's campus, an applied arts school in Geneva.
Throughout its history, Rolex has made many technical innovations, including the first waterproof watch in 1926, the first automatic winding wristwatch in 1931, and the first self-winding chronometer in 1945. The company has also been associated with many historic events, such as the first submarine to reach the bottom of the Mariana Trench in 1960, and the first moon landing in 1969.
Today, Rolex continues to be a leading luxury watch brand, known for its commitment to quality and innovation. Its watches are recognized worldwide for their precision, elegance, and durability.
The watch
The Rolex GMT-Master wristwatch was originally designed in collaboration with the Pan American Airways and issued by the airline to their crews on long-haul flights. ("GMT" in the name stands for Greenwich Mean Time, which was later replaced by Coordinated Universal Time (UTC), though the watch kept its name).
The original GMT Master watch has a 24-hour display fourth hand complication directly linked to and displaying the same time zone as the standard 12-hour hand. This GMT hand enabled the crews to set the watch to GMT or another time zone, and, using the rotatable 24-hour scale bezel, set to the correct offset, a second time zone could be read. GMT or UTC is the time zone that is required for all aviation planning, weather forecasts, schedules and other paperwork.
Although the original Rolex GMT Master was available only in stainless steel, as it was conceived as a functional work watch, Rolex has been making luxury versions in both mixed steel and gold, and all-gold since the 1950s, and there are even exotic variations that incorporate elaborate designs that include precious stones
Specifications
| | |
| --- | --- |
| Movement | Self Winding |
| Calibre | In House Calibre 3285 |
| Dial | Black |
| Case size | 40mm |
| Material | Stainless Steel |
| Bracelet | Jubilee Stainless Bracelet |
| Glass | Sapphire |
| Condition | New |
| Box & Papers | Complete, Full set |
Why buy from The Second Hand Club?

Impeccable Authenticity: At The Second Hand Club, we understand the significance of owning genuine luxury watches. That's why we employ an exceptionally thorough authenticity process. Our team of seasoned experts meticulously examines every timepiece, scrutinizing its provenance, components, and craftsmanship. You can trust that each watch in our collection is 100% authentic, allowing you to invest confidently in horological masterpieces.

Comprehensive 24-Month Warranty: We believe in the enduring quality of the watches we offer. To provide you with peace of mind and demonstrate our commitment to your satisfaction, we provide a comprehensive 24-month warranty on all watches purchased from us. Our warranty covers any mechanical defects, ensuring that you can enjoy your timepiece with confidence and assurance.

Unbeatable Prices: At The Second Hand Club, we are dedicated to making luxury watches accessible to all enthusiasts and collectors. We strive to offer the most competitive prices available anywhere, ensuring exceptional value for your investment. Through our meticulous sourcing methods and extensive industry network, we are able to curate an extraordinary collection while keeping our prices highly competitive.

Advanced Horological Advice: We pride ourselves on our passion for horology and our extensive knowledge of the craft. When you choose The Second Hand Club, you gain access to an advanced level of advice on horology and collecting strategy. Our knowledgeable team is equipped to provide expert guidance, helping you navigate the world of luxury watches. Whether you're seeking insights on complications, historical significance, or investment potential, we are here to assist you in making informed decisions.

Curating Fascinating and Unique Collections: Our passion extends beyond individual timepieces; we take pleasure in helping our customers curate truly captivating and unique collections. With our deep understanding of the market and the rarest watches ever made, we can assist you in assembling a collection that reflects your individual style and discerning taste. Whether you're starting your collection or looking to expand it, our expertise and personalized approach ensure an extraordinary journey into the world of horology.

Choose The Second Hand Club to immerse yourself in a world of horological excellence. From our meticulous authenticity process and comprehensive warranty to our competitive prices and advanced horological advice, we are committed to providing an unparalleled experience. Let us guide you as you embark on a remarkable journey, curating a collection of extraordinary watches that will captivate and inspire for generations to come.
What payment methods do you accept?

At The Second Hand Club, we accept a variety of payment methods for your convenience.

You may choose to pay using your American Express, Visa, or Mastercard credit cards.

In addition, we also accept wire transfer payments. To encourage this method, we offer an attractive 3% discount for all transactions completed via wire transfer. This is part of our commitment to providing a seamless and accommodating experience for all of our esteemed customers.
What about trades or selling my watches?

When it comes to selling or trading your valuable watches, The Second Hand Club offers an exceptional consignment experience. Here's why you should consider consigning with us:

Global Reach, Local Expertise: While our clientele is primarily based in America, we have a vast network of collectors and end users around the world. This global reach ensures that your timepiece will have exposure to a diverse and discerning audience, maximizing the chances of a successful sale.
Expertise in High-End Pieces: With an average price point of $85,000, we are well-versed in dealing with high-end luxury watches. Our experience extends to timepieces that reach seven figures, demonstrating our ability to handle the most exclusive and valuable pieces with the utmost care and professionalism.
Competitive Consignment Rate: At The Second Hand Club, we understand the importance of fair and transparent pricing. That's why we offer the most competitive consignment rate of just 3%. Our low rate ensures that you receive a substantial portion of the final sale value, making consigning with us a lucrative option.
Swift Consignment Process: Time is of the essence, and we value your time as much as you do. Our average consignment time for watches is just 7 business days. Once your timepiece is submitted for consignment, our team works efficiently to list and market it to our extensive network of potential buyers, ensuring a prompt and efficient process.
Maximize Your Returns: Consigning your watch with The Second Hand Club allows you to unlock the full potential value of your timepiece. By reaching a wider audience and benefiting from our expertise in marketing luxury watches, you increase the likelihood of receiving higher offers than with a straight sale. With the funds generated from the consignment, you can explore new watch acquisitions or opt for an instant payment once the sale is concluded.

When you choose The Second Hand Club's consignment program, you gain access to our global network, unparalleled expertise, and a streamlined process designed to deliver exceptional results. Entrust your luxury timepiece to us and let our dedicated team work diligently to ensure you receive the maximum value for your watch, all while enjoying a hassle-free and rewarding consignment experience.

Have further questions about selling your watch? Contact us.
Do you provide warranty on your watches?

At The Second Hand Club, we are committed advocates for the exceptional quality of our curated selection of pre-owned timepieces and mechanical objects. In the event of an unexpected issue, we remain committed to addressing it promptly and effectively. Our client's trust and satisfaction are paramount to our entire team.

Each pre-owned watch in our collection has been meticulously examined using non-intrusive methods to confirm their mechanical integrity. Where necessary, servicing has been performed to guarantee they align with our highest standards for timekeeping precision and functional performance.

Unless explicitly indicated, our pre-owned watches are protected by either a comprehensive or a limited warranty for a period of twenty-four months. However, this warranty does not cover damages resulting from accidents or misuse. Given their vintage status, pre-owned watches may not withstand the same conditions as brand new models.
Return & Refund policy

At The Second Hand Club, We have a No Return & Refund Policy ("Policy") that applies to all purchases made through The Second Hand Club and outlines our obligations and procedures concerning returns and refunds.

Final Sales: All sales concluded through The Second Hand Club are final. Once a purchase is made, we do not accept returns or issue refunds.
Change of Mind: In the event you have a change of heart post-purchase, The Second Hand Club offers a unique service to accommodate you. We are pleased to accept the timepiece back and undertake the task of selling the item on your behalf at no cost. This process is subject to a binding agreement to be entered into between The Second Hand Club and the client.
After-Sale Return of Funds: Once the watch has been sold, the entirety of the sale amount will be returned to you. The amount will be remitted to the original method of payment within a reasonable timeframe following the successful completion of the sale.
Customer Obligations: It is the customer's responsibility to ensure the watch is returned in the same condition as it was sold. Any degradation in the quality or condition of the watch may affect its sale value, for which The Second Hand Club will not be held responsible.
Contact: For more information or to initiate this process, please contact our customer service at contact@thesecondhandclub.com or +1 (754)-333-7667.

Please note that this Policy represents the entire agreement between you and The Second Hand Club regarding returns and refunds. By purchasing a timepiece from The Second Hand Club, you acknowledge and agree to this Policy in its entirety.

Have further questions? Contact us.