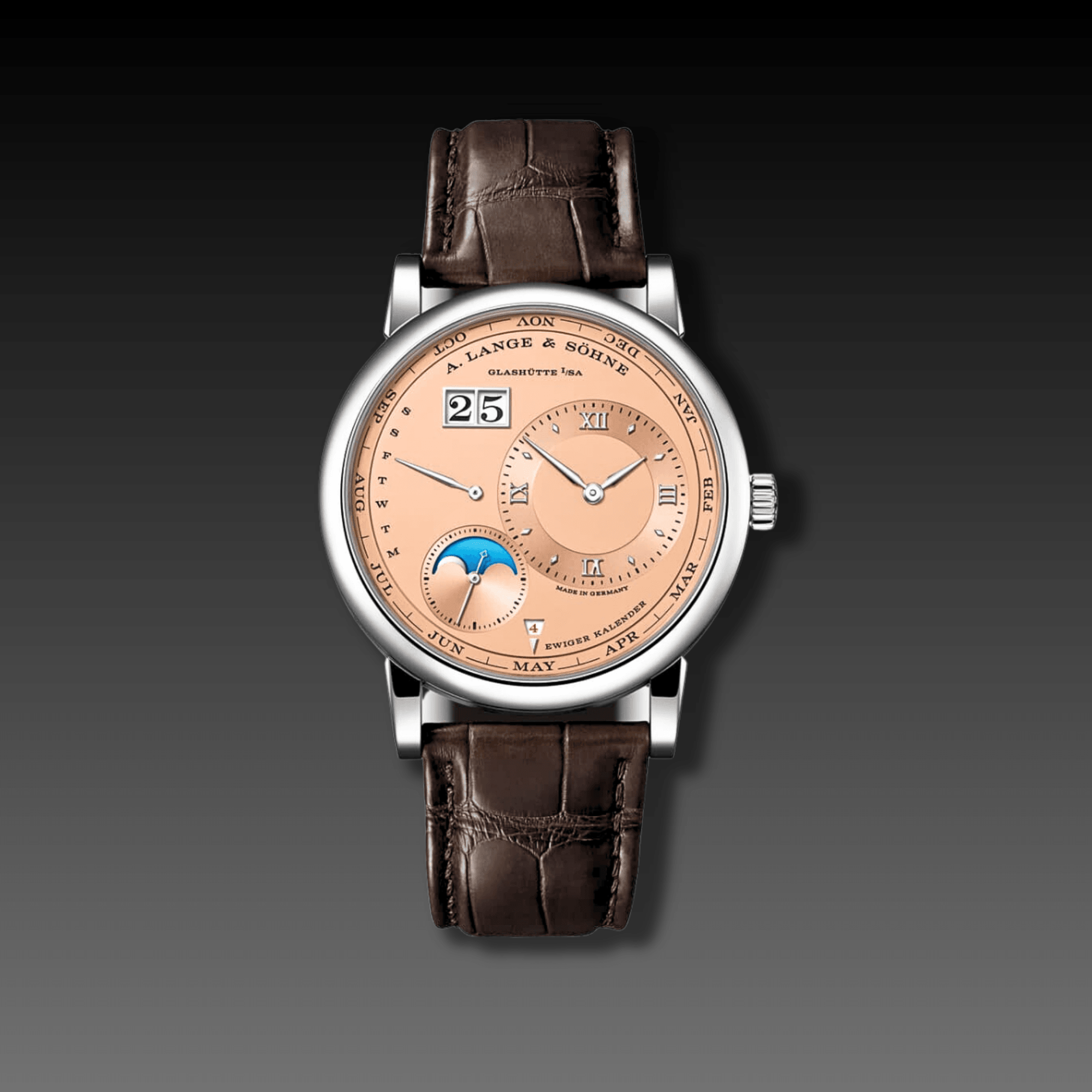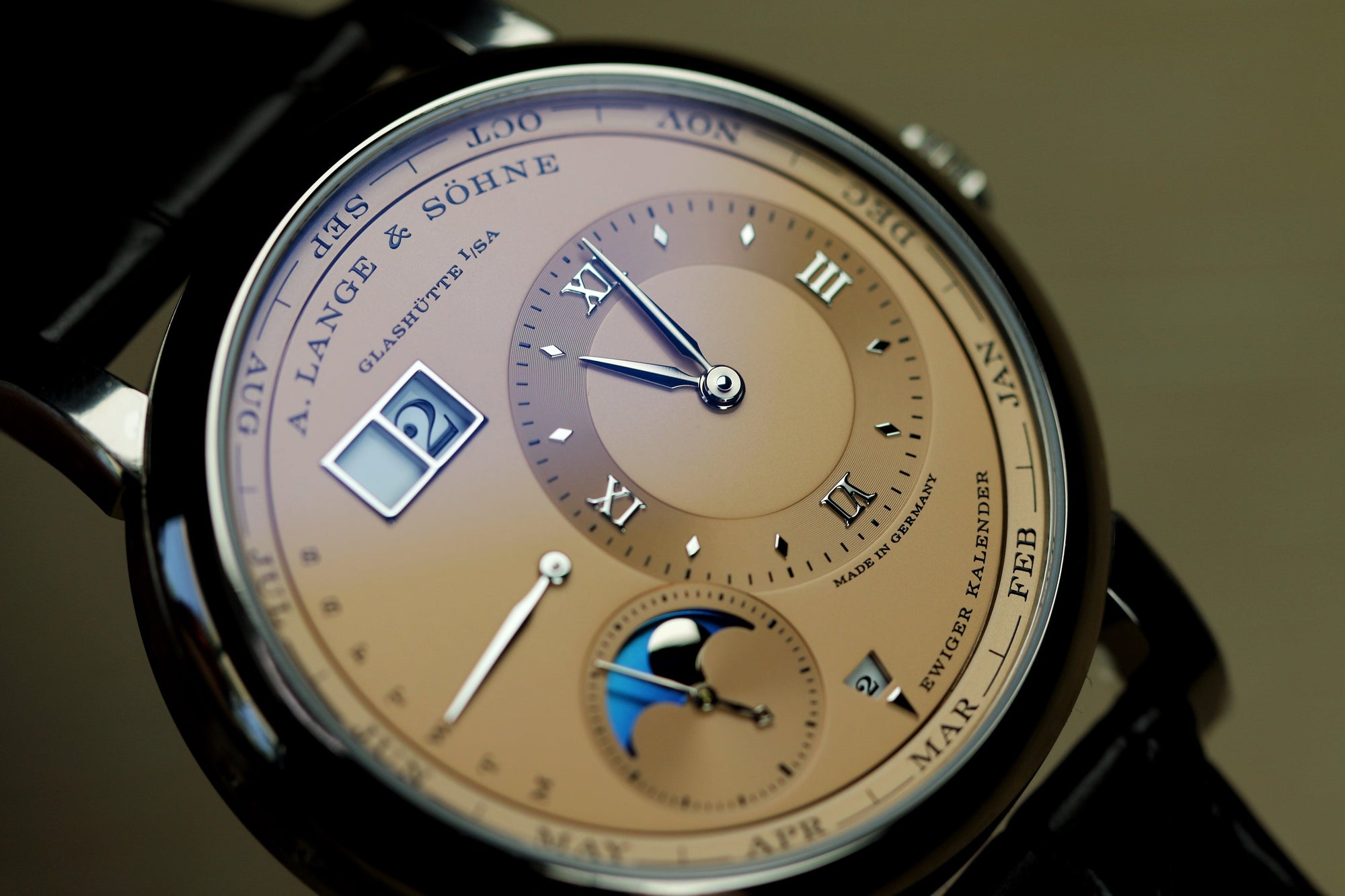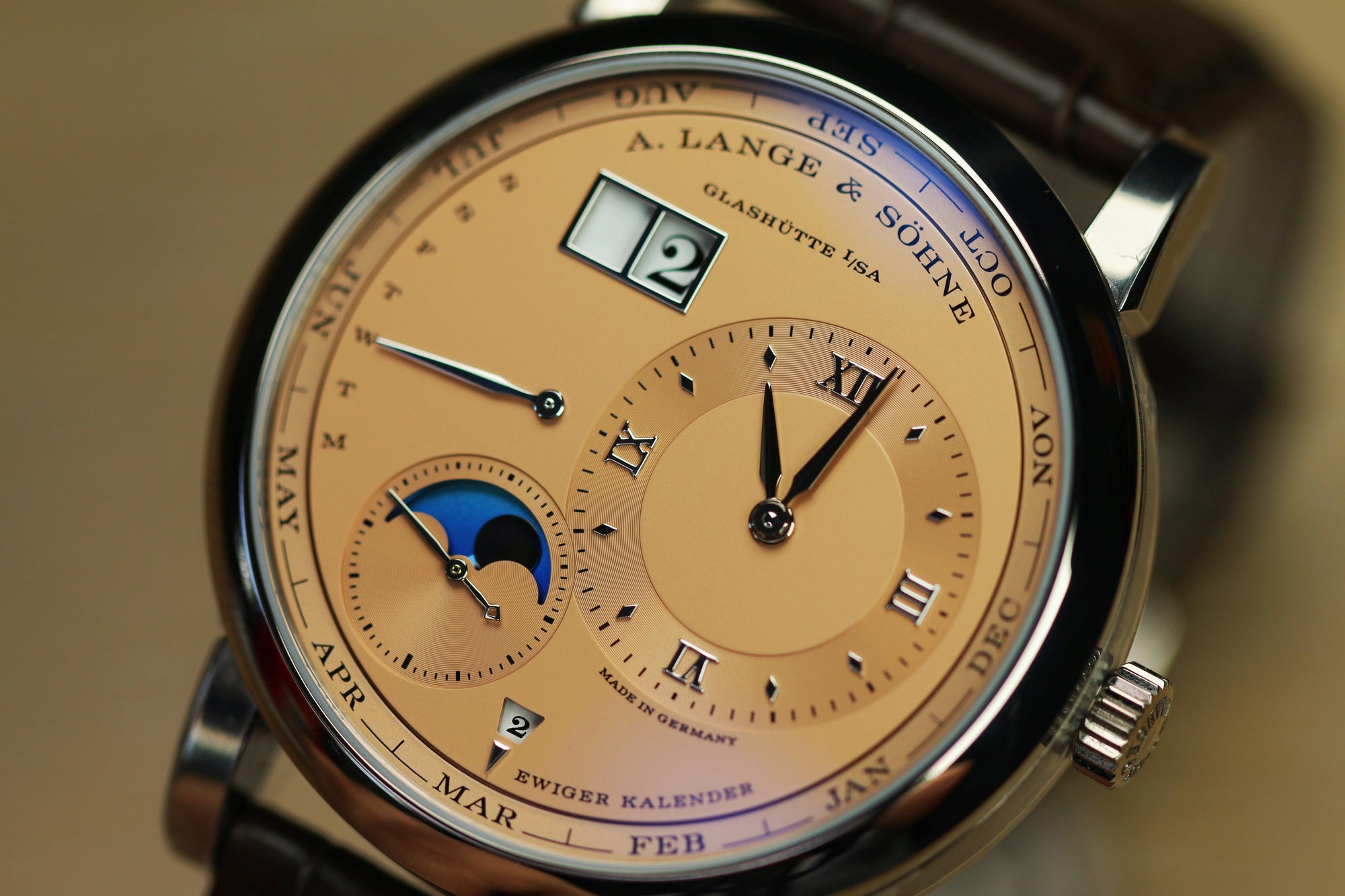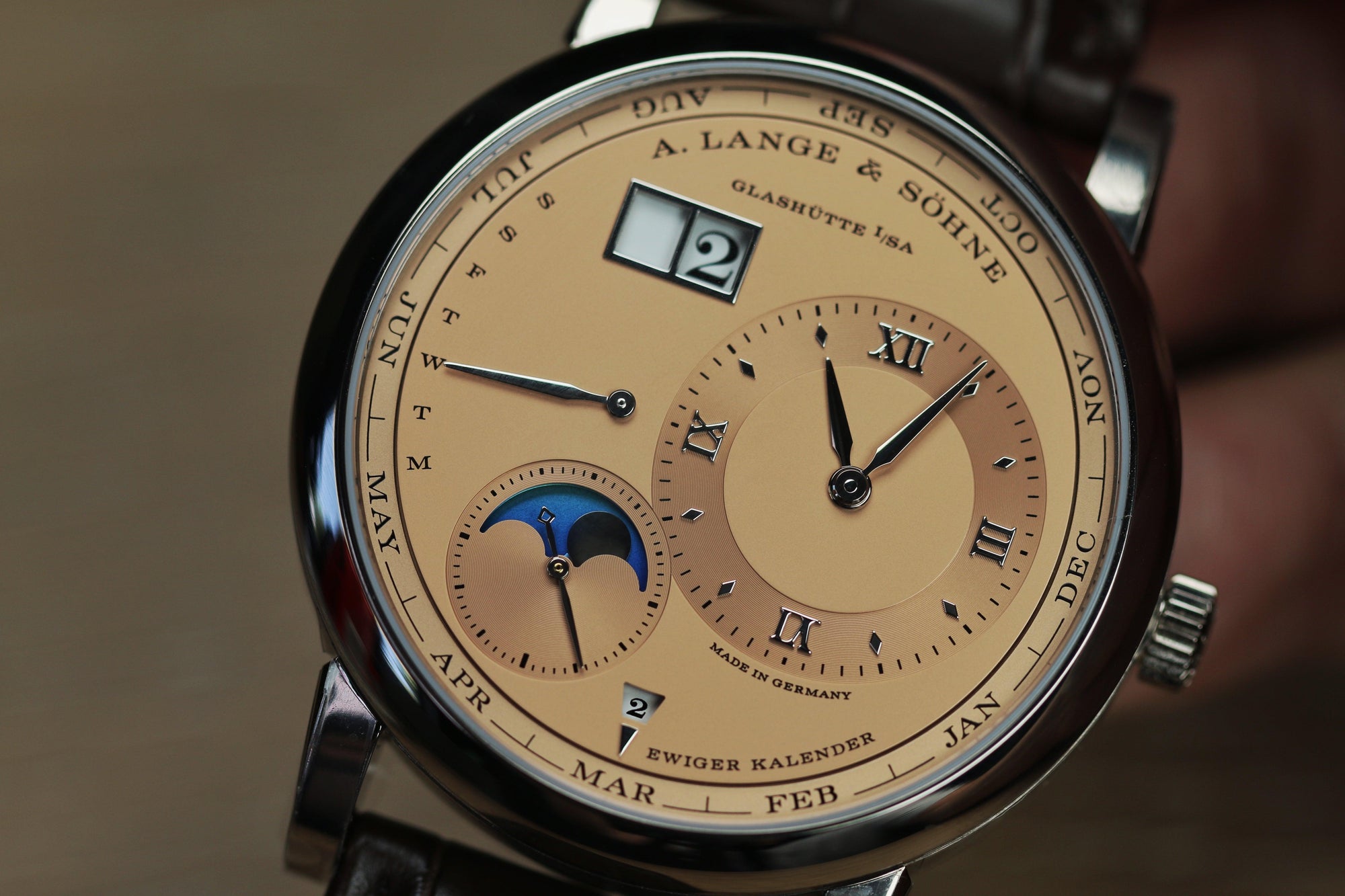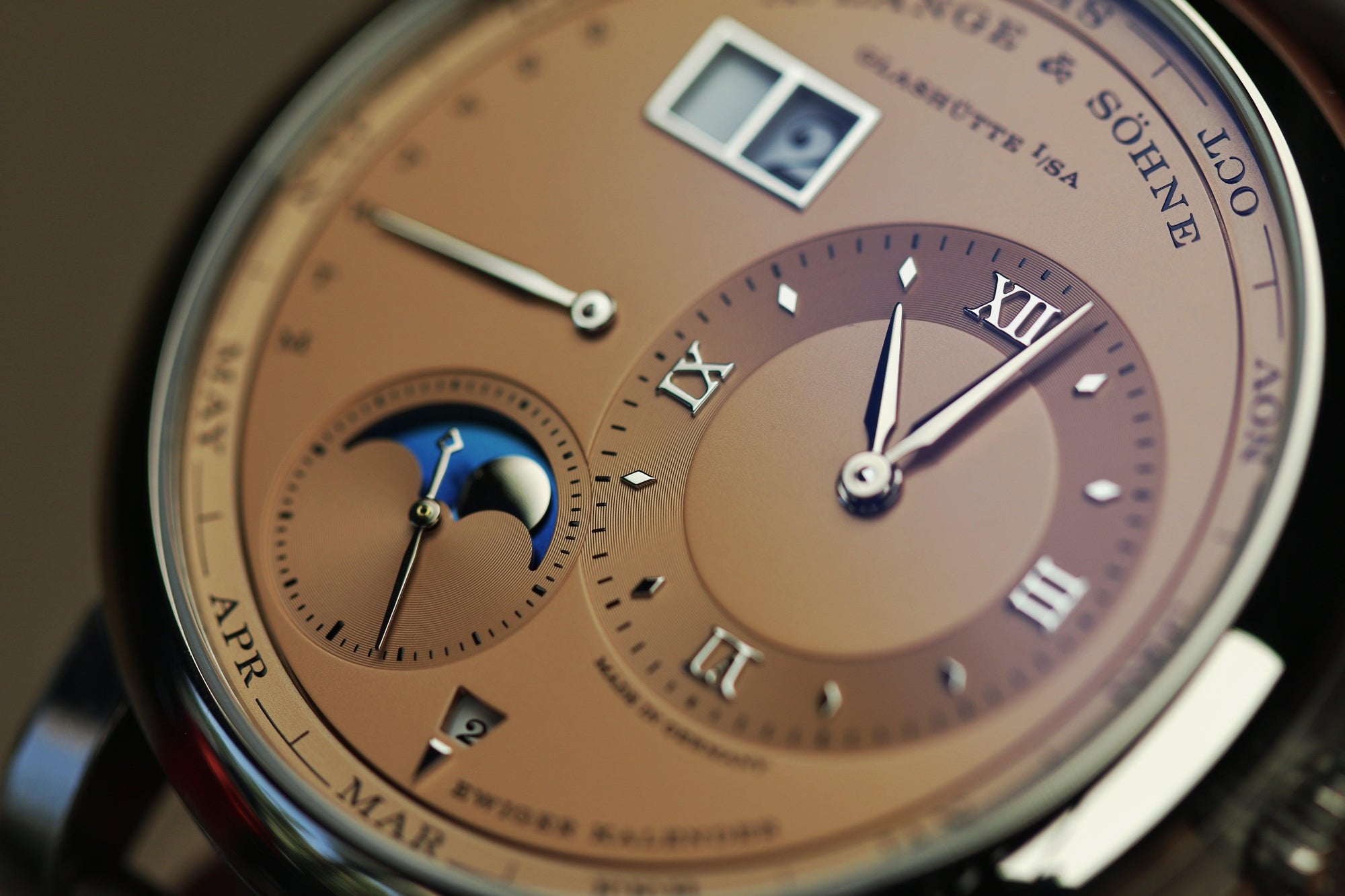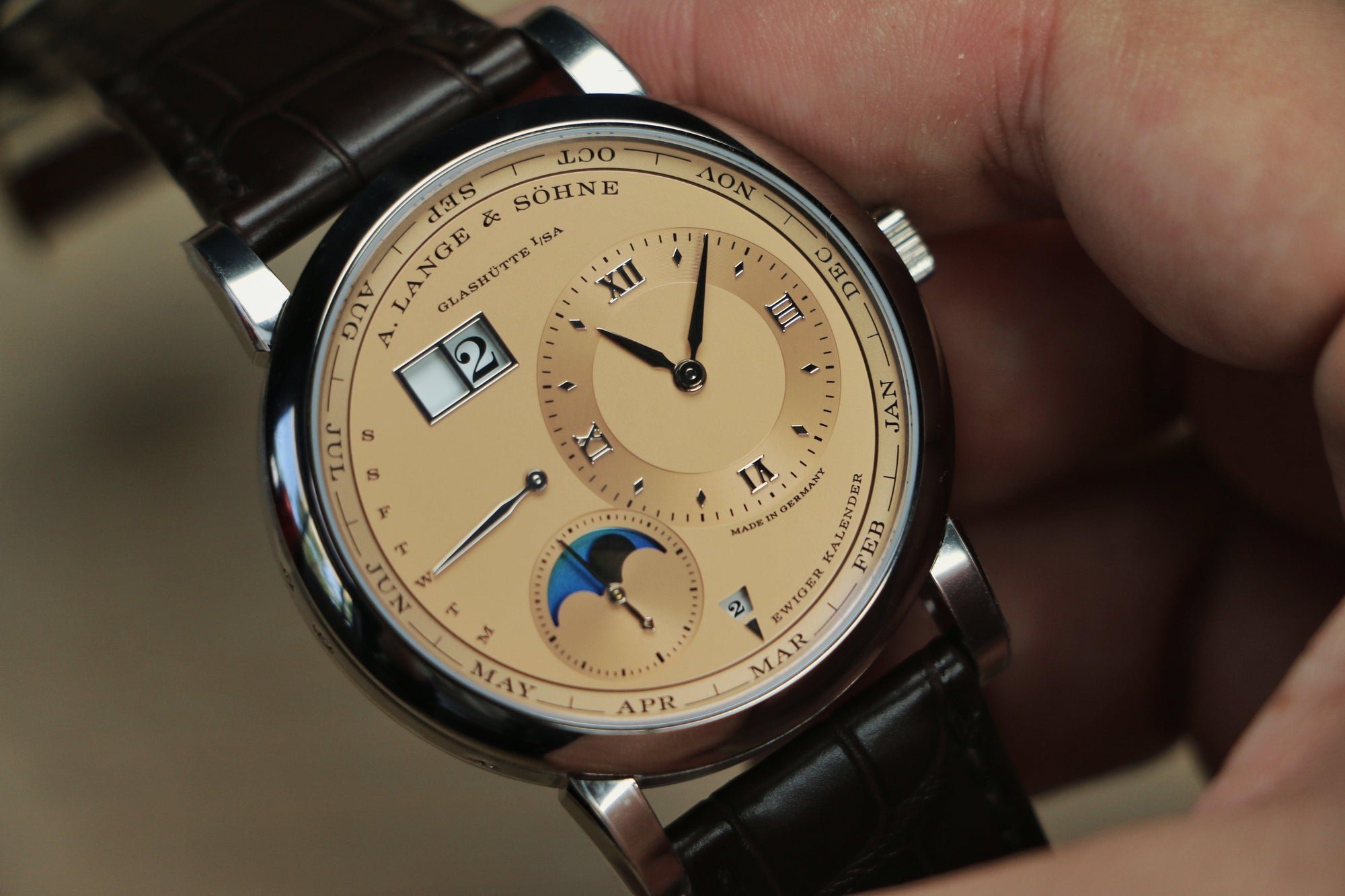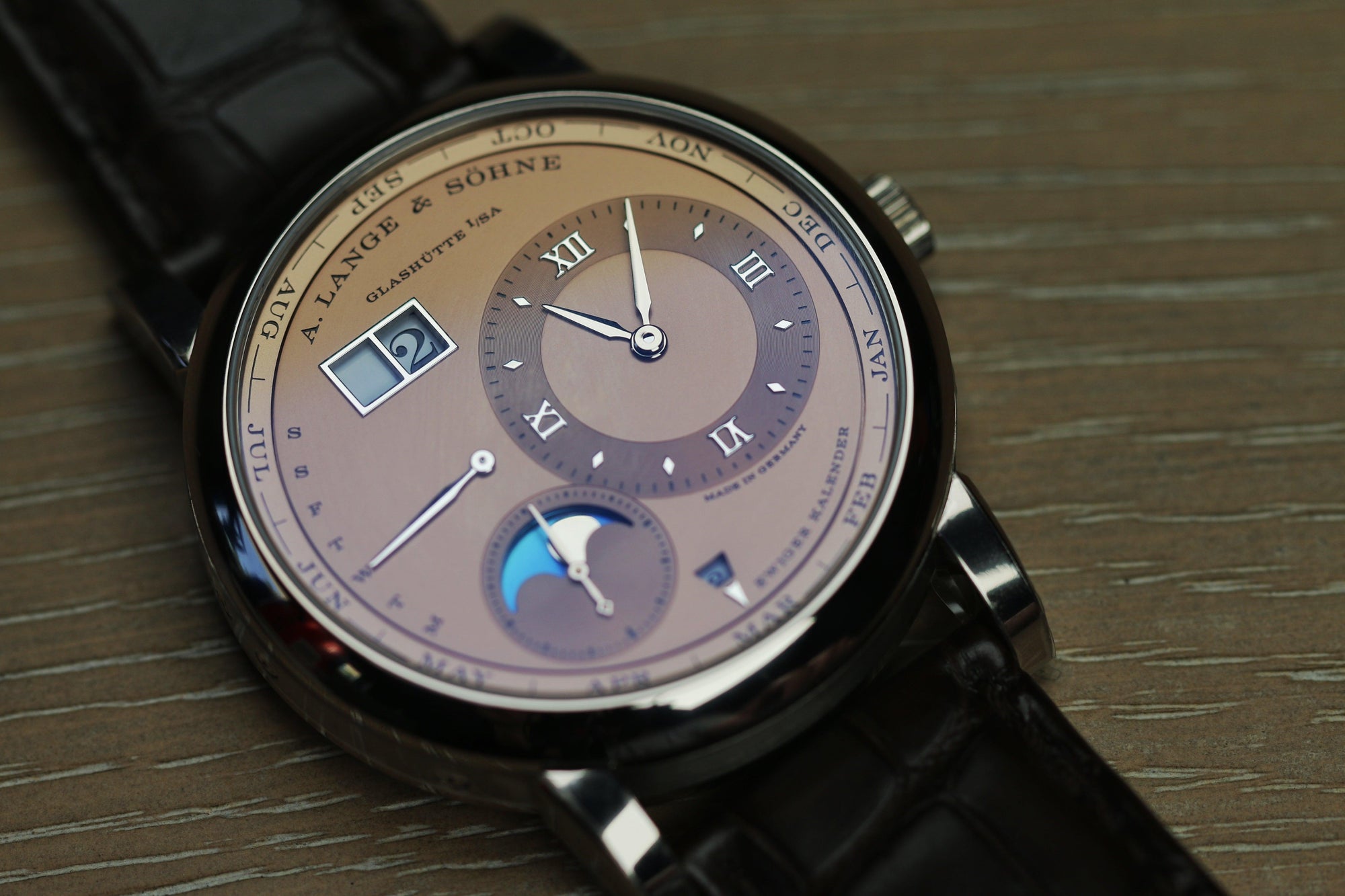 Perpetual Calendar Ref. 345.056
Regular price
$139,000.00
Regular price
Sale price
$139,000.00
Unit price
per
About the brand 

Let us take you on a luxurious journey through the history and legacy of A. Lange & Söhne. Established in 1845 by Ferdinand Adolph Lange, this German watchmaking powerhouse has a rich history of innovation and excellence in horology.
Ferdinand Adolph Lange was a trained watchmaker and mechanics graduate who returned home to Saxony after studying under master horologists for a decade. He established a whole watchmaking industry in the region, bringing prosperity to and alleviating poverty in the area. He was the first in Saxony to introduce the metric system into watchmaking and even trained his children in the business, adding the & Söhne to A. Lange & Söhne.
The Lange family continued to push watch technology further with Emil and Richard Lange patenting quarter repeaters and chronographs, developing the up-down power reserve indicator, and improving chronometer restraints. The brand's headquarters were destroyed in a Soviet air strike during World War II, marking the end of the once-great name.
However, in 1990, Walter Lange, the great-grandson of Ferdinand Adolph, re-registered A. Lange & Söhne, re-establishing the brand in Glashütte. After four years of development and experimentation, the brand launched its first range of wristwatches in 1994, drawing inspiration from its bold past.
From the Lange 1 range to the Saxonia family, the Zeitwerk range, the 1815 collection, and the Richard Lange range, each collection reflects the brand's commitment to tradition and innovation. Outsized dates, solid gold or platinum cases, and galvanized solid-silver dials are stalwarts of the company's image. The brand's iconic, customized typography adds to its luxurious appeal.
The brand's attention to detail is legendary, including hand-engraved balance cocks and a multitude of different surface decorations and techniques such as circular graining, contour grinding, mirror polishing, Glashütte ribbing, sunray finishing, and perlage. The brand still hand-finishes all of its timepieces, honoring Emil Lange's wishes.
The brand's notable inventions and patents have sprung back into existence, with disengagement mechanisms, stop-seconds for tourbillons, and triple-split chronographs taking center stage. Celebrities from Brad Pitt and Ed Sheeran to Vladimir Putin and Bill Clinton have all strapped on A. Lange & Söhne timepieces.
In conclusion, A. Lange & Söhne is a luxurious and iconic watch brand that has revolutionized horology through innovation and tradition. Each timepiece reflects the brand's commitment to excellence, attention to detail, and luxurious appeal. If you're looking for a timepiece that stands the test of time, A. Lange & Söhne is a perfect choice.
About the watch

We are thrilled to present to you the A. Lange & Söhne Lange 1 Perpetual Calendar 150-piece Limited Edition Ref. 345.056 "Salmon". This timepiece was recently unveiled by Lange, with two versions released around April 2022. The first is a regular offering with a dark grey dial in a pink gold case, while the other is a limited edition with a mesmerizing salmon dial in a white gold case, which we are privileged to offer today.
The Lange 1 Perpetual Calendar is one of the larger models in the Lange 1 line-up. It is 41.9mm x 12.1mm case is 3.4mm larger in diameter than the standard Lange 1 watches. However, given the number of intricate features in this reference, the case size can still be considered fairly compact and conservative, making it a wearable grand complication for most modern wrists.
The dial is a sight to behold, crafted from solid pink gold and adorned with a range of finishes. It features rhodium-plated white gold hands, adding to its luxurious appearance. The distinctive asymmetry of the Lange 1 is present, with the outsize date window at 11 o'clock, the day-of-the-week indicator at 9 o'clock, and the hours and minutes counter on the right. The moon phase cum small seconds indicator is located at 7 o'clock, reminiscent of the Daymatic design. The crucial perpetual calendar indications of month and leap year are displayed via a disc at the dial's periphery and a leap year pointer at 6 o'clock, respectively. This positioning is clean, simple, and unobtrusive, allowing the iconic Lange 1 layout to remain intact.
At the heart of this watch is Lange's self-winding, 63-jeweled Cal. L021.3 movement, which beats at 21,600 BPH and provides a 50-hour power reserve. It features a newly developed winding mechanism, with a unidirectional winding rotor made of 21-carat gold and a centrifugal mass crafted from platinum. The aesthetics of the rotor are impressive and carry the design DNA of the original rotor on the Langematik. The movement showcases beautiful finishing, charming German silver architecture, and a beautifully engraved balance cock, as is Lange's signature. The cal. L021.3 is an impressive tribute to the watch it powers, fittingly embodying Lange's uncompromising approach to watch design and construction.
The Lange 1 Perpetual Calendar is a stunning watch that highlights Lange's commitment to precision engineering and attention to detail. With only 150 pieces available of this limited edition reference, it is a rare and collectible timepiece that is sure to be treasured by any discerning watch collector
Specifications
| | |
| --- | --- |
| Movement | Self Winding |
| Calibre | |
| Dial | Silver White |
| Case size | 41.9mm |
| Material | White Gold |
| Bracelet | Alligator Strap |
| Glass | Sapphire |
| Condition | Excellent |
| Box & Papers | Complete, Full set |
Why buy from The Second Hand Club?

Impeccable Authenticity: At The Second Hand Club, we understand the significance of owning genuine luxury watches. That's why we employ an exceptionally thorough authenticity process. Our team of seasoned experts meticulously examines every timepiece, scrutinizing its provenance, components, and craftsmanship. You can trust that each watch in our collection is 100% authentic, allowing you to invest confidently in horological masterpieces.

Comprehensive 24-Month Warranty: We believe in the enduring quality of the watches we offer. To provide you with peace of mind and demonstrate our commitment to your satisfaction, we provide a comprehensive 24-month warranty on all watches purchased from us. Our warranty covers any mechanical defects, ensuring that you can enjoy your timepiece with confidence and assurance.

Unbeatable Prices: At The Second Hand Club, we are dedicated to making luxury watches accessible to all enthusiasts and collectors. We strive to offer the most competitive prices available anywhere, ensuring exceptional value for your investment. Through our meticulous sourcing methods and extensive industry network, we are able to curate an extraordinary collection while keeping our prices highly competitive.

Advanced Horological Advice: We pride ourselves on our passion for horology and our extensive knowledge of the craft. When you choose The Second Hand Club, you gain access to an advanced level of advice on horology and collecting strategy. Our knowledgeable team is equipped to provide expert guidance, helping you navigate the world of luxury watches. Whether you're seeking insights on complications, historical significance, or investment potential, we are here to assist you in making informed decisions.

Curating Fascinating and Unique Collections: Our passion extends beyond individual timepieces; we take pleasure in helping our customers curate truly captivating and unique collections. With our deep understanding of the market and the rarest watches ever made, we can assist you in assembling a collection that reflects your individual style and discerning taste. Whether you're starting your collection or looking to expand it, our expertise and personalized approach ensure an extraordinary journey into the world of horology.

Choose The Second Hand Club to immerse yourself in a world of horological excellence. From our meticulous authenticity process and comprehensive warranty to our competitive prices and advanced horological advice, we are committed to providing an unparalleled experience. Let us guide you as you embark on a remarkable journey, curating a collection of extraordinary watches that will captivate and inspire for generations to come.
What payment methods do you accept?

At The Second Hand Club, we accept a variety of payment methods for your convenience.

You may choose to pay using your American Express, Visa, or Mastercard credit cards.

In addition, we also accept wire transfer payments. To encourage this method, we offer an attractive 3% discount for all transactions completed via wire transfer. This is part of our commitment to providing a seamless and accommodating experience for all of our esteemed customers.
What about trades or selling my watches?

When it comes to selling or trading your valuable watches, The Second Hand Club offers an exceptional consignment experience. Here's why you should consider consigning with us:

Global Reach, Local Expertise: While our clientele is primarily based in America, we have a vast network of collectors and end users around the world. This global reach ensures that your timepiece will have exposure to a diverse and discerning audience, maximizing the chances of a successful sale.
Expertise in High-End Pieces: With an average price point of $85,000, we are well-versed in dealing with high-end luxury watches. Our experience extends to timepieces that reach seven figures, demonstrating our ability to handle the most exclusive and valuable pieces with the utmost care and professionalism.
Competitive Consignment Rate: At The Second Hand Club, we understand the importance of fair and transparent pricing. That's why we offer the most competitive consignment rate of just 3%. Our low rate ensures that you receive a substantial portion of the final sale value, making consigning with us a lucrative option.
Swift Consignment Process: Time is of the essence, and we value your time as much as you do. Our average consignment time for watches is just 7 business days. Once your timepiece is submitted for consignment, our team works efficiently to list and market it to our extensive network of potential buyers, ensuring a prompt and efficient process.
Maximize Your Returns: Consigning your watch with The Second Hand Club allows you to unlock the full potential value of your timepiece. By reaching a wider audience and benefiting from our expertise in marketing luxury watches, you increase the likelihood of receiving higher offers than with a straight sale. With the funds generated from the consignment, you can explore new watch acquisitions or opt for an instant payment once the sale is concluded.

When you choose The Second Hand Club's consignment program, you gain access to our global network, unparalleled expertise, and a streamlined process designed to deliver exceptional results. Entrust your luxury timepiece to us and let our dedicated team work diligently to ensure you receive the maximum value for your watch, all while enjoying a hassle-free and rewarding consignment experience.

Have further questions about selling your watch? Contact us.
Do you provide warranty on your watches?

At The Second Hand Club, we are committed advocates for the exceptional quality of our curated selection of pre-owned timepieces and mechanical objects. In the event of an unexpected issue, we remain committed to addressing it promptly and effectively. Our client's trust and satisfaction are paramount to our entire team.

Each pre-owned watch in our collection has been meticulously examined using non-intrusive methods to confirm their mechanical integrity. Where necessary, servicing has been performed to guarantee they align with our highest standards for timekeeping precision and functional performance.

Unless explicitly indicated, our pre-owned watches are protected by either a comprehensive or a limited warranty for a period of twenty-four months. However, this warranty does not cover damages resulting from accidents or misuse. Given their vintage status, pre-owned watches may not withstand the same conditions as brand new models.
Return & Refund policy

At The Second Hand Club, We have a No Return & Refund Policy ("Policy") that applies to all purchases made through The Second Hand Club and outlines our obligations and procedures concerning returns and refunds.

Final Sales: All sales concluded through The Second Hand Club are final. Once a purchase is made, we do not accept returns or issue refunds.
Change of Mind: In the event you have a change of heart post-purchase, The Second Hand Club offers a unique service to accommodate you. We are pleased to accept the timepiece back and undertake the task of selling the item on your behalf at no cost. This process is subject to a binding agreement to be entered into between The Second Hand Club and the client.
After-Sale Return of Funds: Once the watch has been sold, the entirety of the sale amount will be returned to you. The amount will be remitted to the original method of payment within a reasonable timeframe following the successful completion of the sale.
Customer Obligations: It is the customer's responsibility to ensure the watch is returned in the same condition as it was sold. Any degradation in the quality or condition of the watch may affect its sale value, for which The Second Hand Club will not be held responsible.
Contact: For more information or to initiate this process, please contact our customer service at contact@thesecondhandclub.com or +1 (754)-333-7667.

Please note that this Policy represents the entire agreement between you and The Second Hand Club regarding returns and refunds. By purchasing a timepiece from The Second Hand Club, you acknowledge and agree to this Policy in its entirety.

Have further questions? Contact us.