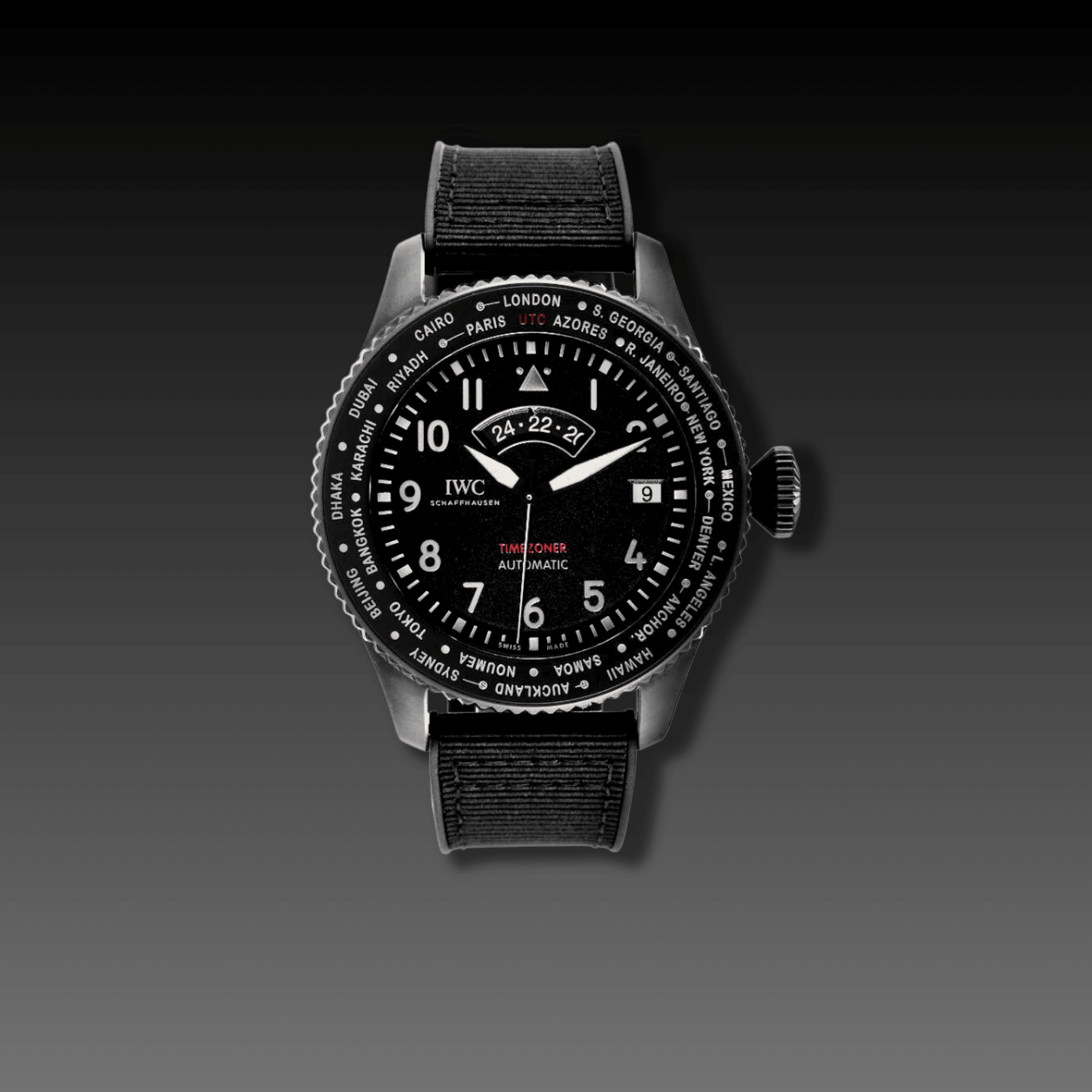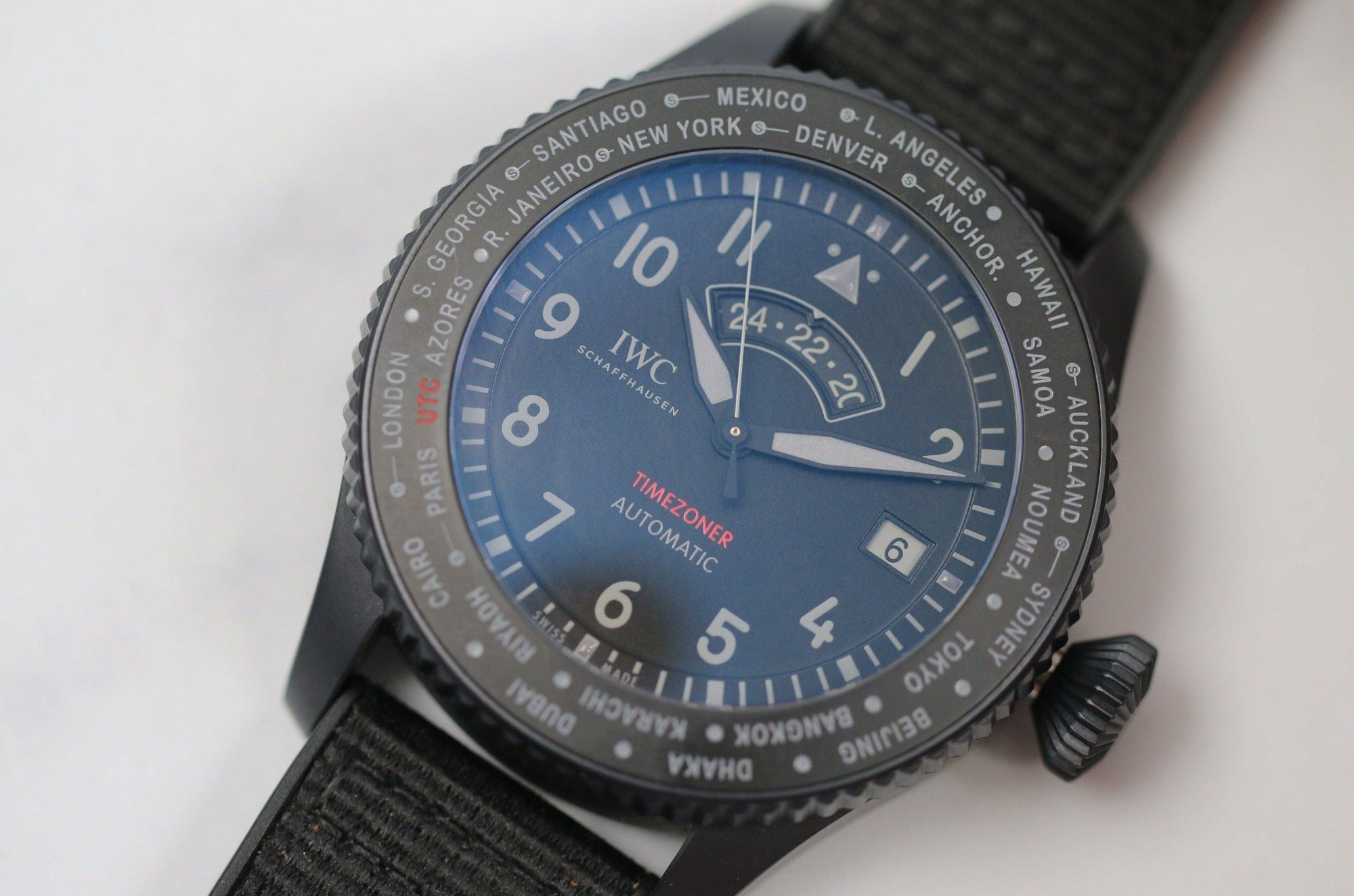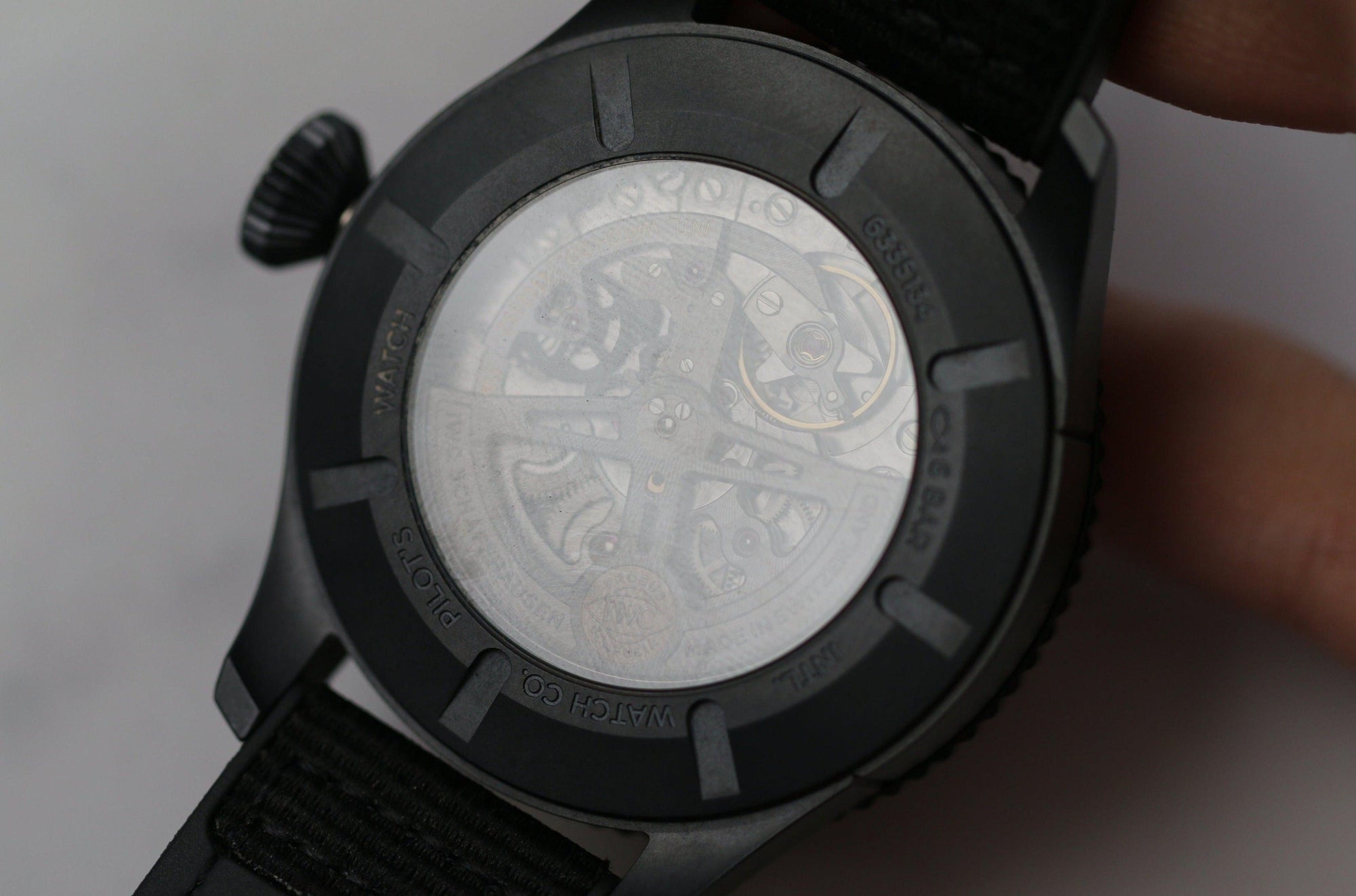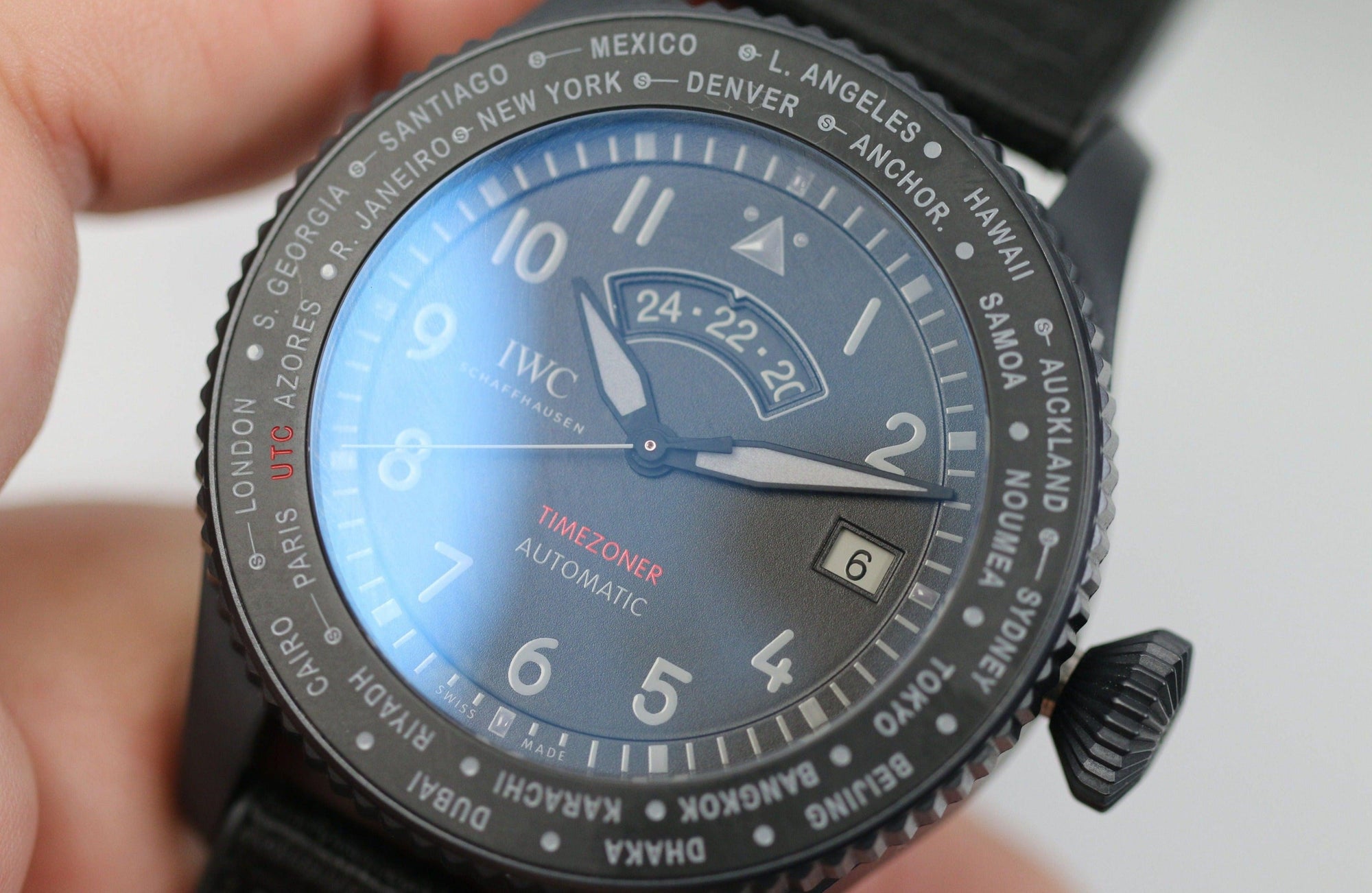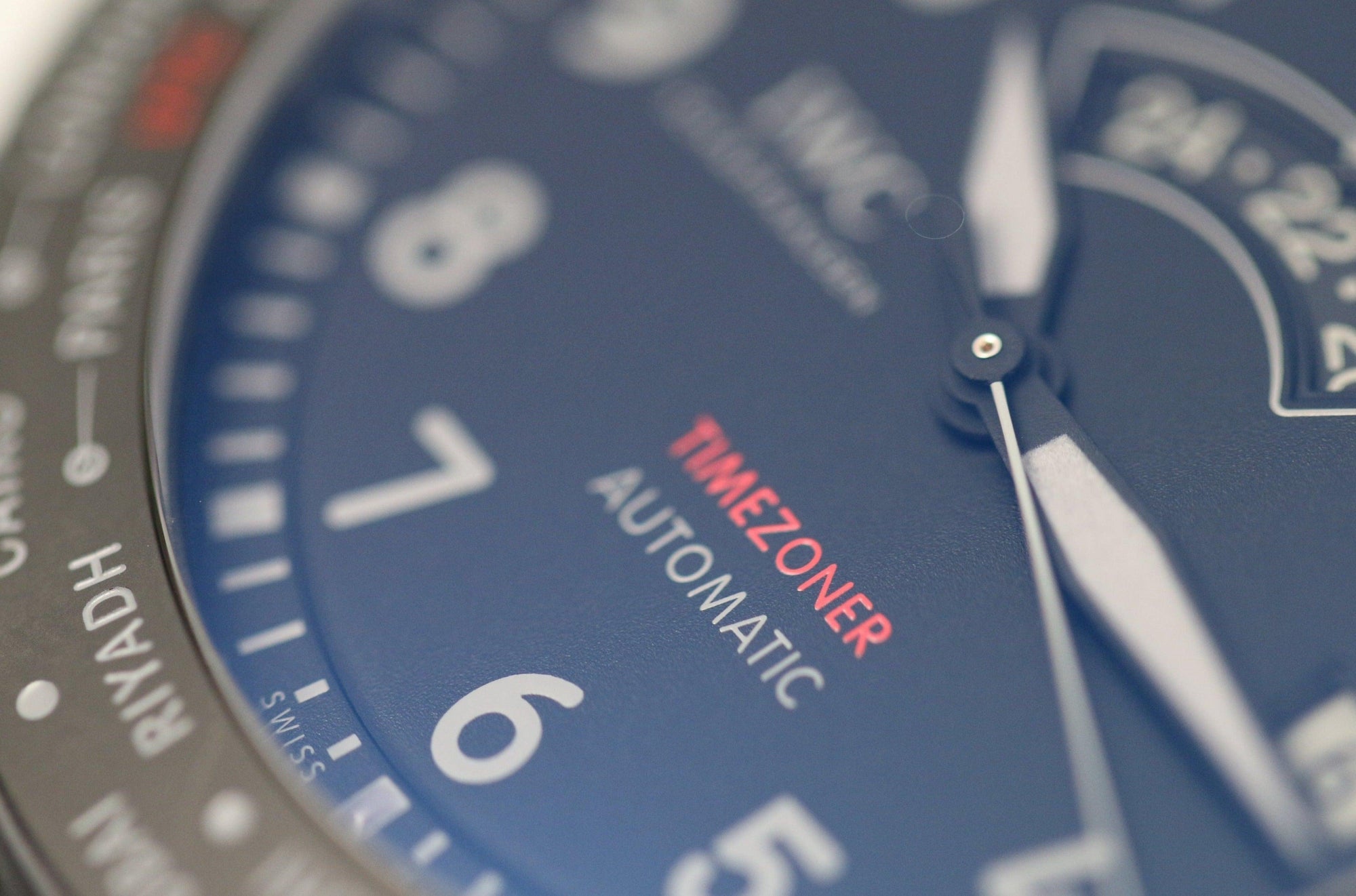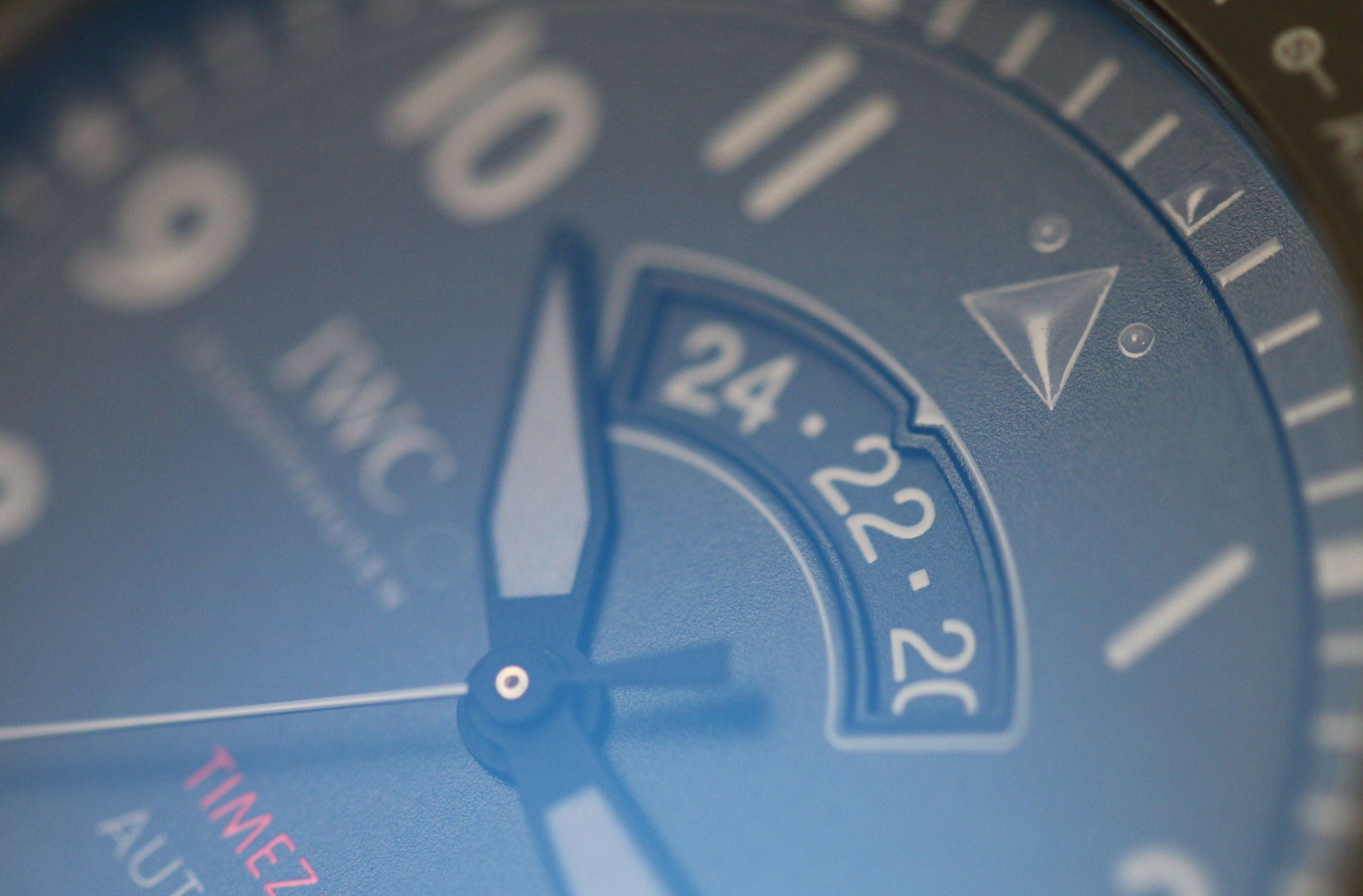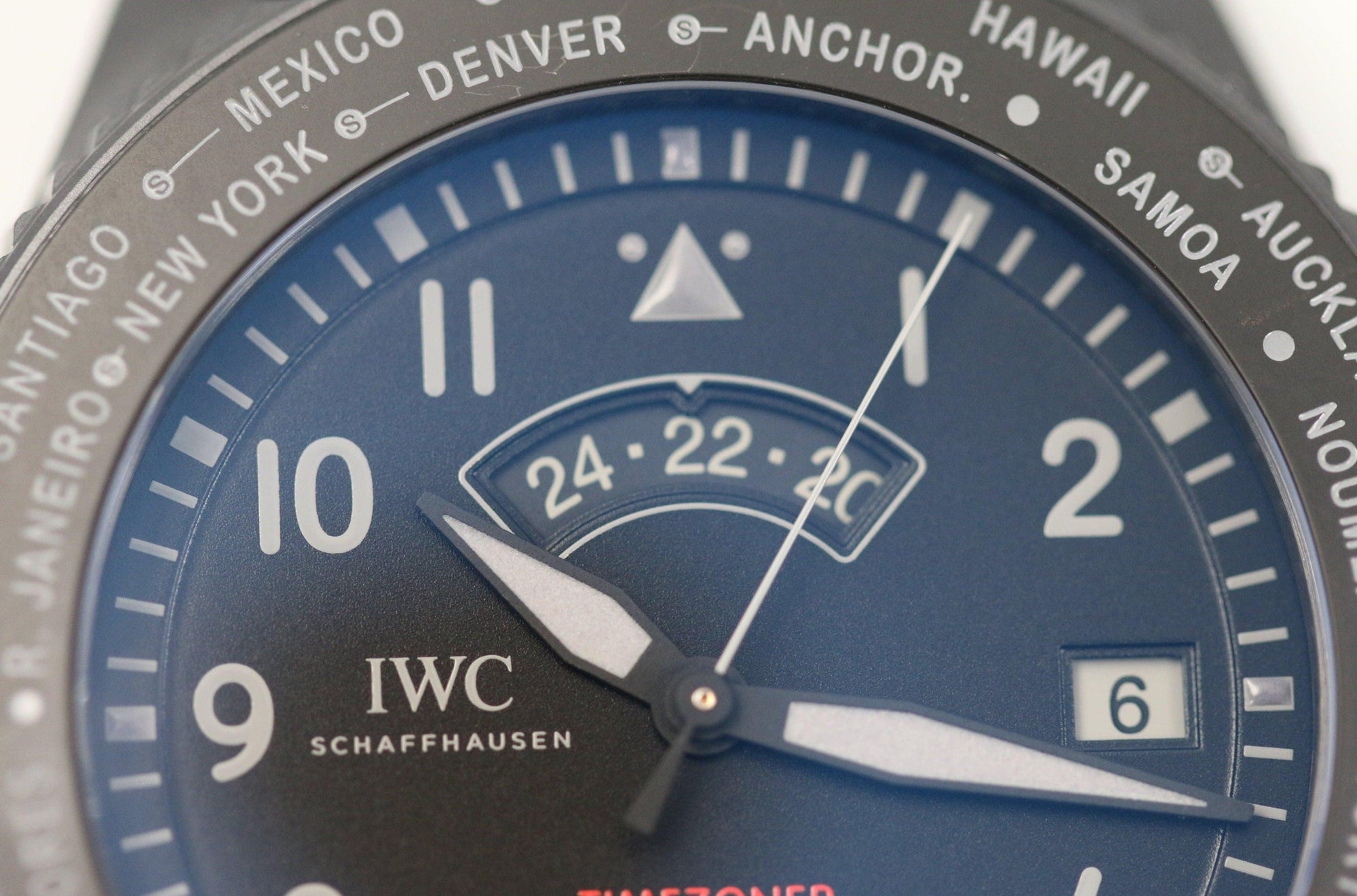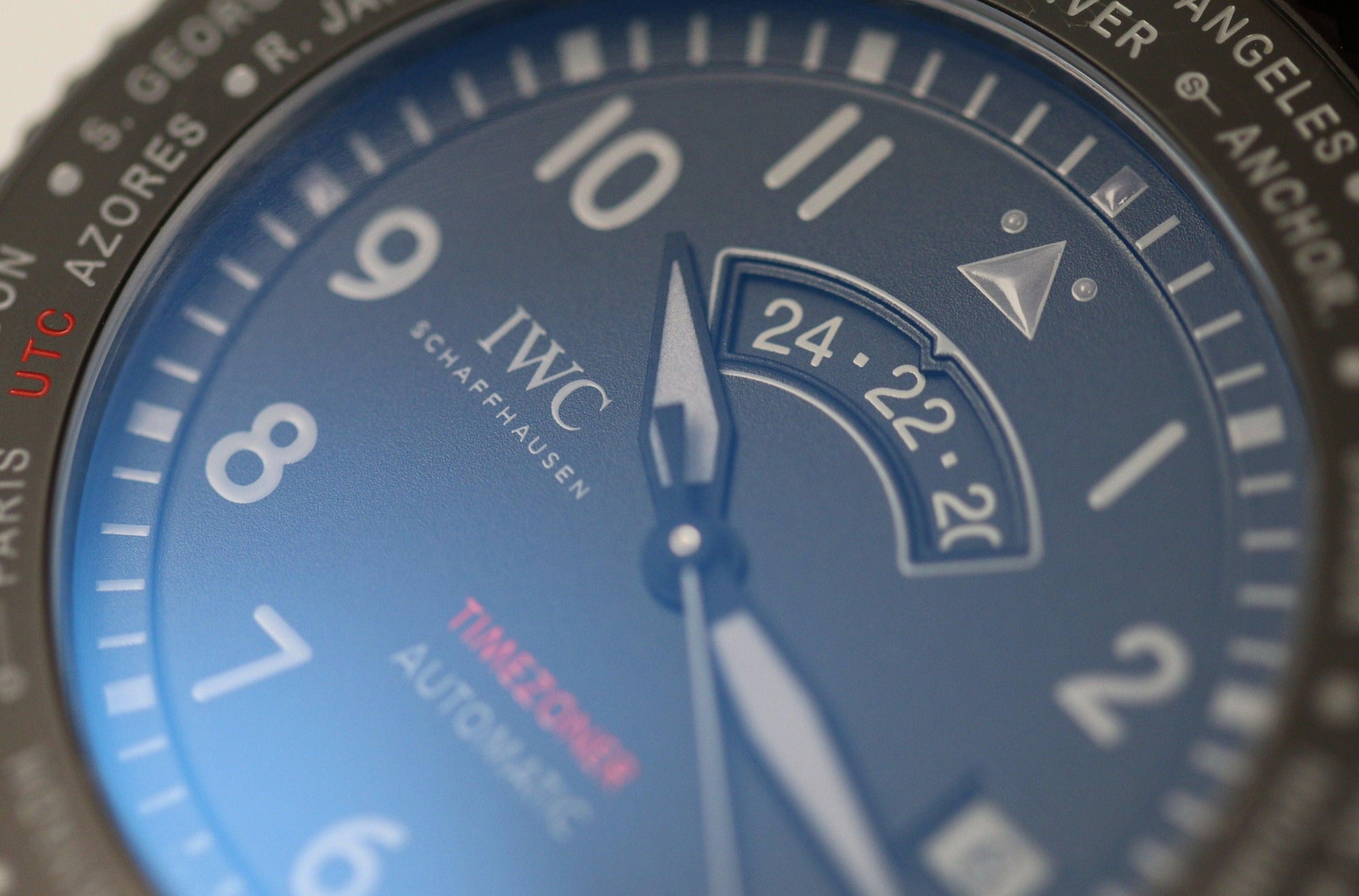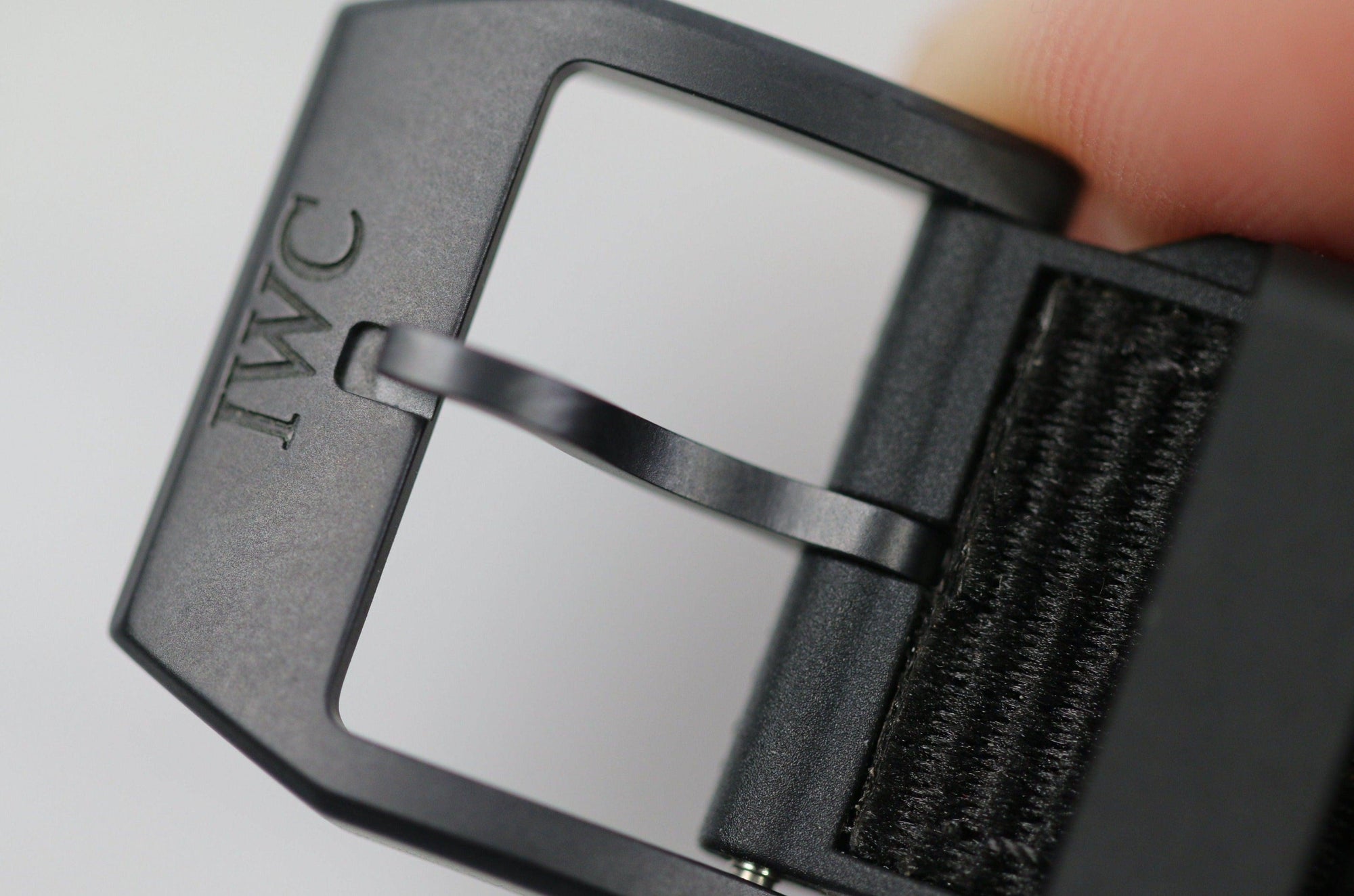 IWC Timezoner Ceratanium Ref. IW395505
Regular price
Sale price
$16,800.00
Unit price
per
At The Second Hand Club, we are proud to have this IWC Timezoner Ceratanium, reference IW395505 available for sale with its original box and paperwork.
Wire transfer payments are eligible for a 3% discount on all of our watches.
About the brand 
Welcome to the world of IWC Schaffhausen, where timepieces are not merely watches but exquisite life-long timekeeping companions. Crafted using benchmark-setting standards, IWC Schaffhausen has been the choice of pioneers, adventure-seekers, and members of elite watch-collecting circles for centuries. The company celebrates over 150 years of successfully tracking seconds, minutes, hours, and months in the form of elegant dress watches, sophisticated complications, and professional pilot's watches.
The story of IWC watches began in 1868 when an American engineer and watchmaker travelled to Switzerland and founded the "International Watch Company". With expertise drawn from eminently skilled craftsmen from all over Switzerland, he intended to make watch parts for the American market. But all that changed when he met with watchmaker Johann Heinrich Moser, and the company continued to build from there. Passed through the hands of the Rauschenbach family before it was taken over by Schaffhausen industrialist, Ernst Jakob Homberger, IWC Schaffhausen has been at the forefront of Swiss watchmaking for years.
One of the most prominent times in IWC Schaffhausen's watchmaking heritage is the remarkably accurate Calibre 89, created by Albert Pellaton, who became the Technical Director at IWC Schaffhausen after World War II. It included a soft-iron inner case, which provided the movement with superb protection from damage caused by magnetic fields. Other inventions included the pawl-winding system, which soon found fame as the Pellaton winding system.
The 1930s put IWC Schaffhausen on the map for creating indispensable tools for the aviation industry. The Big Pilot watch came along in 1940, and towards the end of the decade, the Mark 11, armoured with the brand's renowned anti-magnetic field, became a hit. The 1950s introduced the Ingenieur model with an advanced winding system, a simple dial, and striking hands.
Today, IWC Schaffhausen's wristwatches are crafted from innovative materials that include ceramic and titanium, demonstrating the company's advancements in material research and development. The IWC Yacht Club sums up the 1960s, and these models grew in popularity in time for the luxury steel sports era, which saw designs like the 200-meter water-resistant Aquatimer skyrocket.
During the quartz crisis, the IWC Da Vinci rescued the company from one of the most turbulent times in the history of the Swiss watch industry. By avoiding heavy investment in technology, the Da Vinci was a popularised model that answered the need of those desiring a reliable and self-sufficient timepiece.
IWC Schaffhausen's first titanium watch was developed in the 1970s, along with a sophisticated bracelet system that used a solid pin held inside each bracelet link by a push-button lock. Today, some of the best pilot's watches are found in IWC's compelling catalogue of expertly crafted wristwatches, namely the Spitfire and Top Gun models. The Portugieser watch is another popular collectable based on the design of a hunter pocket watch calibre.
Whether a fan of the purist's Portofino watch or the rugged aesthetics of the IWC Aquatimer diving tool, each collection from this Swiss watch manufacturer enjoys a cult-like status, with enthusiasts from all over the world seeking out novelties old and new made by this profound technical innovator. From initial pencil sketches to the finished product, IWC Schaffhausen watches are a masterpiece of design, engineering, and craftsmanship, and a true statement of luxury and refinement.
About the watch

As a watch expert, I can attest to the fact that IWC Schaffhausen is at the forefront of crafting exceptional mechanical pilot's watches that are not just functional but also aesthetically pleasing. One of their latest offerings, the IWC Pilot's Watch Timezoner TOP GUN Ceratanium IW395505, is a masterpiece that combines elegance, practicality, and sophistication.
This watch is the latest addition to IWC's Big Pilot and Pilot's Watch collections, and it's a timepiece that has been designed with the discerning traveler in mind. Whether you're a jet-setter or a world traveler, the IWC Pilot's Watch Timezoner is a perfect companion that will keep you on time, wherever you go. This super-GMT watch is the ultimate travel accessory that will make you stand out from the crowd.
The IWC Pilot's Watch Timezoner is a sleek and tactical-looking watch with a full-black finish that exudes an air of luxury and sophistication. Its case and crown are made of Ceratanium, a special titanium alloy with ceramized treatment, which gives the watch its unique look and durability. The watch has a diameter of 46mm and a height of 15.1mm, making it a perfect fit for any wrist size. The bezel has a ceramic insert with 24 cities in white, making it easy to read and adjust to your desired time zone.
The dial of this watch is equally impressive, with a matte-black base and light-grey indices and numerals. The central hands display the local time, while the arched aperture at the top shows a 24-hour disc acting as an AM/PM indication. This window displays three numerals at once, making it easy to identify the rotating direction. A date window completes the indications, which is a must-have feature on a traveler's watch.
The IWC Pilot's Watch Timezoner is equipped with an in-house 82760 automatic movement that uses the Pellaton winding system, using ceramic components to reduce wear. It has 22 jewels, runs at a frequency of 28,800vph, and provides 60 hours of autonomy on a full wind. The signature skeletonized rotor can be seen through the tinted sapphire crystal caseback, adding to the watch's luxurious appeal.
One of the standout features of the IWC Pilot's Watch Timezoner is the rotatable bezel, which allows you to easily adjust the time on the go. This feature is a game-changer for travelers who are always on the move, as it allows you to quickly and easily set the watch to your desired time zone. The bezel has S-signed dots for locations that use Daylight Savings Time, making it easy to display the correct time during DST months.
In conclusion, the IWC Pilot's Watch Timezoner TOP GUN Ceratanium IW395505 is a must-have luxury timepiece for any avid traveler or watch collector. Its impressive design, innovative features, and reliable performance make it a watch that is worth every penny. If you're looking for a high-end timepiece that combines style, functionality, and precision, then look no further than the IWC Pilot's Watch Timezoner.
Specifications
| | |
| --- | --- |
| Movement | In House Automatic |
| Calibre | In House Calibre 82760 |
| Dial | Black |
| Case size | 46mm |
| Material | Ceratanium |
| Bracelet | Rubber |
| Glass | Sapphire |
| Condition | New |
| Box & Papers | Complete, Full set |
Why buy from The Second Hand Club?

Impeccable Authenticity: At The Second Hand Club, we understand the significance of owning genuine luxury watches. That's why we employ an exceptionally thorough authenticity process. Our team of seasoned experts meticulously examines every timepiece, scrutinizing its provenance, components, and craftsmanship. You can trust that each watch in our collection is 100% authentic, allowing you to invest confidently in horological masterpieces.

Comprehensive 24-Month Warranty: We believe in the enduring quality of the watches we offer. To provide you with peace of mind and demonstrate our commitment to your satisfaction, we provide a comprehensive 24-month warranty on all watches purchased from us. Our warranty covers any mechanical defects, ensuring that you can enjoy your timepiece with confidence and assurance.

Unbeatable Prices: At The Second Hand Club, we are dedicated to making luxury watches accessible to all enthusiasts and collectors. We strive to offer the most competitive prices available anywhere, ensuring exceptional value for your investment. Through our meticulous sourcing methods and extensive industry network, we are able to curate an extraordinary collection while keeping our prices highly competitive.

Advanced Horological Advice: We pride ourselves on our passion for horology and our extensive knowledge of the craft. When you choose The Second Hand Club, you gain access to an advanced level of advice on horology and collecting strategy. Our knowledgeable team is equipped to provide expert guidance, helping you navigate the world of luxury watches. Whether you're seeking insights on complications, historical significance, or investment potential, we are here to assist you in making informed decisions.

Curating Fascinating and Unique Collections: Our passion extends beyond individual timepieces; we take pleasure in helping our customers curate truly captivating and unique collections. With our deep understanding of the market and the rarest watches ever made, we can assist you in assembling a collection that reflects your individual style and discerning taste. Whether you're starting your collection or looking to expand it, our expertise and personalized approach ensure an extraordinary journey into the world of horology.

Choose The Second Hand Club to immerse yourself in a world of horological excellence. From our meticulous authenticity process and comprehensive warranty to our competitive prices and advanced horological advice, we are committed to providing an unparalleled experience. Let us guide you as you embark on a remarkable journey, curating a collection of extraordinary watches that will captivate and inspire for generations to come.
What payment methods do you accept?

At The Second Hand Club, we accept a variety of payment methods for your convenience.

You may choose to pay using your American Express, Visa, or Mastercard credit cards.

In addition, we also accept wire transfer payments. To encourage this method, we offer an attractive 3% discount for all transactions completed via wire transfer. This is part of our commitment to providing a seamless and accommodating experience for all of our esteemed customers.
What about trades or selling my watches?

When it comes to selling or trading your valuable watches, The Second Hand Club offers an exceptional consignment experience. Here's why you should consider consigning with us:

Global Reach, Local Expertise: While our clientele is primarily based in America, we have a vast network of collectors and end users around the world. This global reach ensures that your timepiece will have exposure to a diverse and discerning audience, maximizing the chances of a successful sale.
Expertise in High-End Pieces: With an average price point of $85,000, we are well-versed in dealing with high-end luxury watches. Our experience extends to timepieces that reach seven figures, demonstrating our ability to handle the most exclusive and valuable pieces with the utmost care and professionalism.
Competitive Consignment Rate: At The Second Hand Club, we understand the importance of fair and transparent pricing. That's why we offer the most competitive consignment rate of just 3%. Our low rate ensures that you receive a substantial portion of the final sale value, making consigning with us a lucrative option.
Swift Consignment Process: Time is of the essence, and we value your time as much as you do. Our average consignment time for watches is just 7 business days. Once your timepiece is submitted for consignment, our team works efficiently to list and market it to our extensive network of potential buyers, ensuring a prompt and efficient process.
Maximize Your Returns: Consigning your watch with The Second Hand Club allows you to unlock the full potential value of your timepiece. By reaching a wider audience and benefiting from our expertise in marketing luxury watches, you increase the likelihood of receiving higher offers than with a straight sale. With the funds generated from the consignment, you can explore new watch acquisitions or opt for an instant payment once the sale is concluded.

When you choose The Second Hand Club's consignment program, you gain access to our global network, unparalleled expertise, and a streamlined process designed to deliver exceptional results. Entrust your luxury timepiece to us and let our dedicated team work diligently to ensure you receive the maximum value for your watch, all while enjoying a hassle-free and rewarding consignment experience.

Have further questions about selling your watch? Contact us.
Do you provide warranty on your watches?

At The Second Hand Club, we are committed advocates for the exceptional quality of our curated selection of pre-owned timepieces and mechanical objects. In the event of an unexpected issue, we remain committed to addressing it promptly and effectively. Our client's trust and satisfaction are paramount to our entire team.

Each pre-owned watch in our collection has been meticulously examined using non-intrusive methods to confirm their mechanical integrity. Where necessary, servicing has been performed to guarantee they align with our highest standards for timekeeping precision and functional performance.

Unless explicitly indicated, our pre-owned watches are protected by either a comprehensive or a limited warranty for a period of twenty-four months. However, this warranty does not cover damages resulting from accidents or misuse. Given their vintage status, pre-owned watches may not withstand the same conditions as brand new models.
Return & Refund policy

At The Second Hand Club, We have a No Return & Refund Policy ("Policy") that applies to all purchases made through The Second Hand Club and outlines our obligations and procedures concerning returns and refunds.

Final Sales: All sales concluded through The Second Hand Club are final. Once a purchase is made, we do not accept returns or issue refunds.
Change of Mind: In the event you have a change of heart post-purchase, The Second Hand Club offers a unique service to accommodate you. We are pleased to accept the timepiece back and undertake the task of selling the item on your behalf at no cost. This process is subject to a binding agreement to be entered into between The Second Hand Club and the client.
After-Sale Return of Funds: Once the watch has been sold, the entirety of the sale amount will be returned to you. The amount will be remitted to the original method of payment within a reasonable timeframe following the successful completion of the sale.
Customer Obligations: It is the customer's responsibility to ensure the watch is returned in the same condition as it was sold. Any degradation in the quality or condition of the watch may affect its sale value, for which The Second Hand Club will not be held responsible.
Contact: For more information or to initiate this process, please contact our customer service at contact@thesecondhandclub.com or +1 (754)-333-7667.

Please note that this Policy represents the entire agreement between you and The Second Hand Club regarding returns and refunds. By purchasing a timepiece from The Second Hand Club, you acknowledge and agree to this Policy in its entirety.

Have further questions? Contact us.