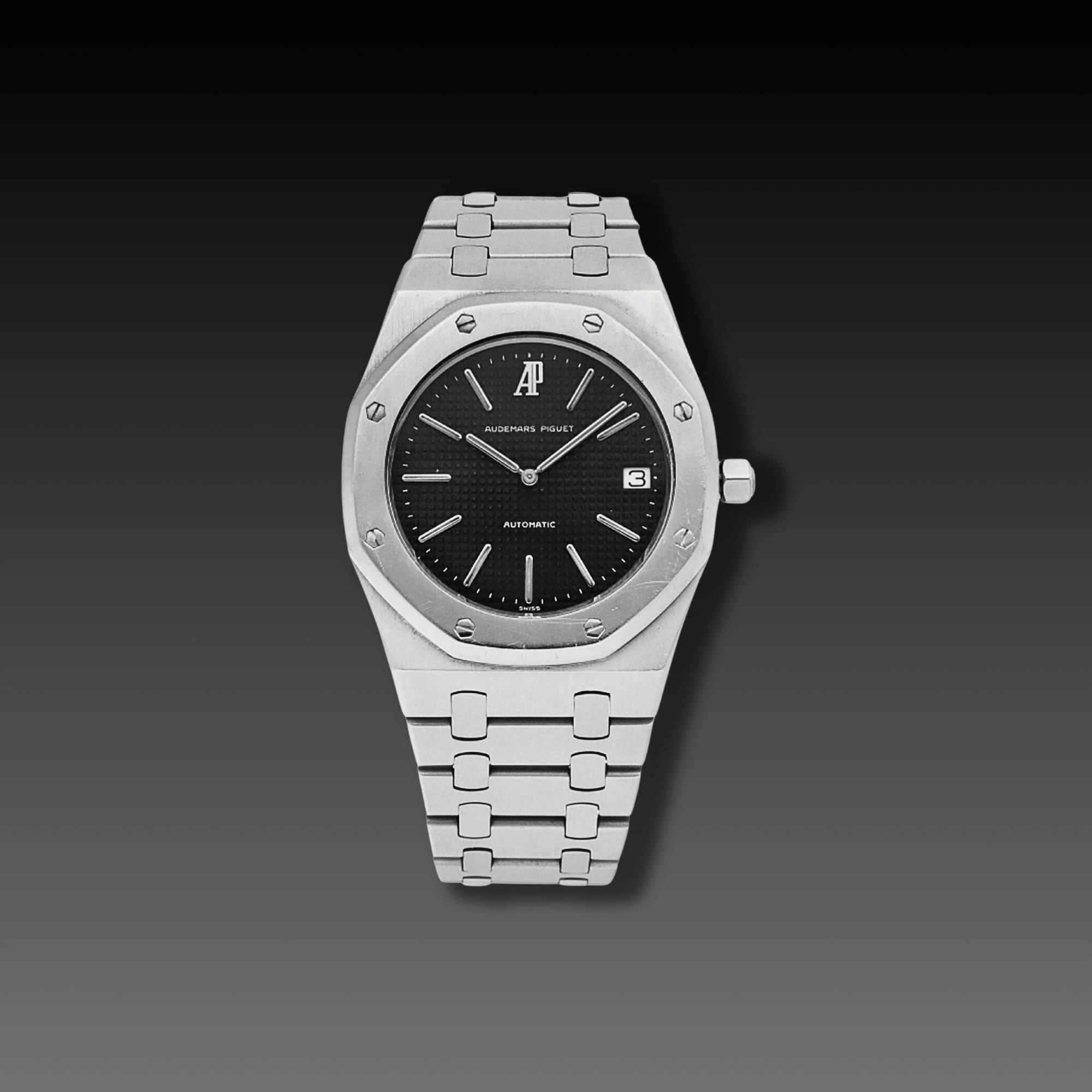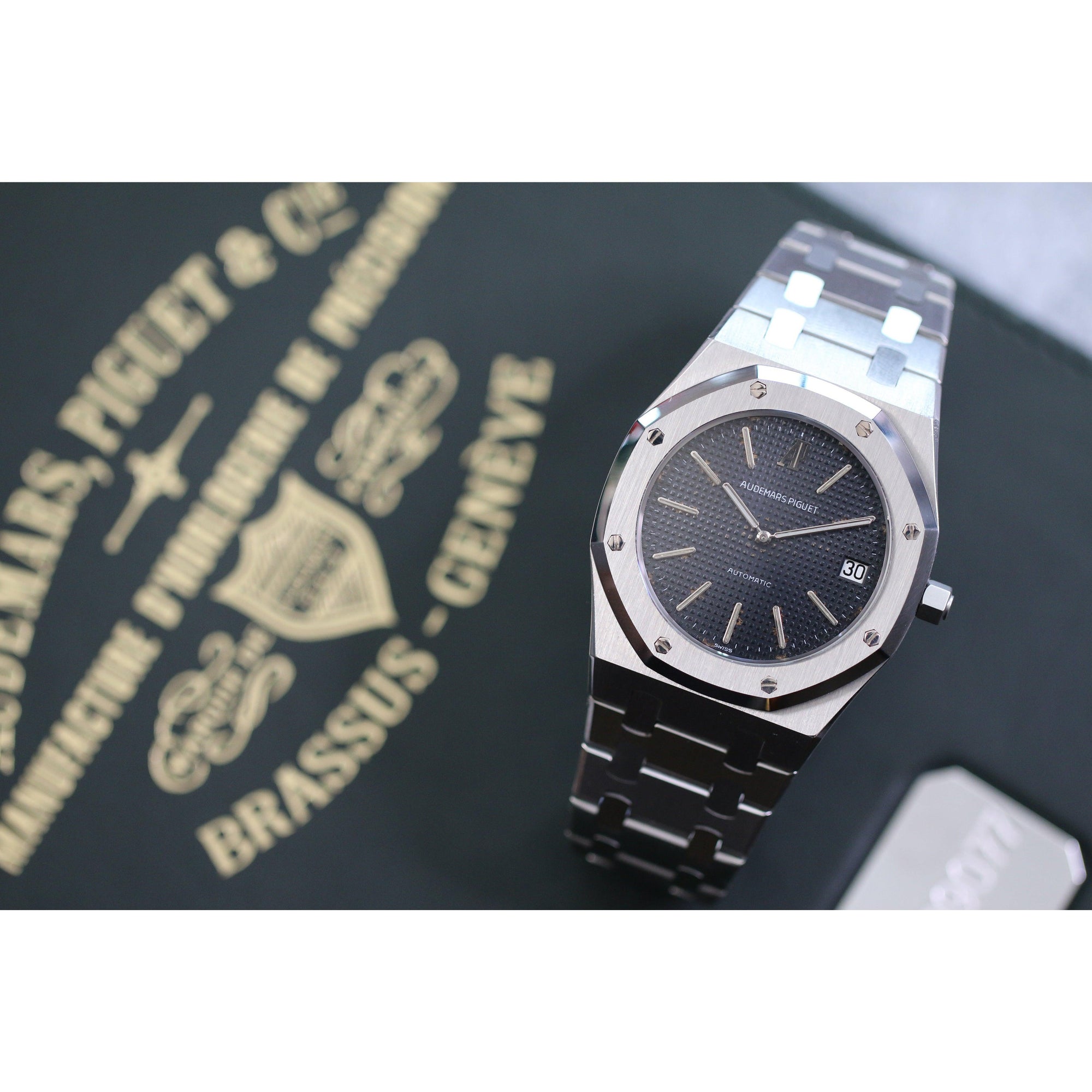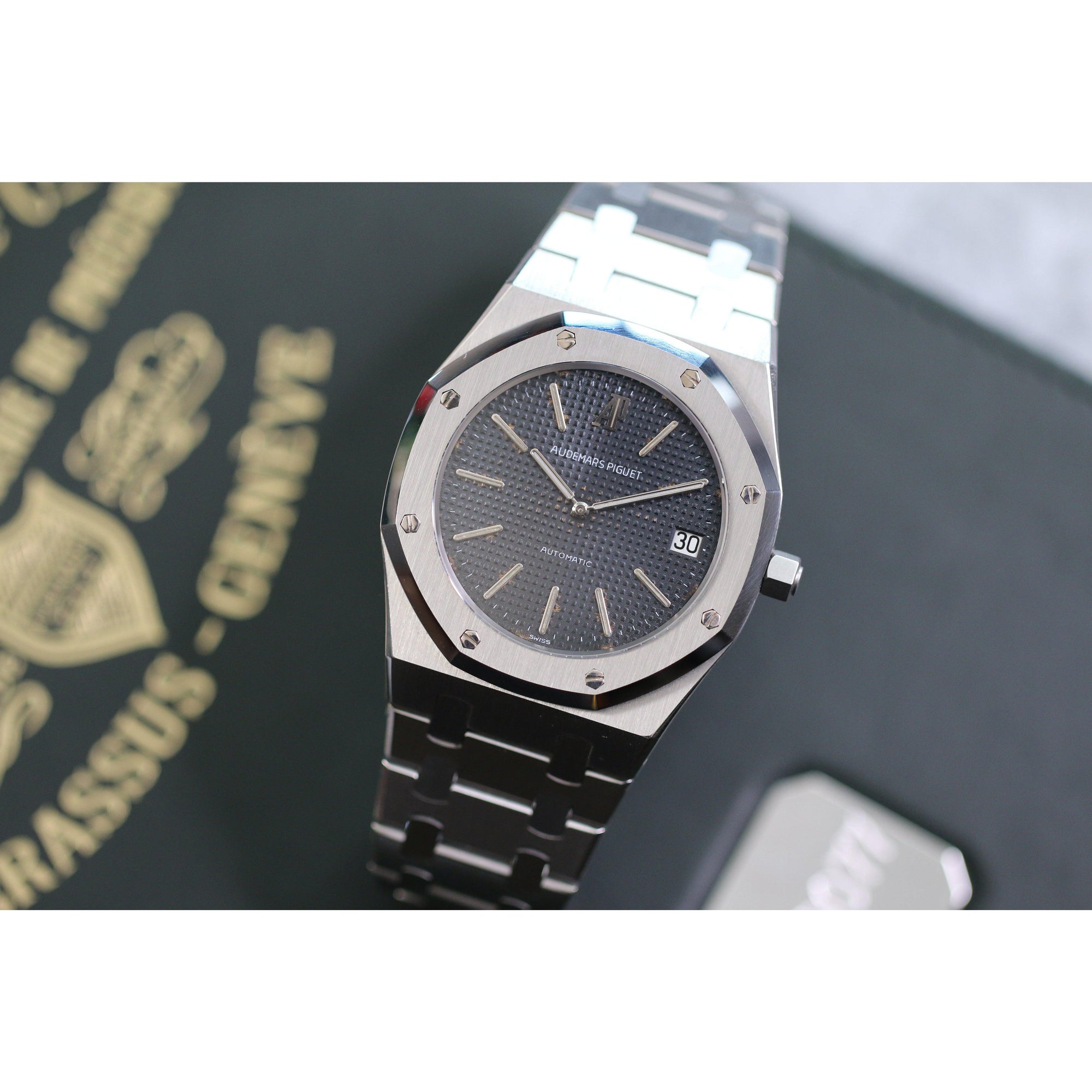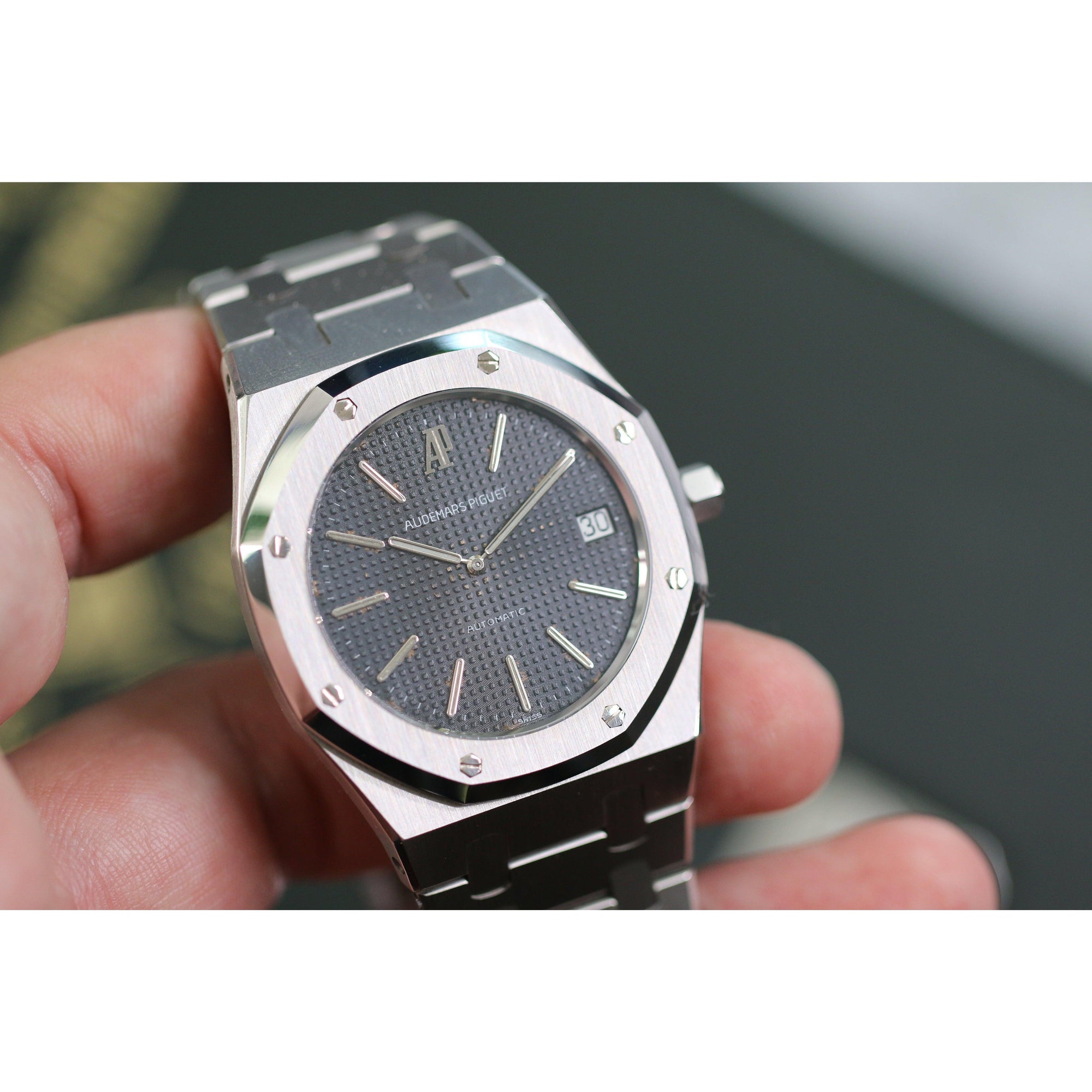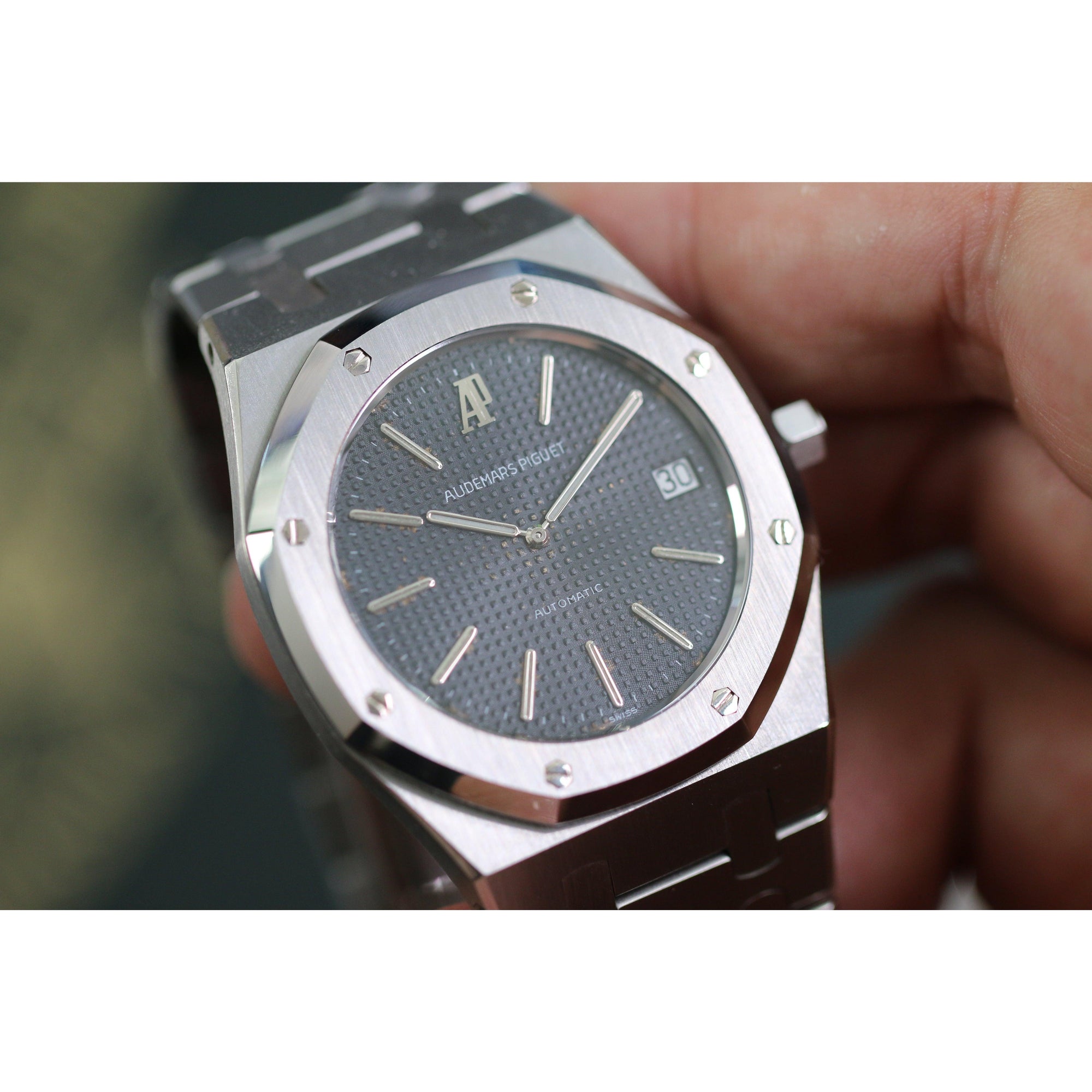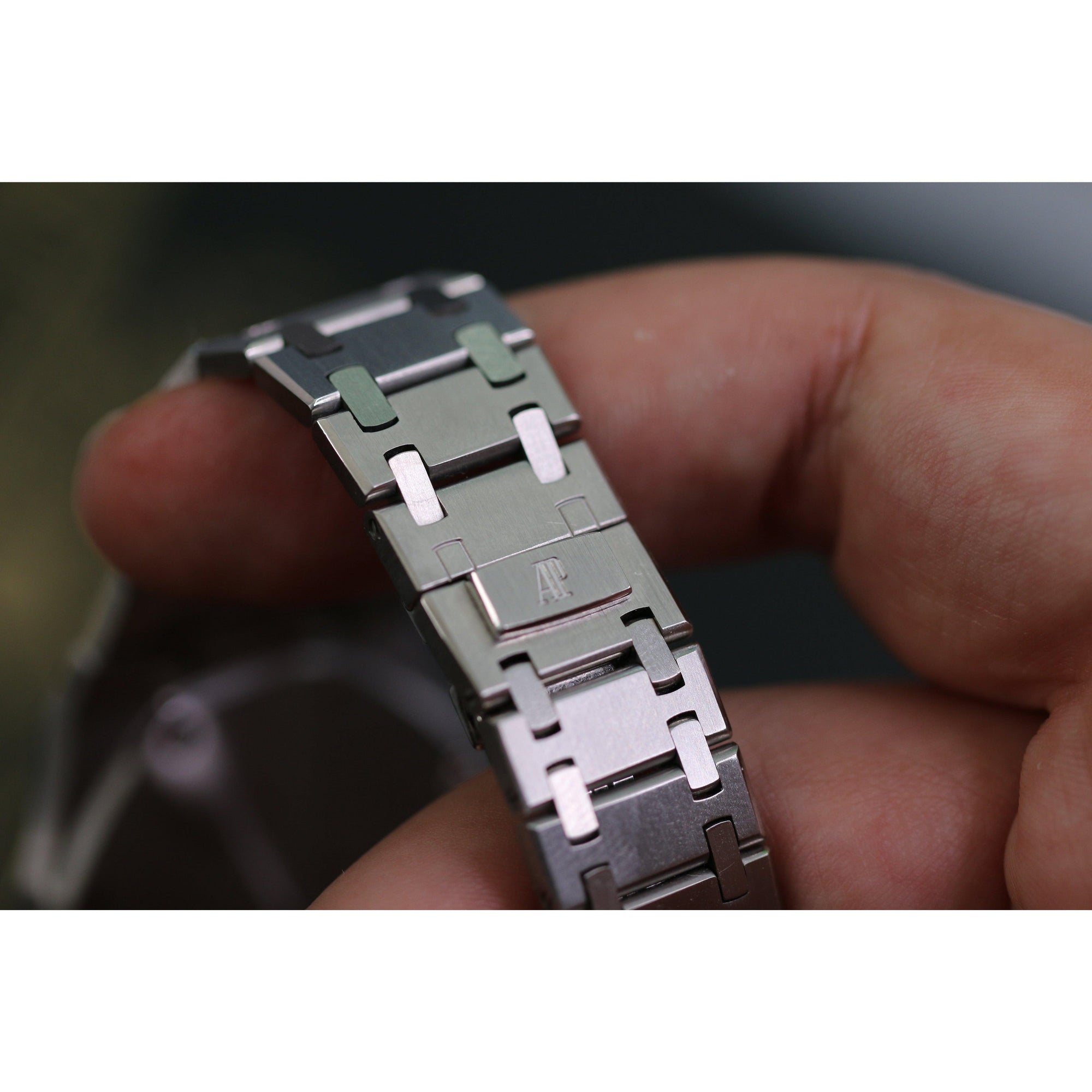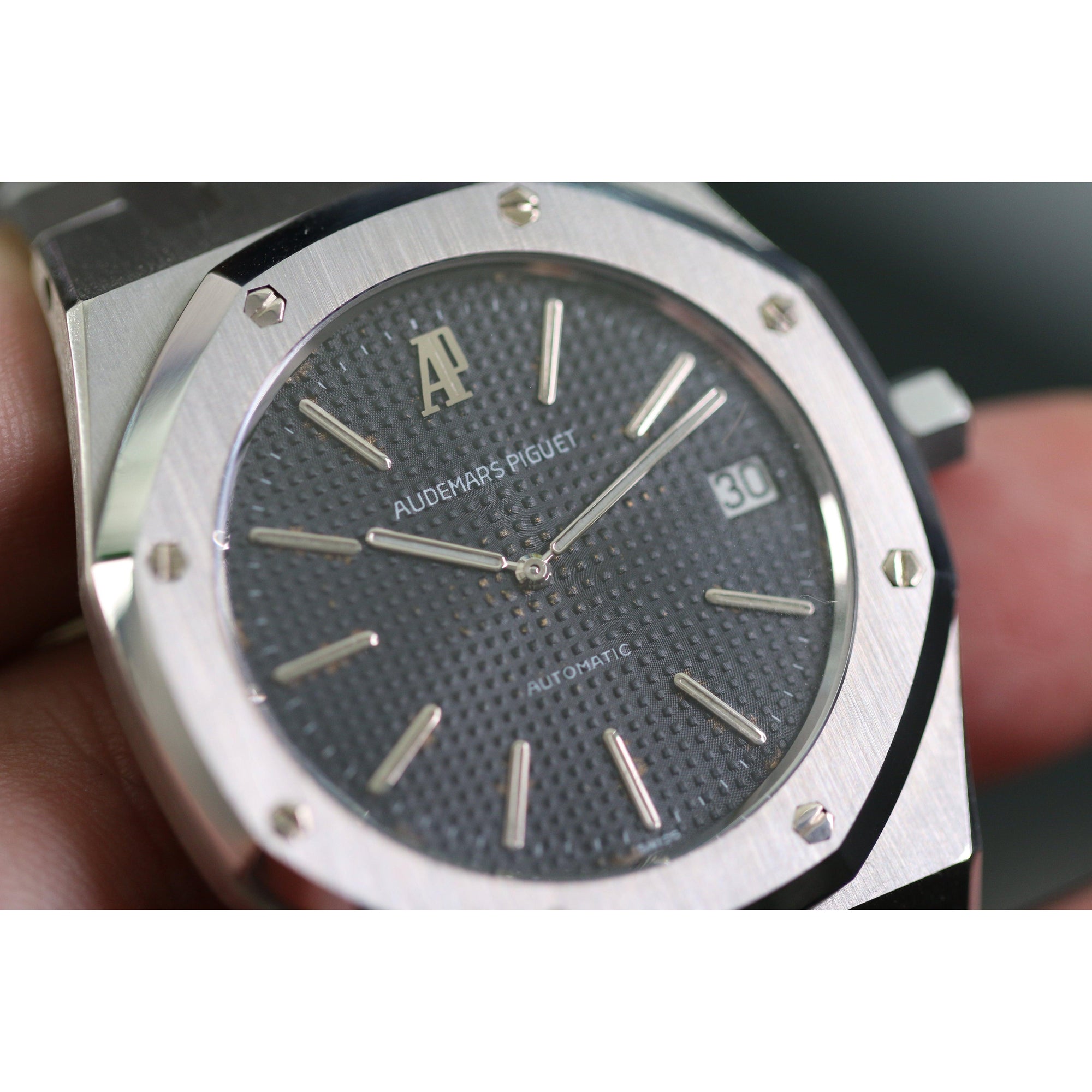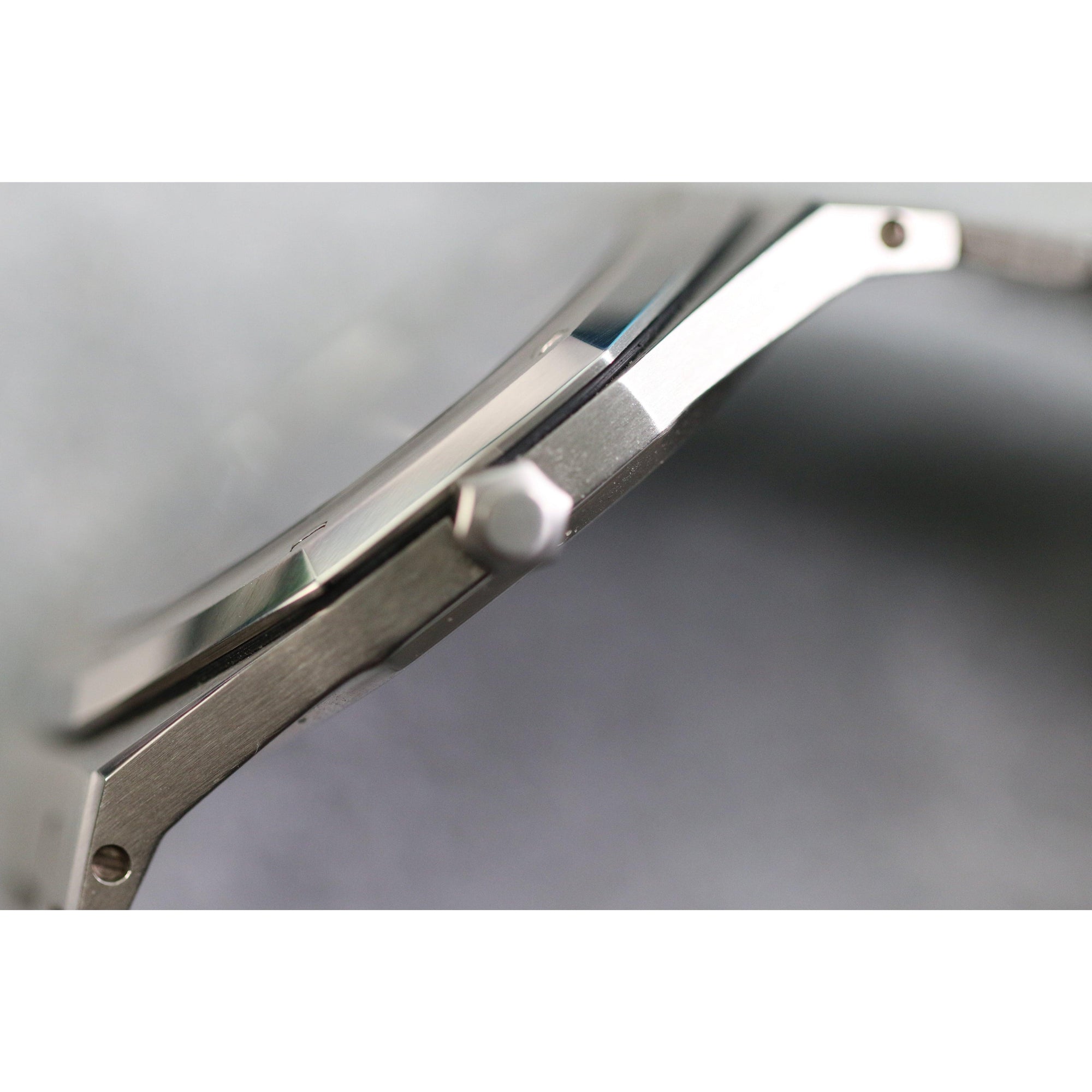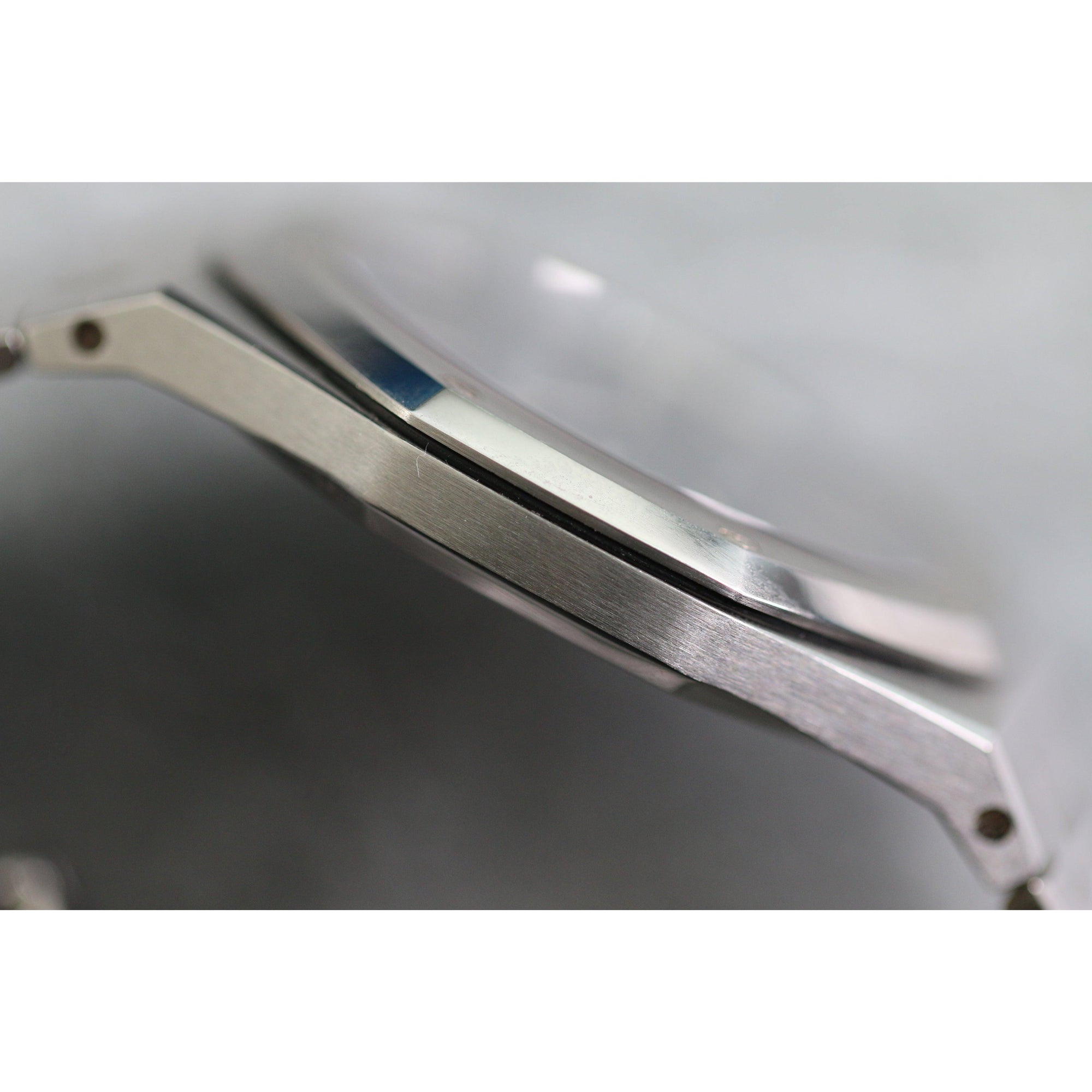 Royal Oak 5402ST D series
Regular price
Sale price
$69,000.00
Unit price
per
About the brand 
In 1875, Jules-Louis Audemars (1851-1918), in order to cope with orders for luxury calibers emanating from the great watchmaking houses in Geneva, became officially associated with his childhood friend, Edward-Auguste Piguet (1853-1919). He handled the technical management of the small company, while his associate took charge of sales and marketing aspects, traveling through many towns and subsequently continents to establish direct contact with connoisseurs.
The company prospered and developed, coming through World War I and the Great Depression without being unduly affected, thanks to the production of ladies wristwatches and ultra-thin models. When World War II ended, the Manufacture reorganized to create a more accessible line of watches. The repercussions of the watchmaking crisis in the 1970s were scarcely felt by the company, mainly because in 1972 it made the daring choice to launch the worlds first high-end sports watch in steel: the Royal Oak. The Manufacture currently employs a staff of 500 worldwide and is starting the new millennium on a resolutely confident note.
The first wristwatch with tourbillon and mechanical winding, the smallest self-winding watch with perpetual calendar, the Dual Time, the Ladies Minute Repeater Chiming watch… throughout its history, the Manufacture has introduced a succession of landmark records and world firsts. Driven by this same conquering spirit, it is still producing the worlds thinnest and most complex calibers.
Within its collections, Audemars Piguet offers the worlds broadest range of watch complications, along with prestigious Haute Joaillerie creations. Its experience in the field of complex watches makes it a standard of reference in the highly select circle of Haute Horlogerie companies.
While collectors have always been acquainted with Audemars Piguet, it has become more familiar to the general public since 1972, the date of the creation of the famous Royal Oak which revolutionized the aesthetics of luxury watches.
Alongside this prestigious line are a series of collections that are classic like Jules Audemars, astonishing like the Millenary or ultra-feminine such as the Deva or the Promesse
About the royal oak

The year was 1972 and Swiss watchmaker, Audemars Piguet needed an absolute game-changer in order to survive. In the early 1970s, the quartz watch movement was introduced by Seiko with the first quartz movement watch, the Astron. A quartz movement is battery powered and is considered a more practical, accurate, and cheaper way of keeping time versus the luxurious mechanical craftsmanship found in most Swiss watches. Following the introduction of the Quartz movement, most of the Swiss watchmakers referred to this period as "The Quartz Crisis" due to the threat of the emerging market for lower-priced watches. The quartz movement largely replaced mechanical watches around the world and pushed a lot of the Swiss Watchmaking industry to the wayside. Resulting in a majority of the word's watch manufacturing shifting from Swiss to Asian companies such as Seiko, Citizen, and Casio who favored the new quartz technology with much lower retail prices.
Audemars Piguet was one of the many Luxury Swiss watchmakers that needed to adapt to the fast-changing market. Without a new and innovative design, Audemars Piguet knew that financial collapse would be inevitable.
In 1971, on the eve of The Swiss Watch Show (now called Bazel World) Audemars Piguet sought out the design help from Geneva-born, Gerald Genta. Genta was born in 1931 and had established himself as a master watch designer with his previous work with Universal Genève, Omega, and Patek Phillipe. With less than a day's notice, Genta went to work. After an all-nighter, Genta delivered AP their newest design for an all-steel sports watch. Thus the specs for the Royal Oak were born. Taking inspiration from a deep-sea diving helmet, the design by Genta featured a 39 MM case, exposed screws on the bezel with an octagonal case shape, and a full steel integrated bracelet. Considering that the design was mainly inspired by a diver's helmet, AP decided that the watch's name should also be in line with its nautical theme- the name Royal Oak was derived from a series of 8 vessels (Octagonal watch face) made of hollowed-out Oak trees apart of Britain's Royal Navy in 1651.
By Bazel World 1972, the Royal Oak was finally ready to unveil to the public. Priced at 3300 Swiss Francs ($3377 USD), the initial reception for the Royal Oak wasn't what Audemars Piguet had hoped. In the midst of the "Quartz crisis," many critics speculated that AP would be "bankrupt within a few months," but obviously that wasn't the case. AP moved 1,000 units in the first year despite criticisms that the watch was too expensive considering at the time it was triple the price of a Rolex Submariner. The Royal Oak redefined what some refer to as "Haute Horology," which bases a watch's price on more than just precious metal, but the sheer design complexity, interior movements, and finishings. In part, the Royal Oak helped redefine the luxury watch market at a time of crisis for many Swiss watchmakers. 
Following the initial release of the Royal Oak in 1972, Audemars Piguet introduced variations of the new concept in various different metals, leather & rubber strap options, and advanced movements and complications. To celebrate the 20 year anniversary of the Royal Oak, AP hired Emmanuel Gueit to design an updated model that paid homage to the Royal Oak's design ethos. The new model that Gueit came up with would eventually be called the Offshore. AP describes the Offshore as "an ever more sporty, masculine and powerful take on the iconic Royal Oak and its aesthetic codes." The Offshore was introduced in 1993 and was received similarily to the Royal Oak. The critics proclaimed that the Offshore completely destroyed the legacy of the Royal Oak. Even Genta was displeased with the updated design. However, despite initial criticism, the Offshore proved to be a great success. The offshore celebrated its 25 year anniversary in 2018 And this year, Audemars Piguet is celebrating the Royal Oak 50th anniversary making the production of 2022 pieces equipped with a special rotor, making them extremely collectable.
Specifications
| | |
| --- | --- |
| Movement | Self Winding |
| Calibre |  Calibre 2121 |
| Dial | Black |
| Case size | 39mm |
| Material | Stainless Steel |
| Bracelet | Stainless Bracelet |
| Glass | Sapphire |
| Condition | Mint |
| Box & Papers | Comes with Audemars Piguet Archive |
Why buy from The Second Hand Club?

Impeccable Authenticity: At The Second Hand Club, we understand the significance of owning genuine luxury watches. That's why we employ an exceptionally thorough authenticity process. Our team of seasoned experts meticulously examines every timepiece, scrutinizing its provenance, components, and craftsmanship. You can trust that each watch in our collection is 100% authentic, allowing you to invest confidently in horological masterpieces.

Comprehensive 24-Month Warranty: We believe in the enduring quality of the watches we offer. To provide you with peace of mind and demonstrate our commitment to your satisfaction, we provide a comprehensive 24-month warranty on all watches purchased from us. Our warranty covers any mechanical defects, ensuring that you can enjoy your timepiece with confidence and assurance.

Unbeatable Prices: At The Second Hand Club, we are dedicated to making luxury watches accessible to all enthusiasts and collectors. We strive to offer the most competitive prices available anywhere, ensuring exceptional value for your investment. Through our meticulous sourcing methods and extensive industry network, we are able to curate an extraordinary collection while keeping our prices highly competitive.

Advanced Horological Advice: We pride ourselves on our passion for horology and our extensive knowledge of the craft. When you choose The Second Hand Club, you gain access to an advanced level of advice on horology and collecting strategy. Our knowledgeable team is equipped to provide expert guidance, helping you navigate the world of luxury watches. Whether you're seeking insights on complications, historical significance, or investment potential, we are here to assist you in making informed decisions.

Curating Fascinating and Unique Collections: Our passion extends beyond individual timepieces; we take pleasure in helping our customers curate truly captivating and unique collections. With our deep understanding of the market and the rarest watches ever made, we can assist you in assembling a collection that reflects your individual style and discerning taste. Whether you're starting your collection or looking to expand it, our expertise and personalized approach ensure an extraordinary journey into the world of horology.

Choose The Second Hand Club to immerse yourself in a world of horological excellence. From our meticulous authenticity process and comprehensive warranty to our competitive prices and advanced horological advice, we are committed to providing an unparalleled experience. Let us guide you as you embark on a remarkable journey, curating a collection of extraordinary watches that will captivate and inspire for generations to come.
What payment methods do you accept?

At The Second Hand Club, we accept a variety of payment methods for your convenience.

You may choose to pay using your American Express, Visa, or Mastercard credit cards.

In addition, we also accept wire transfer payments. To encourage this method, we offer an attractive 3% discount for all transactions completed via wire transfer. This is part of our commitment to providing a seamless and accommodating experience for all of our esteemed customers.
What about trades or selling my watches?

When it comes to selling or trading your valuable watches, The Second Hand Club offers an exceptional consignment experience. Here's why you should consider consigning with us:

Global Reach, Local Expertise: While our clientele is primarily based in America, we have a vast network of collectors and end users around the world. This global reach ensures that your timepiece will have exposure to a diverse and discerning audience, maximizing the chances of a successful sale.
Expertise in High-End Pieces: With an average price point of $85,000, we are well-versed in dealing with high-end luxury watches. Our experience extends to timepieces that reach seven figures, demonstrating our ability to handle the most exclusive and valuable pieces with the utmost care and professionalism.
Competitive Consignment Rate: At The Second Hand Club, we understand the importance of fair and transparent pricing. That's why we offer the most competitive consignment rate of just 3%. Our low rate ensures that you receive a substantial portion of the final sale value, making consigning with us a lucrative option.
Swift Consignment Process: Time is of the essence, and we value your time as much as you do. Our average consignment time for watches is just 7 business days. Once your timepiece is submitted for consignment, our team works efficiently to list and market it to our extensive network of potential buyers, ensuring a prompt and efficient process.
Maximize Your Returns: Consigning your watch with The Second Hand Club allows you to unlock the full potential value of your timepiece. By reaching a wider audience and benefiting from our expertise in marketing luxury watches, you increase the likelihood of receiving higher offers than with a straight sale. With the funds generated from the consignment, you can explore new watch acquisitions or opt for an instant payment once the sale is concluded.

When you choose The Second Hand Club's consignment program, you gain access to our global network, unparalleled expertise, and a streamlined process designed to deliver exceptional results. Entrust your luxury timepiece to us and let our dedicated team work diligently to ensure you receive the maximum value for your watch, all while enjoying a hassle-free and rewarding consignment experience.

Have further questions about selling your watch? Contact us.
Do you provide warranty on your watches?

At The Second Hand Club, we are committed advocates for the exceptional quality of our curated selection of pre-owned timepieces and mechanical objects. In the event of an unexpected issue, we remain committed to addressing it promptly and effectively. Our client's trust and satisfaction are paramount to our entire team.

Each pre-owned watch in our collection has been meticulously examined using non-intrusive methods to confirm their mechanical integrity. Where necessary, servicing has been performed to guarantee they align with our highest standards for timekeeping precision and functional performance.

Unless explicitly indicated, our pre-owned watches are protected by either a comprehensive or a limited warranty for a period of twenty-four months. However, this warranty does not cover damages resulting from accidents or misuse. Given their vintage status, pre-owned watches may not withstand the same conditions as brand new models.
Return & Refund policy

At The Second Hand Club, We have a No Return & Refund Policy ("Policy") that applies to all purchases made through The Second Hand Club and outlines our obligations and procedures concerning returns and refunds.

Final Sales: All sales concluded through The Second Hand Club are final. Once a purchase is made, we do not accept returns or issue refunds.
Change of Mind: In the event you have a change of heart post-purchase, The Second Hand Club offers a unique service to accommodate you. We are pleased to accept the timepiece back and undertake the task of selling the item on your behalf at no cost. This process is subject to a binding agreement to be entered into between The Second Hand Club and the client.
After-Sale Return of Funds: Once the watch has been sold, the entirety of the sale amount will be returned to you. The amount will be remitted to the original method of payment within a reasonable timeframe following the successful completion of the sale.
Customer Obligations: It is the customer's responsibility to ensure the watch is returned in the same condition as it was sold. Any degradation in the quality or condition of the watch may affect its sale value, for which The Second Hand Club will not be held responsible.
Contact: For more information or to initiate this process, please contact our customer service at contact@thesecondhandclub.com or +1 (754)-333-7667.

Please note that this Policy represents the entire agreement between you and The Second Hand Club regarding returns and refunds. By purchasing a timepiece from The Second Hand Club, you acknowledge and agree to this Policy in its entirety.

Have further questions? Contact us.