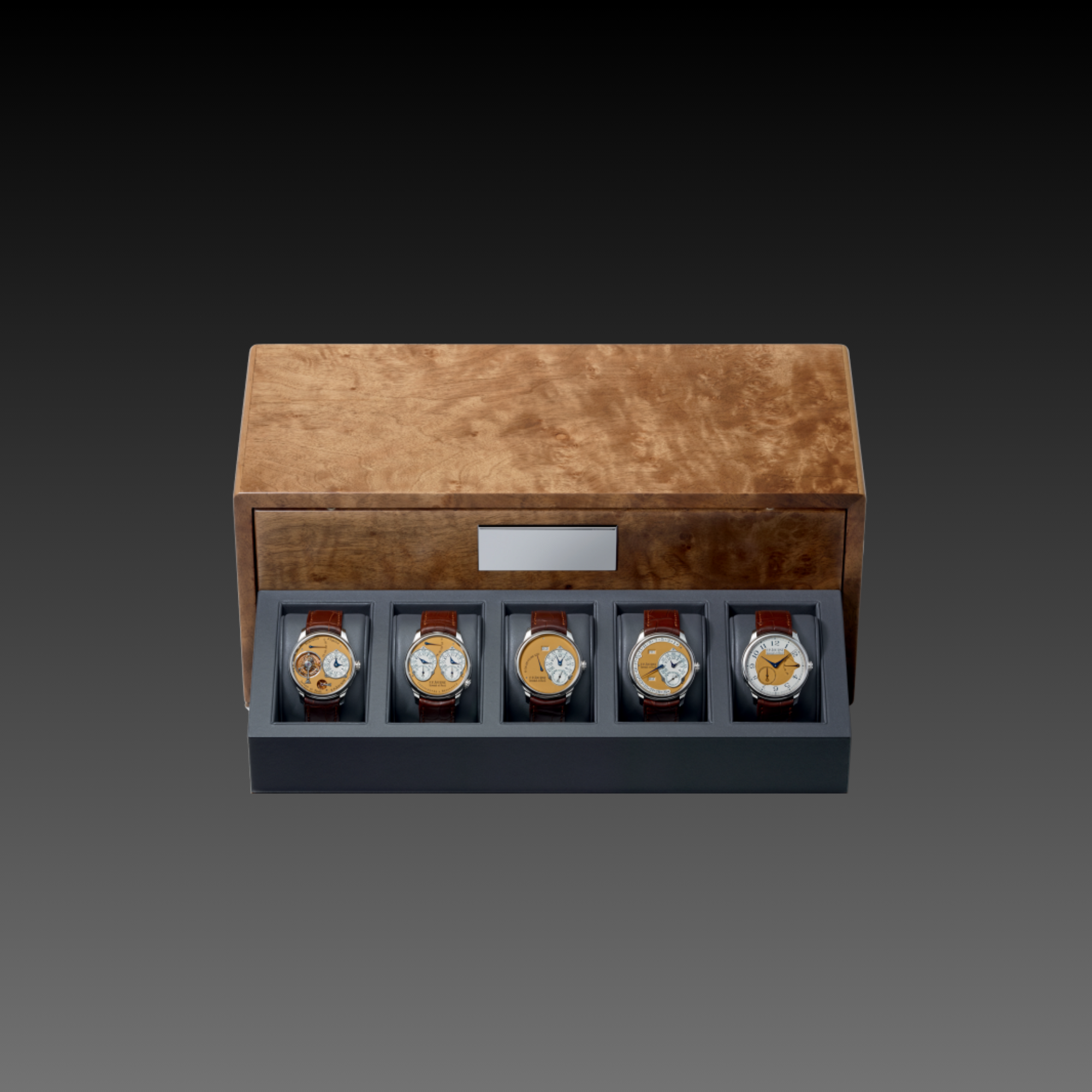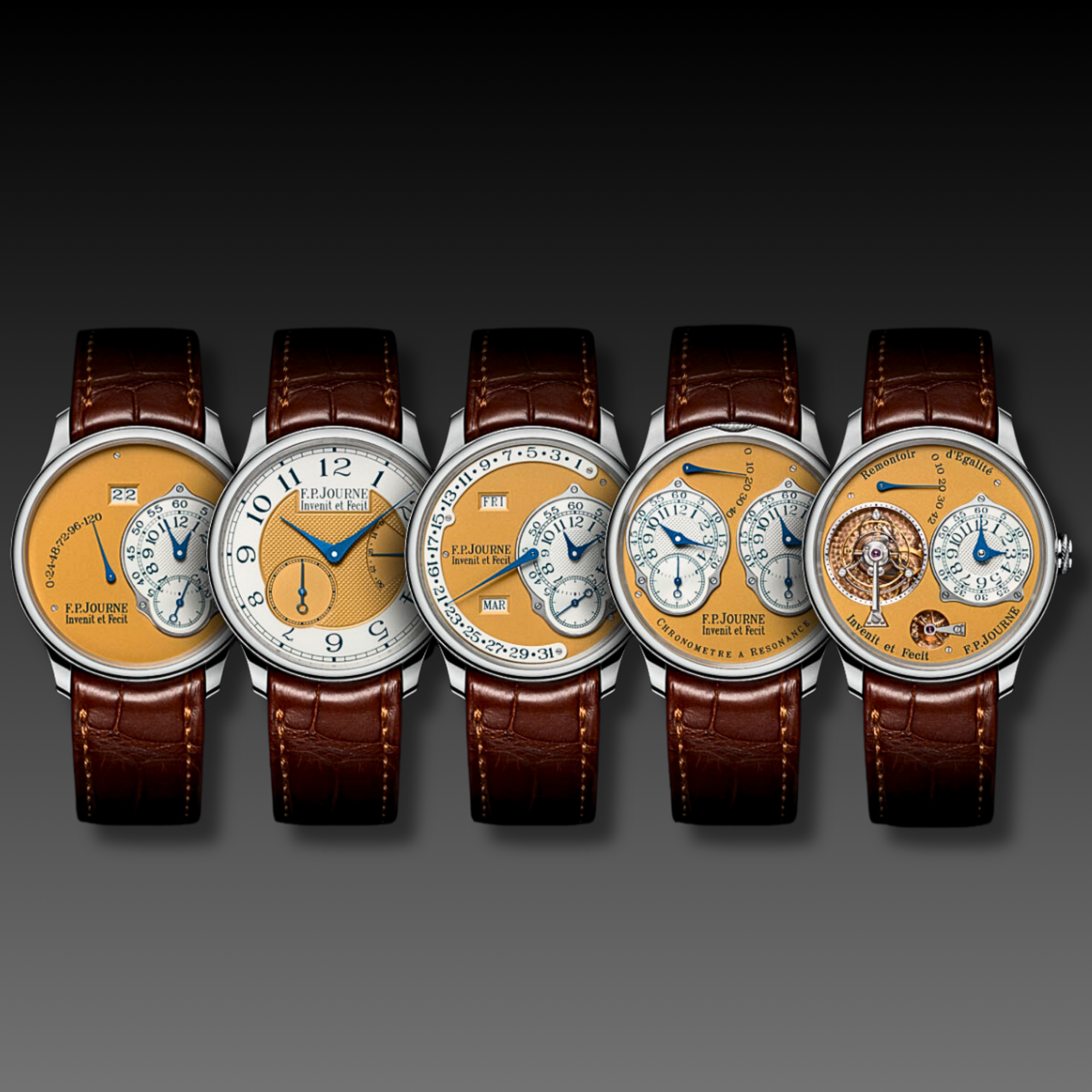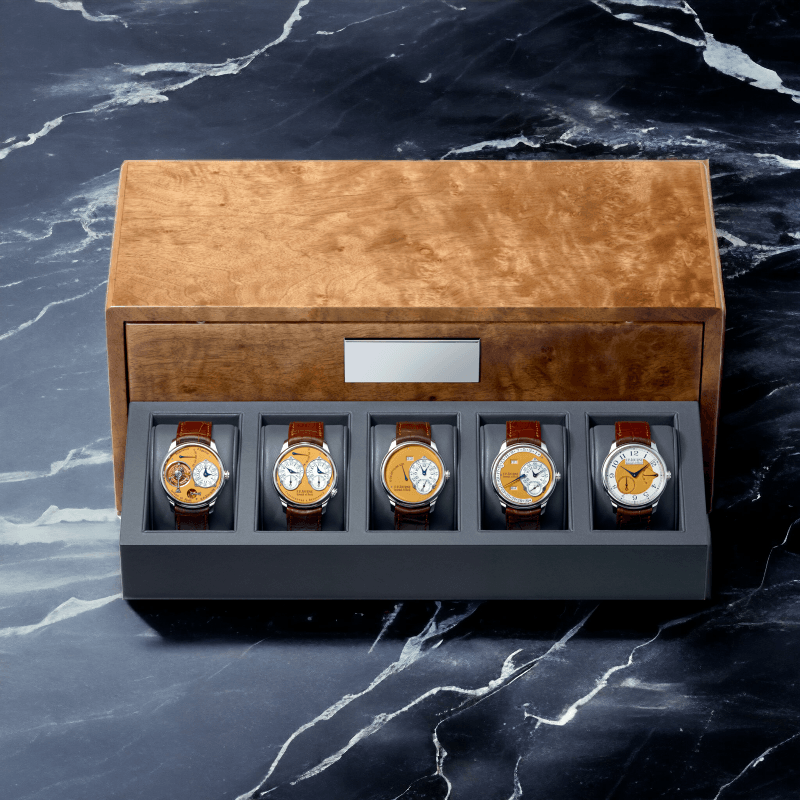 Regular price
$2,519,000.00
Regular price
Sale price
$2,519,000.00
Unit price
per
About the brand 
Let us share with you the captivating tale of F.P. Journe, a brand that exudes excellence and luxury in the world of horology. The journey of François-Paul Journe, the founder, began long before he established his own watch company in 1999. Born in the enchanting port city of Marseille, France in 1957, his passion for watchmaking was ignited in the cradle of France.
At the tender age of 14, he enrolled in a technical college and honed his skills. Years of hard work and dedication culminated in his graduation from the Paris watchmaking school in 1976. A mere two years later, Journe began working on his first tourbillon pocket watch, inspired by a George Daniels pocket watch that he had glimpsed on a client at his uncle's watchmaking studio. The master watchmaker would later be mentored by none other than the legendary George Daniels, the mastermind behind the Co-Axial Escapement.
At the age of 22, Journe was commissioned by Parisian ateliers P-G Brun to design a planetarium mechanism for Asprey in London. He worked tirelessly for seven years, and in 1983, he completed his first tourbillon pocket watch. He created the watch in his free time when he wasn't busy working for his uncle. François-Paul meticulously crafted every component of the watch, including the gold and silver case.
In 1985, Journe established his workshop where he created bespoke watches for collectors. A year later, F.P. Journe's first automatic chronometer pocket watch was born. This horological masterpiece housed a fusée chain and a five-second remontoire, along with a retrograde perpetual calendar and equation of time. In 1987, he crafted a planetary pocket watch that was commissioned by a collector.
Journe's skills and passion for watchmaking earned him several prestigious awards over the years. He received recognition from the Fondation Marcel Bleustein-Blanchet pour la Vocation, the Watchmakers Convention in Madrid, the Institut l'Homme et le Temps' Gaia Award for the Best Watchmaker, and the Prix Spécial du Jury.
In 1989, F.P. Journe established a movement manufacturer in Switzerland, where they eventually settled in Geneva. In 1991, Journe crafted his first wristwatch, creating the entire movement out of 18k gold. Just a few years later, in 1996, he founded TIM SA, a manufacturer dedicated to developing exclusive calibers.
The Tourbillon Souverain was launched in 1999, along with the newly established Montres Journe SA. The watch was inscribed with the words "F.P. Journe – Invenit et Fecit," which translate to "invented and made," signifying that it was an original conception crafted by only the best of craftsmen.
F.P. Journe continued to grow, and by 2000, the manufacturer had 50 employees producing 3-4 watches per day. In 2001, Journe developed the Octa calibre, his first mechanical movement that was self-winding. He would also work on the Opus One collection for Harry Winston.
Journe's success continued, and in 2003, he opened his first boutique in the Omotesando district of Tokyo, a vibrant hub for culture and the arts. This was followed by a Hong Kong boutique in 2006 and the first European boutique in Geneva in 2007. Today, F.P. Journe has boutiques around the world, including in the United States, showcasing Journe's captivating timepieces.
In 2018, Chanel acquired a minority stake in F.P. Journe, further solidifying the brand's place in the luxury watch industry. Journe's legacy has also inspired other up-and-coming independent watchmakers, including Rexhep Rexhepi, who worked for F.P. Journe before founding his own independent brand, Akrivia.
As a watch expert, I am in awe of Journe's dedication and commitment to creating truly exceptional watches that stand the test of time. His innovative designs and impeccable craftsmanship make F.P. Journe a true icon in the world of luxury watches.
The Set
The world of horology has seen countless revolutions and transformations, with each brand bringing its unique spin to the craft. One such brand that has consistently left its mark is FP Journe. A significant hallmark of the brand has been its 38mm wristwatch case, which over the years became emblematic of its design philosophy.
A Legacy Born at Baselworld
Tracing back to 1991, FP Journe unveiled its pioneering watch at Baselworld. Although the brand had produced pocket watches before, this was their debut wristwatch - a distinctive Tourbillon with a Remontoire d'Egalité nestled within a 38mm platinum case. Given that wristwatches then usually ranged from 33mm to 36mm, FP Journe's watch was a standout. Its large size was necessitated by its complex movement, laying the foundation for the iconic 38mm case.
As time flowed, the brand's design language evolved, and by 2001, the 42mm Grande Sonnerie emerged, leading to a wider range of 42mm watches. However, 2013 marked another shift as the intricacies of the Chronomètre Optimum's movement demanded a minimum 40mm case. This shift was further echoed in the recent Octa Lune, setting a new standard for FP Journe's offerings.
A Celebration of the Past: The Steel 38mm Final Edition
Yet, instead of merely leaving the 38mm legacy behind, FP Journe decided to honor it in grand style. Paying homage to the rich history of the 38mm case, the brand introduced a special set of 5 watches, all in the revered 38mm size and crafted in stainless steel.
François-Paul Journe further heightened the allure of this collection by selecting a unique patinated bronze tone for the dials, hand-guilloched on solid gold. And, as a nod to nostalgia, four of the five watches are re-editions of models that had long been out of production, making this set an absolute treasure for collectors.
Inside the Special Edition Set:
Tourbillon Souverain: A recreation of the first Tourbillon with Remontoire d'Egalité produced between 1999 and 2003. This rendition surprises with a solid rose gold movement, a first of its kind.

Chronomètre à Résonance: A throwback to the original version made from 2000 to 2009, boasting symmetrical dials instead of the digital-analog combo seen in recent models.

Octa Automatique: A tribute to Journe's first-ever automatic watch that had a production run from 2002 to 2014. It returns with the iconic 38mm steel case.

Octa Calendrier Annuel: Once a best-seller, this annual calendar watch was produced from 2003 to 2014 and now makes a grand comeback.

Chronomètre Souverain: The linchpin of the brand, this model has been in production since 2005 and is now reimagined in steel with a captivating bronze dial.
Limited to just 38 pieces, this set is a heartening salute to FP Journe's storied past and its relentless pursuit of innovation. Through this collection, the brand reminds us that while evolution is inevitable, honoring one's roots is equally significant.
Specifications
| | |
| --- | --- |
| Movement | Mechanical (18ct Gold) |
| Calibre | F.P. Journe Caliber 1210 |
| Dial | Bronze |
| Case size | 38mm |
| Material | Steel |
| Bracelet | F.P. Journe leather strap |
| Glass | Sapphire |
| Condition | Excellent |
| Box & Papers | Complete, Full set, matching serial numbers |
Why buy from The Second Hand Club?

Impeccable Authenticity: At The Second Hand Club, we understand the significance of owning genuine luxury watches. That's why we employ an exceptionally thorough authenticity process. Our team of seasoned experts meticulously examines every timepiece, scrutinizing its provenance, components, and craftsmanship. You can trust that each watch in our collection is 100% authentic, allowing you to invest confidently in horological masterpieces.

Comprehensive 24-Month Warranty: We believe in the enduring quality of the watches we offer. To provide you with peace of mind and demonstrate our commitment to your satisfaction, we provide a comprehensive 24-month warranty on all watches purchased from us. Our warranty covers any mechanical defects, ensuring that you can enjoy your timepiece with confidence and assurance.

Unbeatable Prices: At The Second Hand Club, we are dedicated to making luxury watches accessible to all enthusiasts and collectors. We strive to offer the most competitive prices available anywhere, ensuring exceptional value for your investment. Through our meticulous sourcing methods and extensive industry network, we are able to curate an extraordinary collection while keeping our prices highly competitive.

Advanced Horological Advice: We pride ourselves on our passion for horology and our extensive knowledge of the craft. When you choose The Second Hand Club, you gain access to an advanced level of advice on horology and collecting strategy. Our knowledgeable team is equipped to provide expert guidance, helping you navigate the world of luxury watches. Whether you're seeking insights on complications, historical significance, or investment potential, we are here to assist you in making informed decisions.

Curating Fascinating and Unique Collections: Our passion extends beyond individual timepieces; we take pleasure in helping our customers curate truly captivating and unique collections. With our deep understanding of the market and the rarest watches ever made, we can assist you in assembling a collection that reflects your individual style and discerning taste. Whether you're starting your collection or looking to expand it, our expertise and personalized approach ensure an extraordinary journey into the world of horology.

Choose The Second Hand Club to immerse yourself in a world of horological excellence. From our meticulous authenticity process and comprehensive warranty to our competitive prices and advanced horological advice, we are committed to providing an unparalleled experience. Let us guide you as you embark on a remarkable journey, curating a collection of extraordinary watches that will captivate and inspire for generations to come.
What payment methods do you accept?

At The Second Hand Club, we accept a variety of payment methods for your convenience.

You may choose to pay using your American Express, Visa, or Mastercard credit cards.

In addition, we also accept wire transfer payments. To encourage this method, we offer an attractive 3% discount for all transactions completed via wire transfer. This is part of our commitment to providing a seamless and accommodating experience for all of our esteemed customers.
What about trades or selling my watches?

When it comes to selling or trading your valuable watches, The Second Hand Club offers an exceptional consignment experience. Here's why you should consider consigning with us:

Global Reach, Local Expertise: While our clientele is primarily based in America, we have a vast network of collectors and end users around the world. This global reach ensures that your timepiece will have exposure to a diverse and discerning audience, maximizing the chances of a successful sale.
Expertise in High-End Pieces: With an average price point of $85,000, we are well-versed in dealing with high-end luxury watches. Our experience extends to timepieces that reach seven figures, demonstrating our ability to handle the most exclusive and valuable pieces with the utmost care and professionalism.
Competitive Consignment Rate: At The Second Hand Club, we understand the importance of fair and transparent pricing. That's why we offer the most competitive consignment rate of just 3%. Our low rate ensures that you receive a substantial portion of the final sale value, making consigning with us a lucrative option.
Swift Consignment Process: Time is of the essence, and we value your time as much as you do. Our average consignment time for watches is just 7 business days. Once your timepiece is submitted for consignment, our team works efficiently to list and market it to our extensive network of potential buyers, ensuring a prompt and efficient process.
Maximize Your Returns: Consigning your watch with The Second Hand Club allows you to unlock the full potential value of your timepiece. By reaching a wider audience and benefiting from our expertise in marketing luxury watches, you increase the likelihood of receiving higher offers than with a straight sale. With the funds generated from the consignment, you can explore new watch acquisitions or opt for an instant payment once the sale is concluded.

When you choose The Second Hand Club's consignment program, you gain access to our global network, unparalleled expertise, and a streamlined process designed to deliver exceptional results. Entrust your luxury timepiece to us and let our dedicated team work diligently to ensure you receive the maximum value for your watch, all while enjoying a hassle-free and rewarding consignment experience.

Have further questions about selling your watch? Contact us.
Do you provide warranty on your watches?

At The Second Hand Club, we are committed advocates for the exceptional quality of our curated selection of pre-owned timepieces and mechanical objects. In the event of an unexpected issue, we remain committed to addressing it promptly and effectively. Our client's trust and satisfaction are paramount to our entire team.

Each pre-owned watch in our collection has been meticulously examined using non-intrusive methods to confirm their mechanical integrity. Where necessary, servicing has been performed to guarantee they align with our highest standards for timekeeping precision and functional performance.

Unless explicitly indicated, our pre-owned watches are protected by either a comprehensive or a limited warranty for a period of twenty-four months. However, this warranty does not cover damages resulting from accidents or misuse. Given their vintage status, pre-owned watches may not withstand the same conditions as brand new models.
Return & Refund policy

At The Second Hand Club, We have a No Return & Refund Policy ("Policy") that applies to all purchases made through The Second Hand Club and outlines our obligations and procedures concerning returns and refunds.

Final Sales: All sales concluded through The Second Hand Club are final. Once a purchase is made, we do not accept returns or issue refunds.
Change of Mind: In the event you have a change of heart post-purchase, The Second Hand Club offers a unique service to accommodate you. We are pleased to accept the timepiece back and undertake the task of selling the item on your behalf at no cost. This process is subject to a binding agreement to be entered into between The Second Hand Club and the client.
After-Sale Return of Funds: Once the watch has been sold, the entirety of the sale amount will be returned to you. The amount will be remitted to the original method of payment within a reasonable timeframe following the successful completion of the sale.
Customer Obligations: It is the customer's responsibility to ensure the watch is returned in the same condition as it was sold. Any degradation in the quality or condition of the watch may affect its sale value, for which The Second Hand Club will not be held responsible.
Contact: For more information or to initiate this process, please contact our customer service at contact@thesecondhandclub.com or +1 (754)-333-7667.

Please note that this Policy represents the entire agreement between you and The Second Hand Club regarding returns and refunds. By purchasing a timepiece from The Second Hand Club, you acknowledge and agree to this Policy in its entirety.

Have further questions? Contact us.